Jane Fonda shares cancer diagnosis, hailed as 'hero' and 'true warrior' by celebrity pals Diane Keaton, Naomi Campbell and more
The two-time Oscar winner shared her cancer diagnosis on Instagram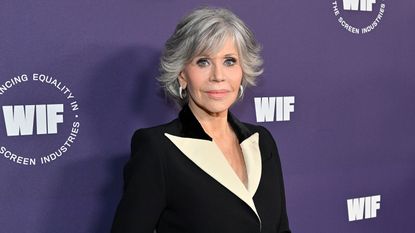 (Image credit: Stefanie Keenan/Getty Images for Women In Film (WIF)))
Jane Fonda took to Instagram on Friday to share "something personal" – her non-Hodgkin's Lymphoma cancer diagnosis.
Non-Hodgkin's lymphoma is a type of cancer that affects the lymphatic system, a network of vessels and glands found throughout your body.
In true Jane Fonda fashion, the perpetual activist and defiant rebel refused to feel anything but energized and optimistic about the news.
"This is a very treatable cancer," Jane wrote in the post.
"80% of people survive, so I feel very lucky. I'm also lucky because I have health insurance and access to the best doctors and treatments. I realize, and it's painful, that I am privileged in this. Almost every family in America has had to deal with cancer at one time or another and far too many don't have access to the quality health care I am receiving and this is not right."
The Barbarella icon added that she will be "doing chemo for 6 months," insisting, "I am handling the treatments quite well and, believe me, I will not let any of this interfere with my climate activism."
"Cancer is a teacher and I'm paying attention to the lessons it holds for me," she added. "One thing it's shown me already is the importance of community. Of growing and deepening one's community so that we are not alone. And the cancer, along with my age — almost 85 — definitely teaches the importance of adapting to new realities."
A double Oscar winner, Jane's career has flourished in recent years thanks to her work on Netflix's longest-running original series ever, Grace and Frankie.
She has also been a huge figure in the political and climate change spheres, organizing Fire Drill Fridays, weekly protests in Washington DC urging people to speak up and do more about the threats facing the environment.
For her protests, she has found herself arrested numerous times.
For her frank, no-nonsense post, fans – both famous and not – rushed to the star's comments to praise her.
Diane Keaton, who is co-starring in the upcoming Book Club 2 with Jane, led the charge.
She wrote, "We love you, Jane. You are my hero. You are a warrior."
Supermodel Naomi Campbell also left heartwarming words, describing the Barefoot in the Park star as a "graceful queen."
Other fans called her an "inspiration to many" and a "true fighter."
Jack Slater is not the Last Action Hero, but that's what comes up first when you Google him. Preferring a much more sedentary life, Jack gets his thrills by covering news, entertainment, celebrity, film and culture for woman&home, and other digital publications.
Having written for various print and online publications—ranging from national syndicates to niche magazines—Jack has written about nearly everything there is to write about, covering LGBTQ+ news, celebrity features, TV and film scoops, reviewing the latest theatre shows lighting up London's West End and the most pressing of SEO based stories.