Jane Fonda reveals she has no 'desire' to be in a 'sexual relationship' again
Jane has 'come to terms' with a 'lack of intimacy'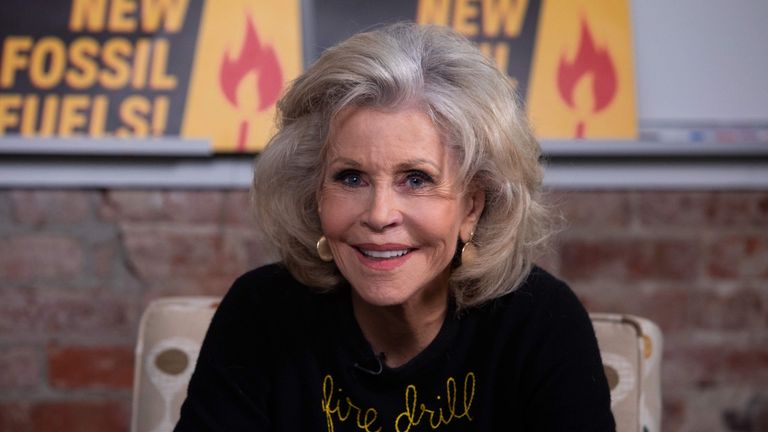 (Image credit: Credit: Eman Mohammed/ZUMA Wire/Alamy Live News)
Oscar-winner Jane Fonda has shared that she doesn't "have that desire" to be in a "sexual relationship" again at this point in her life. 
Many of us will have our firm Jane Fonda film favorites, be it Frankie and Grace or Klute, but whichever role she's playing, Jane is always sure to capture our attention. The ever-glamorous, 83-year-old acting legend is currently single and has been embracing her stunning gray hair. After being married three times and having three grown-up children, it seems that Jane now knows exactly what she wants - and doesn't want - in any potential future relationship.
The Grace and Frankie star opened up in a recent interview with Harper's Bazaar and wasn't afraid to discuss deeply personal matters, including what she's learnt about herself when it comes to intimacy and romance. 
Speaking to the publication in the cover interview for their April 2021 issue, she stated: "One of the painful things that I've realized by 80—I don't even know how old I am—83, and single now. What I've had to really think about is that I'm not really capable [of intimacy]."
More from woman&home:
"It's not them. It's me. If a guy had come along and said, 'Come on, Fonda, show up,' I would have run away scared", she revealed. 
"I was attracted to men who never would have done that to me because they couldn't necessarily show up themselves", Jane continued. "I didn't know that at the time, but now I know."
When asked whether regrets might play a determining role in how Jane chooses to live her life, the Oscar Winner got even more candid. 
"Well, the lack of intimacy. I've kind of come to terms with that", she acknowledged. "I don't want to be in a relationship, a sexual relationship, again. I don't have that desire.
"Do I fantasize? Yes, here's my fantasy. I'll just put it out there. That I meet a professor or a researcher, somebody in that line who is really capable of loving, of cherishing a woman, so that I could test myself and see if I could show up."
It's something she went on to reflect might be possible at this point in her life, saying: "I think maybe now I could, but the problem is that, like a man, I would want a younger man. Isn't that awful? It's a thing about skin. I would want a younger man, and I'm too vain."
Does Jane Fonda want to get married again?
Whilst some might be surprised to hear Jane being so open about such deeply personal subjects, she recently revealed to Page Six that she also doesn't want to marry again. 
Jane has previously been married three times, to the late French director Roger Vadim, politician Tom Hayden and CNN founder Ted Turner.
Speaking to the publication, she said: "I'll tell you something that I haven't achieved, which is a successful marriage.
"But the second part of your question is, 'Do you want to?' I don't want to."
After revealing she lives by herself, Jane continued: "I'm not threatening anybody. I can watch whatever I want on TV. So I don't ever want to be married again. But it's something I wish I'd been better at."