Is Nancy leaving Call the Midwife, what is her secret and what's the agonizing choice she faced in the season 12 finale?
Fans might be worried about Nancy leaving Call the Midwife after the season 12 finale dropped emotional hints about her future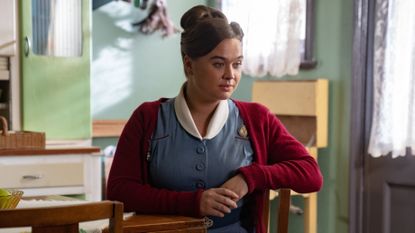 (Image credit: BBC / Neal Street Productions / Olly Courtenay)
Fans might be wondering if they'll see Nancy leaving Call the Midwife and we've got you covered with where Megan Cusack's character's story was left in the season 12 finale.
The 2022 Christmas special and latest season of Call the Midwife has seen several heartbreaking departures and some might have been anxious about the futures of plenty more fan-favorites as season 12 drew to a close. Whilst the Call the Midwife season 12 finale didn't leave us wondering who died in Call the Midwife like the season 11 one did after that tragic train crash, it delivered plenty of emotional scenes. Trixie and Matthew's wedding took center stage, Nancy also had a significant moment in episode 8 that cast doubts upon her future in the show.
But is Nancy leaving Call the Midwife after season 12, what is her secret and where have you seen her actor Megan Cusack before? We reveal what you need to know…
*Warning: spoilers ahead!*
Is Nancy leaving Call the Midwife after season 12?
What with watching Lucille leave Call the Midwife in episode 2 of the latest season and the departure of Sister Frances in the 2022 Christmas special, some fans might well have been left wondering whether they'll see Megan Cusack's Nancy leaving Call the Midwife soon too. Thankfully for fans where the Call the Midwife season 12 finale left things, Nancy Corrigan is still part of the show. Though the nurse was faced with an agonizing decision in this final episode that will determine whether we'll see Nancy leaving Call the Midwife next season or not.
With Trixie's wedding to Matthew Aylward almost upon them, the nurse began opening what she believed to be cards only to find that the first envelope was a letter to Nancy from Netherditch Hospital. Looking around quickly, Nancy looked on as a preoccupied Trixie read the letter aloud, confirming that Nancy's job application had been successful.
As Trixie and Nurse Crane stared at Nancy in amazement and handed the letter over, she declared that Netherditch must be "desperate" and revealed they hadn't even asked her for an interview before offering her the position. They might not have given her a deadline to decide in the letter but Nancy Corrigan gave herself one when she declared, "I'll think about it and decide after the wedding."
The wedding was the focal point of the episode and whilst some might've also feared we'd see Trixie leaving Call the Midwife to head off into the sunset with her new husband, she and Matthew tied the knot and look set to stay in Poplar. The show ended with the hastily re-planned reception held in the street after a fire broke out at the hotel it was supposed to be held at. But still fans have yet to learn Nancy's final decision about whether or not she will be bidding Nonnatus House a fond farewell and taking up a position at Netherditch Hospital.
This means that whilst fans haven't faced scenes of Nancy leaving Call the Midwife yet, this is still a distinct possibility when it returns with season 13 and the 2023 Christmas special.
Will Nancy take the job in Call the Midwife?
Given the enigmatic nature of Nancy Corrigan's reaction to the news that she has another job ready and waiting for her to accept, it's not clear exactly how seriously Nancy Corrigan is considering leaving her work at Nonnatus House behind her. Whilst the latest season of Call the Midwife left her final decision yet to be determined so we'll have to wait until season 13 to know for sure. However, it could be seen as significant that Nancy applied for the job in the first place and the new job has serious perks, including a two bedroom house, rent-free!
Despite this, it's possible she could choose to stay with her much-loved friends and colleagues in Poplar. After uncertainty over the building, the future of Nonnatus House was secured in the Call the Midwife season 12 finale thanks to Matthew who bought the building and Cyril Robinson who gave it a favorable council audit report.
With stability secured for the nurses, Nancy could opt to stick with the place she already calls home. However, there's one factor that could see Megan Cusack's character potentially walk away for good and this was once a closely-guarded secret.
What is Nancy's secret in Call the Midwife?
Whilst we might be more familiar with long-buried secrets dramatically being concealed in thrillers like Bloodlands season 2, Call the Midwife's Nancy also once hid part of her past. It emerged in season 10 that she was an unmarried mother and had given birth to a daughter named Collette when she was a teenager. Colette had been born in Cork where Nancy hails from and was being brought up at an orphanage in London, believing that Nancy was her sister.
After being upset during an intense debate earlier on in episode 6 of season 10, Nancy ended up confiding in Sister Julienne about Colette, whom she was visiting once a month.
At the end of episode 7 Nancy Corrigan had a conversation with Sister Hilda about her ambitions to become a midwife and openly discussed Colette being part of her life. Reassured by Sister Hilda that 11% of the babies born in the district are illegitimate, she was told that she could continue to live at Nonnatus House and resume her training despite keeping her past from her colleagues and knowingly passing over falsified character and professional references.
Sister Hilda said that she'd spoken to Sister Julienne and they'd agreed that they should find a "suitable local foster family to take care of Colette" until Nancy had finished her training.
Delighted, Nancy asked if she could finally tell Colette that she was her mother, to which Sister Hilda replied, "I'd beg you wait just a little while, until she's more settled…and so are you."
It's Colette who might dominate Nancy's thoughts when it comes to making a final decision about whether or not to accept the new job. The house that would be included as part of the terms would certainly provide enough room for mother and daughter to live together for the first time and this will no doubt be a hugely important consideration. Nancy even said as much to Sister Julienne, admitting that whilst she's happy now, these things would make her life happier.
Who is Nancy Corrigan's daughter?
Nancy Corrigan's daughter is Colette Corrigan who is played in Call the Midwife by Francesca Fullilove. Since Nancy's past was revealed to her colleagues the nurse has now told Colette that she's her mother and she's working towards getting them a flat of their own. Colette was a bridesmaid alongside Nancy at Trixie and Matthew's wedding, although she didn't help the bride's nerves when blood from a nosebleed stained her pastel green dress as Nancy attempted to staunch the flow.
She walked down the aisle with Nancy at Trixie and Matthew's wedding and was part of the celebration afterwards. Given we don't know whether we'll see her and Nancy leaving Call the Midwife this scene was likely all the more emotional for fans.
Who is Megan Cusack and where have you seen her before?
Call the Midwife's Nancy is played by Megan Cusack and although she's perhaps best known for her role in the BBC drama she's also appeared in soap opera Doctors and The Cherry Orchard. She's also part of an iconic acting family as her aunts Sinéad, Sorcha and Niamh Cusack are both actors too, as is her uncle-in-law via Sinéad - Oscar-winning Jeremy Irons. Megan is the daughter of theater producer Pádraig Cusack.
Emma is a Senior Lifestyle Writer with six years of experience working in digital publishing. Her specialist areas including literature, the British Royal Family and knowing all there is to know about the latest TV shows on the BBC, ITV, Channel 4 and every streaming service out there. When she's not writing about the next unmissable show to add to your to-watch list or delving into royal protocol, you can find Emma cooking and watching yet more crime dramas.