Why did Lucille leave Call the Midwife, where has she gone and was season 12 the last we'll see of the fan-favorite nurse?
Fans saw Lucille leave Call the Midwife in season 12 and here we reveal whether or not Leonie Elliott will return as the nurse in the drama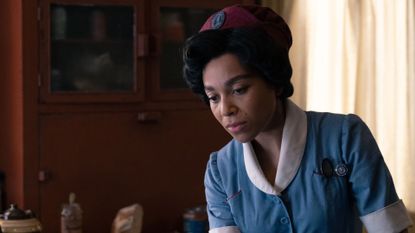 (Image credit: BBC / Neal Street Productions / Matt Towers)
Watching Lucille leave Call the Midwife was one of the most emotional moments in season 12 and many might be wondering if she's gone for good.
Ever since it landed in 2012 Call the Midwife has never shied away from delivering poignant and powerful moments - even if that means tragedy striking at the heart of the lives of the show's regular characters. From the Call the Midwife train crash last year and the prospect of Nancy leaving Call the Midwife looking worryingly possible, fans might have fearing more than a few cast exits in season 12. One of the saddest scenes surely has to be when we saw Lucille leave Call the Midwife. Played by Leonie Elliott since season 7, Nurse Lucille Robinson bid farewell to Nonnatus House, Poplar and her husband Cyril after experiencing some shattering moments.
But why did Lucille leave Call the Midwife, what happened to her and is she gone for good? We reveal what we know so far about her exit and future in the show…
*Warning: spoilers ahead*
Why did Lucille leave Call the Midwife and what happened to her?
From why Douglas Henshall is leaving after Shetland season 7 to why Jimmy left Yellowstone, the departure of a fan-favorite actor and character often ignites curiosity. So it's perhaps no surprise that some fans might be wondering - why did Lucille leave Call the Midwife? UK viewers have already seen her exit and US viewers will soon see it now the season is airing on PBS but, sadly, the answer isn't one specific thing but several tragic events that lead to her traveling to Jamaica.
Having been part of the show since 2018, Nurse Lucille Anderson really made an impact and in the 2021 Christmas Special tied the knot with Cyril Robinson. But in the new season of Call the Midwife, Lucille's storyline took a heart-wrenching turn.
After experiencing a devastating miscarriage, Lucille and Cyril were struggling to conceive again and outside of their personal heartache things weren't any easier for the couple. In the aftermath Enoch Powell's "Rivers of Blood speech" which criticised immigration to Britain, especially from Commonwealth Countries, Lucille faced horrific abuse.
Everything began to weigh heavily on her mental health until Lucille reached a point where it all seemed too much. This led her to seek medical help and Dr Turner advised her to rest, diagnosing her as being at the point of a nervous breakdown.
Her devoted husband then dipped into their savings to purchase an open ticket to Jamaica so that she could rest with her much-missed family there.
Some have asked about Lucille's journey this season, I guess this is what I hope we hold onto…Episode 2 tonight pic.twitter.com/qfiN2hPKNVJanuary 8, 2023
See more
Taking to Twitter following the moment fans saw Lucille leave Call the Midwife in season 12, her actor Leonie Elliot expressed how "deeply" she cares about her character. She also expressed her hope that people can show kindness and understanding towards each other, as "many" have similar stories to Lucille.
"This season was incredibly difficult to film. Thank you for all your kind words. It's my hope for people watching that if they can see the good in her, maybe they can extend that to people in real life. I care about her deeply," she declared. "Many share her story of miscarriage and depression, and many share her experience of abuse, racial or otherwise. Many of us face mental health challenges, I hope we can continue to love one another, support and listen to each other. Look after yourselves and each other."
Is Lucille left Call the Midwife for good?
Given the impact Lucille and her poignant exit storyline has it's perhaps only natural to hope that although we saw Lucille leave Call the Midwife, she's not really gone. However, very sadly, Lucille's time in Poplar truly came to an end that day she set off for Jamaica and she is gone for good. Sharing the news after the Call the Midwife season 12 finale aired in the UK, Lucille's actor Leonie Elliott confirmed that she was permanently leaving the show after six years playing the popular nurse.
Taking to Twitter as she did after Lucille left Call the Midwife in episode 2 of the latest season, Leonie thanked fans for all their support during her time on the show.
"Thank you for embracing Lucille and rocking with me on this journey, it is with a heart full of love and appreciation that I embark on pastures new," she wrote. "Having spent 6 years on a truly wonderful show, with a fantastic team I have fallen deeper and deeper in love with Lucille."
Leonie expressed how "honored" she is to have "represented the pioneering Windrush generation and their incredible impact on British society".
Giving thanks to the "uber talented creative team" on Call the Midwife she expressed her gratitude to fans and said she was "super excited for what's coming next".
This statement was met with sadness by fans who were quick to share their support and thanks for the star's brilliant performance as Lucille on Call the Midwife over so many years.
"Thank you for everything leonie we will miss you and lucille so much, good luck for whatever is next", one person declared.
Another echoed this sentiment, responding, "Sad to see you leave, precious! You were superb as Lucille! Thank you for giving us strong, proud, faithful and caring Lucille for six years! Sending all good wishes for your next adventure".
Whilst someone else remarked upon how "missed" Leonie will be and suggested that her former colleagues would love to welcome her back one day.
"Ahh this makes me sad Lucille will be sorely missed by everyone!! Thank you for your wonderful performances, best of luck with your future endeavors Nonnatus will always welcome you back!" they wrote.
We might have dreaded confirmation that seeing Lucille leave Call the Midwife was a permanent thing but there were some hints throughout season 12. Lucille's devoted husband Cyril Robinson remained behind in Poplar and he told Violet Buckle that he'd heard from his sister-in-law that his wife had got a new job in Jamaica.
"Her sister said she took a job at the town hospital so she could pay her way at her parents' home," Cyril explained, before revealing that Lucille had then been offered a sister's position on the maternity ward.
"And she - she never told you?" Violet asked. "She never mentioned it in any of her letters?"
Cyril might not have answered but his silence certainly spoke volumes. He went on to explain that he'd been told by her sister that Lucille had agreed to stay on in that position for six months.
Cyril went out to Jamaica himself but returned in episode 7. For a few seconds as he paused at the subway exit it seemed like Lucille could've been about to appear but instead he'd come back alone and later sighed sadly as he picked up a letter addressed to Mr and Mrs Robinson. This signaled that Lucille was likely gone for good from Call the Midwife even before Leonie's message.
"Lucille is still in Jamaica," he told Violet and Fred Buckle. "She's fine. She's taken to her new job and it's doing her good to be with her family. She sends her love."
Asked about his decision to come back without her, Cyril responded, "I have a good job here and some good friends. This is my home."
So it seems that whilst Lucille has left Call the Midwife for good, Cyril has no intention of leaving Poplar at the moment. Unfortunately that means no happy reunion for the couple quite yet if they both want to live in different countries. But fans can likely expect to see Cyril back for Call the Midwife season 13.
How to watch Call the Midwife season 12 and from the beginning
For those who've been wondering where to watch Call the Midwife in the US, season 12 has now started on PBS for US fans to enjoy - only a few weeks after the latest series drew to an emotional close in the UK. Each new episode of Call the Midwife season 12 is released at 8pm ET on Sundays on PBS and you can also enjoy previous seasons of the BBC show on Netflix in the US if you're tempted to re-immerse yourself in your favorite moments.
If you're based in the UK and have yet to dive into Call the Midwife then simply head to BBC iPlayer as this is where seasons 1-12 are available to stream now.
But if you're abroad when you want to watch Call the Midwife then you won't be able to watch like you normally would due to regional restrictions. Luckily there's an easy solution and you can use a VPN to continue watching. This is a handy bit of software that changes your IP address so that you can access on-demand content or live TV just as if you were at home.
Our sister site, TechRadar, has tested all of the major VPN services and they rate ExpressVPN (opens in new tab) as the absolute best. They say, "It's compatible with all of your devices, supports most streaming services, and ranks among the fastest. You can even install it on devices like an Amazon Fire TV Stick, Apple TV, Xbox, and PlayStation. So for a one-stop-shop, you can't go wrong with Express."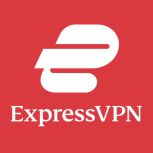 (opens in new tab)
ExpressVPN service | Get 49% off and 3 months FREE (opens in new tab)
Ranked among one of the fastest VPN providers, this risk-free service is also compatible with all of your devices. Enjoy access to almost any streaming service, and if you don't like it there's a 30-day money-back guarantee.
If you've never installed a VPN before, don't worry, it's quick and easy. Just follow these three steps:
Download and install the VPN following ExpressVPN's easy-to-follow instructions.
Once you've installed your VPN, open the app and select your server location as anywhere in the UK.
With your VPN installed and server location set to UK, you can now watch Call the Midwife online.
Emma is a Senior Lifestyle Writer with six years of experience working in digital publishing. Her specialist areas including literature, the British Royal Family and knowing all there is to know about the latest TV shows on the BBC, ITV, Channel 4 and every streaming service out there. When she's not writing about the next unmissable show to add to your to-watch list or delving into royal protocol, you can find Emma cooking and watching yet more crime dramas.