Is Trixie leaving Call the Midwife and did she and Matthew actually get married in the season 12 finale?
Trixie leaving Call the Midwife is a devastating prospect so many might've worried about this possibility ahead of the BBC drama's finale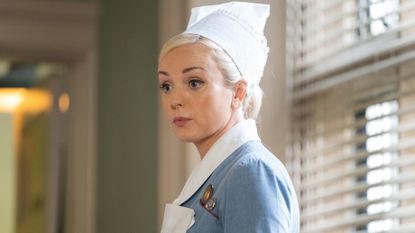 (Image credit: BBC / Neal Street Productions / Emma Barrott)
If you've been anxious about Trixie leaving Call the Midwife after season 12 we have you covered with all the details about her story in the emotional finale.
Call the Midwife has never shied away from emotional scenes - after all, who could forget agonizing over who died in Call the Midwife's season 11 finale? But there have been certain characters that have become so much a part of the BBC period drama that their departure would be especially heart-wrenching. For many the idea of Call the Midwife without Nurse Beatrix 'Trixie' Franklin would be unthinkable. Though with her wedding to widower Matthew Aylward set to take place in the season 11 finale some might have worried that the couple would want to make a fresh start.
Here we reveal whether fans saw Trixie leaving Call the Midwife, whether she and Matthew actually got married in the end and who her brother is…
*Warning: Spoilers ahead!*
Is Trixie leaving Call the Midwife?
Whether it's Douglas Henshall leaving after Shetland season 7 or Meredith Grey leaving Grey's Anatomy, the prospect of a beloved character leaving is always heartbreaking and fans might well have been wondering about Trixie. Especially after seeing Lucille leave Call the Midwife already in season 12 her departure would be devastating but thankfully we won't be watching Trixie leaving Call the Midwife anytime soon. As the Call the Midwife season 12 left things she was very much still a key part of the show's world, both personally and professionally.
Trixie remained employed at Nonnatus House as a nurse and her actor Helen George has previously been open about how much she feels Trixie is connected to Poplar. Discussing her character's future alongside Olly Rix who plays Trixie's on-screen partner Matthew Aylward, Helen said to Express.co.uk (opens in new tab) that they have a "commitment to the area".
"I think they both really need to be close to Poplar, they realize they have both got so much work to do," she said. "They are both very driven about their work and their commitment to the area so I can't see them moving away."
This seems to suggest that we won't see Trixie leaving Call the Midwife quite yet and she's been a popular character on the long-running BBC drama since it first began. Of course, until the Call the Midwife season 13 cast is confirmed we won't know for sure, but it would certainly be a shock if the midwife doesn't make a triumphant return.
Previously, Trixie had briefly left Call the Midwife in season 11 when her godmother was ill and Italy and she went to care for her. However, her departure was never permanent and came about as Helen George went on maternity leave.
Did Trixie and Matthew get married in the Call the Midwife finale?
Just because Trixie and Matthew were engaged doesn't mean that some fans might not have worried that their nuptials could end in tears in the Call the Midwife finale. However, after a relatively bumpy time in the latest season, Trixie and Matthew did actually get married in episode 8. For a moment it looked like their big day was over before it even began after Trixie and Matthew got into an explosive argument earlier on in the Call the Midwife season 12 finale.
Trixie had been looking forward to honoring Matthew's family by wearing the Aylward tiara to their wedding. Unfortunately, Matthew had to break it to his bride-to-be that the tiara had been traded for his late father to enjoy a few weeks on a cruise to help his failing health.
Demanding why he didn't tell her the truth, Matthew countered that he'd only told her what his mother had told him. She'd apparently hoped she could get it back in time for the wedding as she'd sold it to a friend of hers.
"After my father was first ill she wanted to take him on a cruise and the tiara was just languishing there," Matthew told Trixie. "I mean nobody really wears them anymore."
"But I was going to wear it!" a stressed Trixie responded, reminding him that the family tiara would've been her something old, something borrowed and something blue.
Upset at this apparent show of selflessness from his fiancée, Matthew replied that the tiara had bought his father six weeks on the Queen Mary trying to get his health back. As the row escalated, he accused Trixie of thinking money grew on trees and she stormed away into Nonnatus House.
Fans would be forgiven for worrying that Trixie and Matthew would never walk down the aisle but thank goodness for Cyril Robinson. He gave Matthew good advice and told him "never lose sight of the love".
Later that evening Matthew and Trixie reconciled over the phone and the groom admitted he was nervous about the wedding but that the "aftermath, the being together always" he was "ecstatic" about. Tears likely sprung to many people's eyes as Trixie told him that she shared his nerves but that a wedding only lasts a day whilst a marriage lasts for "decades".
He did end up tracking it down for her, but by then her friends at Nonnatus House had crafted her a pillar box hat out of her spare wedding dress fabric and had given her something borrowed and something blue. Eventually she decided to stick with her new items and Matthew revealed that he hated the tiara anyway.
Having poured out their hearts to each other it then became uncontrollable circumstances which almost ruined their big day. It was revealed on the morning of the wedding that everyone had the wrong morning suits for the ceremony and the flowers had been sent to the wrong address.
And whilst we didn't see Sister Monica Joan die in Call the Midwife and it was a joyful moment when she arrived at the ceremony, a fire broke out at the hotel where the reception was to be held.
With nowhere for their party, the people of Poplar came together, bringing fish and chips and furniture which they set up outside the church so everyone could celebrate Trixie and Matthew's marriage together.
As it was put by Jenny, the narrator in Call the Midwife, "Trixie's wedding was not the stuff of dreams. It was more beautiful than that."
Who is Trixie's brother?
During Call the Midwife season 12 Trixie Franklin has met Matthew's former in-laws from his first marriage to Fiona and she's a huge part of his son Jonty's life too. Though the latest season's final episode introduced a member of her family with her brother Geoffrey Franklin. He is her first relative to be seen in Call the Midwife though some viewers might have seen his actor Christopher Harper before. He's appeared in ITV soap opera Coronation Street and Endeavour, as well as Holby City.
In the latest season of Call the Midwife his character Geoffrey helped to sort out details for Trixie's bachelorette party and her wedding day. He also had a heart-warming conversation with his sister the night before her wedding about true happiness, where he revealed that she was the favorite of all his sisters.
Discussing how they'd had to light up the room with laughter when their father was ill in their childhoods, Trixie said that "real happiness is quite something".
"You, most adored of all my sisters, are to grab that happiness with both hands," he declared.
It's not clear if Geoffrey could be back again in Call the Midwife but he's clearly a big part of Trixie's life and it could be interesting to see their sibling bond develop even further.
Call the Midwife seasons 1-12 are available to watch now via BBC iPlayer.
Emma is a Senior Lifestyle Writer with six years of experience working in digital publishing. Her specialist areas including literature, the British Royal Family and knowing all there is to know about the latest TV shows on the BBC, ITV, Channel 4 and every streaming service out there. When she's not writing about the next unmissable show to add to your to-watch list or delving into royal protocol, you can find Emma cooking and watching yet more crime dramas.