Phillip Schofield makes Holly Willoughby cry with this adorable birthday gift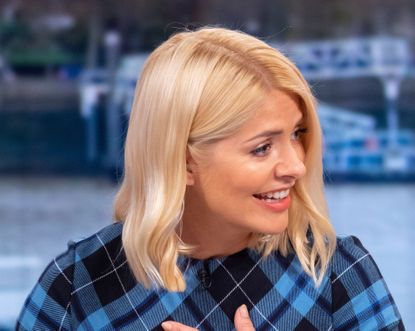 With it being Holly's birthday this weekend, Phillip decided to present his co-host with a very special early birthday gift on today's This Morning.
Much to Holly's delight and surprise, Phillip's gift was a basket of Pomeranian puppies and they are so cute!
Phillip said to Holly, "This is my present to you!" while the puppies were being wheeled into the studio.
The mother of three, with sheer excitement said, "That's just the cutest thing I've ever seen!"
Holly burst into tears, so it is safe to say she was pleased with her gift. Well done Phillip, hats off to you!
The adorable puppies were only eight weeks old and Holly decided to call one of them Bertie. How sweet!
The morning presenter will be turning 38 on Sunday. We're not sure how anybody could top Phillip's gift!
The presenter's surprise went down well with viewers. One person said, 'HE IS TOO CUTE...I WANT ONE!!!' while another said 'Jealous! Like little teddy bears! I NEED one!'
One viewer felt one of the puppies should become a permanent feature on the show, saying 'I think Holly should keep the puppy and bring it into work everyday. Not only does it look adorable on her knee, it's nice to include animals. Like the Blue Peter Dog, this could be the This Morning Dog. I could look at that dog every day for sure.'
That sounds like a great idea to us...
A final fan of the show said, 'We have two pomeranians. They are the CUDDLIEST puppies ever.'
Pomeranians, which are affectionately known as 'poms', are renowned for their fluffy coats.
Holly will be presenting Dancing on Ice with Phillip on her birthday this Sunday, but we are sure she will manage to squeeze in some celebrations too!
If only we all had a Phillip Schofield in our lives to surprise us with amazing gifts…