For Jennifer Aniston Age Is Just A Number - 'Look At Helen Mirren: Rock Star...Goddess'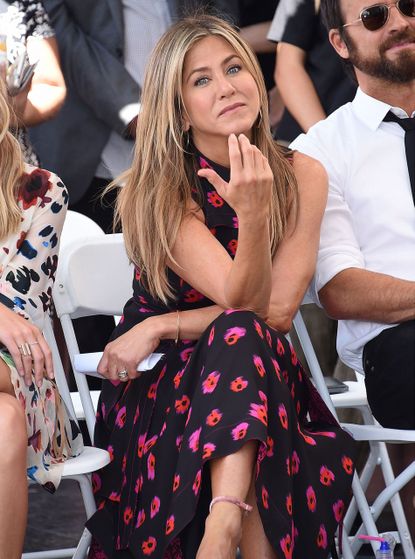 (Image credit: Shutterstock/Rex)
For many women, getting older is something they fear. You look different, feel different and might even start to behave a little different but this doesn't have to be a bad thing.
For actress Jennifer Ansiton age is a number and in no way is it a barrier.
Speaking to Glamour she said: " Just because you can't bounce a penny off your tummy anymore, because you're not 22 or 32, doesn't mean that should quantify what makes you relevant and interesting."
Jennifer reminds us that while the world might be obsessed with social media: "We have a generation of actors who were up-and-coming before the internet existed. We're all still here, and we're doing just fine."
The Friends actress hopes that she can be part of a group of actors showing that age doesn't stop you. Naming a few of her inspirations Jennifer said: "Look at Helen Mirren: rock star, gorgeous, goddess. Meryl Streep, stunning, a rock star, gorgeous, goddess."
She added: "I think we have to change our perspective. I don't think life stops after 50 - if anything, it gets more and more exciting.
"For some reason, we don't honour or pay respect to ageing. It's something that we look at as a negative, and yet every single person on this planet does it."
Jennifer, who is 48-years-old, thinks getting older should be celebrated. She said the idea that "there's some sort of expiration date on who you are as a person worth watching...makes absolutely no sense".
The Hollywood star opened up about the pressures felt by all women based on their appearances and other societal expectations. She said she was sensitive to the constant speculation over whether she is pregnant.
Jennifer with husband Justin Theroux, the couple married in 2015
She said: "If your body is in a normal moment of having had a bite or two, or you're having a moment of bloat, then there's arrows circled around your stomach, telling you that you're pregnant. And it's like, actually no, it's just my body."
Jennifer added: "No one knows what's going on beyond the four walls of your home, of these people who are having or not having children. It's a very sensitive area to go to, especially. It's sensitive to me."
In fact, the actress has some very sensible advice: " Everybody likes to get into each other's panty drawers. Stay in your own backyard and let everybody live their lives."
Jessica is a Senior Food Writer at Future and is an enthusiastic, self-taught cook who adores eating out and sharing great food and drink with friends and family. She has completed the Level 1 Associate course at the Academy of Cheese and is continually building on her knowledge of beers, wines and spirits. Jessica writes food and drink related news stories and features, curates product pages, tests and reviews equipment and also develops recipes which she styles on food shoots.