Firefly Lane trailer: When is season 2 coming back?
You're going to cry really hard while watching the trailer for the last few episodes of Firefly Lane season 2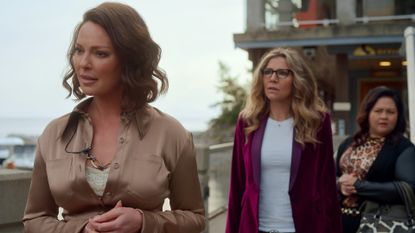 (Image credit: COURTESY OF NETFLIX)
Netflix already announced that season 2 of Firefly Lane will be the series' last and, now, we get to glimpse at what's in store for the final seven episodes of the show - which are set to drop on the streaming platform next month.
Firefly Lane season 2 was released on Netflix on December 2, 2022 but the 16 episodes making up the season were split into two parts. The first 9 episodes are already available for streaming while the remaining 7 will officially drop on April 27.
The streaming network just released its latest trailer for the show and, fair warning, there will be a lot to cry about.
WHAT IS FIREFLY LANE ABOUT?
Based on an eponymous novel by Kristin Hannah, Firefly Lane follows the loving yet tumultuous friendship between Tully Hart (Katherine Heigl), a famous daytime talk show host, and Kate Mularkey (Sarah Chalke), a housewife who is trying to get back into journalism while going through a divorce.
The series features both current-day scenes and flashbacks showing how the then-teenage characters first met in the 1970s and grew up together.
During Firefly Lane season 1, fans got to truly understand the dynamic between the friends, also getting to know Kate's husband and Tully's producer, Johnny Ryan (Ben Lawson), their daughter Marah Ryan (Yael Yurman) and Tully's free-spirited mother Cloud (Beau Garrett).
FIREFLY LANE SEASON 2 TRAILER
Spoiler alert: at the end of the first batch of season 2 episodes, fans of Firefly Lane were left dealing with a major cliffhanger as Kate received some pretty troubling health-related news while Tully left for Antarctica after the two had a major falling out.
The trailer hints at what's next and, to be very honest, it's not looking great: Kate, now sporting a short hair style, is clearly under cancer treatment, while Tully, her best friend of many years, is very far away, leaving fans to wonder whether she's even aware of Kate's condition.
"Have you thought about reaching out to Tully?," Kate's mother asks her in the trailer. "You might need a friend."
Not to give too much away, but Kate eventually seems to actually reach out to her pal, telling her in an emotional voice mail message that she needs her.
Tully then makes her return, knocks on the Ryans' door and is greeted by Kate's husband Johnny.
"What are you doing here?," he asks his former friend. The trailer ends as Tully is seen walking into Kate's room, with the latter asking her friend, "What took you so long?"
WHEN IS FIREFLY LANE COMING BACK?
The last 7 episodes of the second and final season of Firefly Lane will drop on Netflix on April 27 so anyone with a subscription will be able to binge-watch them right then and there.
Get your tissues ready.
Anna Rahmanan is a New York-based writer and editor who covers culture, entertainment, food, fashion and travel news. Anna's words have appeared on Time Out New York, the Huffington Post, Fortune, Forbes, Us Weekly, Bon Appetit and Brooklyn Magazine, among other outlets.