A whirlwind recap of Firefly Lane Season 2 Part 1, take a look back at the biggest Tully and Kate moments
The Firefly Lane Season 2 Part 1 was filled with emotional highs and lows and here's everything you need to know ahead of Part 2...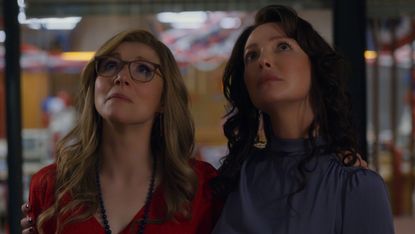 (Image credit: COURTESY OF NETFLIX)
Firefly Lane Season 2 Part 1 left a lot to be explored in Part 2 and after waiting patiently for the story to conclude some fans might be looking for a recap.
Firefly Lane has posed many important questions in the episodes that have aired so far ranging from "Does Tully die in Firefly Lane?" to "Where was Firefly Lane filmed?", however Firefly Lane Season 2 Part 1 was perhaps the most emotional and thought-provoking of all. The Netflix hit is adapted from Kristin Hannah's novel of the same name and follows childhood best friends Tully and Kate and the highs and lows of their bond. With flashbacks and flashforwards throughout their decades of friendship providing more insight, fans have been gradually putting the pieces together and Firefly Lane Season 2 Part 1 ended devastatingly.
Here we explain what happened in Firefly Lane Season 2 Part 1 and reveal when Part 2 will be released…
*Warning: Spoilers ahead*
Firefly Lane Season 2 Part 1 recap
There were several huge moments that Firefly Lane Season 2 was left to respond to and perhaps the biggest of them all was the question of what Tully did to Kate that her former best friend had described in the Season 1 finale as "unforgivable". We knew going into Firefly Lane Season 2 part 1 that the childhood best friends we'd come to know and love weren't speaking and the reason was revealed to be totally different to the one in the Firefly Lane book. It turned out Kate stopped talking to Tully because her friend had been involved in a road accident with Kate's daughter Marah in the car with her.
Although she hadn't been drunk, Tully had been drinking but had set out to rescue Marah anyway as the teenager was made to feel very uncomfortable by a guy at a fraternity party she'd gone to. Marah had also been grounded - something Kate was *very* clear about - but Tully took a less strict approach when she was looking after her and let her go to the movies with her friend Ashley.
As it turned out, Marah hadn't gone to see a film but ended up at the party. It was both Tully's decision to let her go out at all and her choice to pick her up after having some wine turned Kate against her. Nothing Tully said could convince Kate otherwise even though no-one was seriously hurt.
Another of the major moments that left us anxiously awaiting answers ahead of Firefly Lane Season 2 Part 1 was Johnny's fate after he had traveled to Iraq to be a War Correspondent and had been caught up in an explosion.
In Season 2 it was revealed he'd survived but was continuing to process what happened to him. He and Kate have also grown closer again and he proposed to her in Firefly Lane Season 2 Part 1. However, despite their immense happiness things also took a heart-wrenching turn as Kate was diagnosed with breast cancer.
After receiving her diagnosis the one person Kate wanted to support her and talk things through with was Tully. Regardless of their feud she turned up at Tully's door, only to discover that her former friend had set off for an assignment in Antarctica after she'd quit her talk show The Girlfriend Hour.
Given what happens in the Firefly Lane book ending and hints that have been dropped in the trailer it seems likely that a reconciliation could be on the cards in Firefly Lane Season 2 Part 2.
The trailer ends with Johnny asking Tully what she's doing at his and Kate's house as she declares firmly, "She called me". Tully then enters a bedroom and Kate says gently, "What took you so long?", suggesting to hopeful fans that this could signal their friendship being restored to what it was before the car accident.
Meanwhile, throughout Firefly Lane Season 2 Part 1, Tully has been going through a challenging time in her own way. After quitting her talk show, she's been discovering herself and even grows closer to her mom Cloud with whom she's had a difficult relationship. It's her friend Danny Diaz who told her about the Antarctica documentary and suggested she could be involved in it and she told him that he was her emergency contact for the assignment.
As of the end of Firefly Lane Season 2 Part 1 Danny has a girlfriend, but he is still an important part of Tully's life after their rivalry in the past turned into first an on-again-off-again relationship and finally a friendship. Who knows whether Danny could end up being more than a friend to Tully in Firefly Lane Season 2 Part 2, but many fans will likely be hoping for a happy ending.
When will Firefly Lane Season 2 Part 2 be released?
After months of anticipation fans will soon get to see how Tully and Kate's story ends as Firefly Lane Season 2 Part 2's release date is April 27. This second installment comes four months after Firefly Lane Season 2 Part 1 landed on Netflix and it's sadly set to be the show's last outing as it's been confirmed there'll be no Firefly Lane season 3. This makes Part 2 of the second season all the more significant and as fans wait with equal excitement and anxiety over what could unfold it seems like it'll definitely be worth the wait.
Firefly Lane Season 2 Part 1 is available to watch on Netflix now.
Emma is a Senior Lifestyle Writer with six years of experience working in digital publishing. Her specialist areas including literature, the British Royal Family and knowing all there is to know about the latest TV shows on the BBC, ITV, Channel 4 and every streaming service out there. When she's not writing about the next unmissable show to add to your to-watch list or delving into royal protocol, you can find Emma cooking and watching yet more crime dramas.