How to save on energy bills during the energy crisis
As the energy crisis continues, experts have explained how you can save on energy bills and which quick money-saving hacks you can try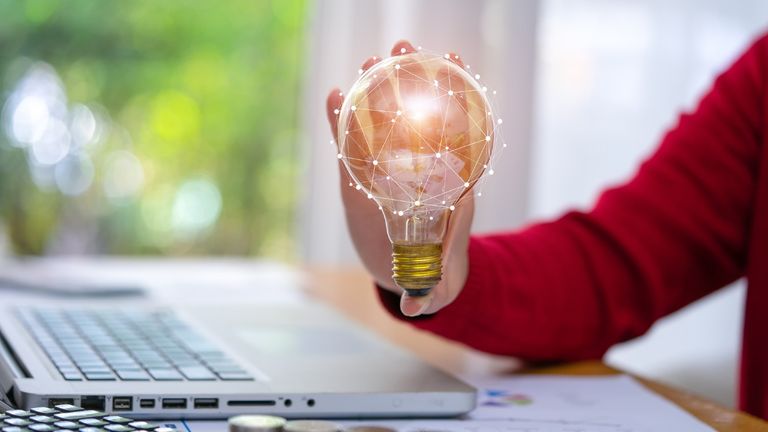 (Image credit: manusapon kasosod/Getty Images)
The energy crisis and concerns surrounding how the UK will cope during the winter months are certainly worth worrying about. In light of recent reports regarding the crisis, woman&home reached out to experts to find out why the crisis is happening and how to avoid getting hit with massive bills.
The UK is currently in an energy crisis and the increase in price caps that was announced just last week has caused many people to panic about their energy bills.
Although it was also announced by Rishi Sunak that a £350 bailout will be available to help the poorest in the UK pay their bills, many people in the UK are concerned that this will barely scratch the surface and many will be paying huge energy bills.
We spoke to some experts who have explained exactly why this is happening, and how you can save money during the energy crisis.
---
How to save on energy bills during the energy crisis
Experts at Plumb Nation (opens in new tab) have described exactly how we can save money on our energy bills. The brand's top 10 tips should allow you to make small savings here and there that should allow you to save a chunk of money on your bill.
1. Upgrade Your Thermostat
"Your thermostat controls your home's temperature by communicating with your boiler. Thermostats, particularly in older homes with older heating systems, can degrade over time," says Plumb Nation.
"Such degradation can lead to delays in your boiler switching on, or your home being heated at much higher temperatures than required. Upgrading your thermostat could provide for greater accuracy in thermostat to boiler communication, preventing energy from being wasted, and saving you money."
Although this option is one of the pricier money-saving solutions, there are plenty of alternatives that you can also try.
2. Stop Draughts
"Stopping heat from escaping through unwanted gaps is one of the cheapest and most effective ways to save energy and money. To draught-proof your home, you need to primarily identify the 'problem areas' where draughts are causing issues, these could include doors, windows, chimneys and floorboards."
"You can block unwanted gaps by using draught-proofing strips around your windows and doors, or flexible silicone-based filler to fill the gaps in your floorboards," says Plumb Nation.
Draft excluders are available on a variety of sites and large clear plastic panels can be placed in front of traditional open fireplaces.
3. Add an Extra Layer (or two!)
Plumb Nation also recommends that wearing a dressing gown, or a couple of jumpers is always an inexpensive way to stay warm.
"Instead of heating your home to be warm enough to walk around in shorts and a t-shirt, why not turn your thermostat down and put on a jumper?"
"Adding clothing layers will insulate your body and make it easier to regulate your body's temperature. The more layers you wear, the less the heating will need to be on, reducing your heating bills."
Whether your after the best blanket or the best robe there are plenty of thick and fashionable items that are sure to keep you warm and your energy bills low.
4. Introduce Soft Furnishings
Although a minimalistic interior design might be your preference, Plumb Nation suggests that various soft furnishings inside your home can help to keep the heat in.
They said, "Soft furnishings, such as curtains and rugs, can make all the difference in saving money on your heating. If you have a carpeted home then it will naturally help to boost insulation; however, if you have hard flooring investing in some good quality materials, such as a plush rug, will help to prevent heat from being lost."
5. Turn Your Thermostat Down By 1°C
"An excessive heating bill can be easily rectified with the 'step-down' challenge. By turning your heating down by just 1°C, you can save up to 10% on your heating bill. The typical heating range is between 18- 21°C… so why don't you see how low you can go?"
They also explained some of the myths about heating homes, "It is also important to avoid classic thermostat 'faux pas'. Contrary to popular belief, turning up your thermostat does NOT heat up your room quicker. This method will only send your energy bills skyrocketing."
6. Clean Your Radiators
Another easy way is to make sure your radiators are dust-free and fully releasing the heat inside.
"If your radiators aren't in your weekly cleaning routine, then it's time to add them. A buildup of dust can affect your health, allergies and your heating bill. Layers of dust in your radiator can prevent heat from escaping effectively, meaning your radiators will have to work harder to warm your room," they said.
7. Don't Dry Your Clothes On Your Radiator
Letting clothes dry on the radiator may seem like a good option when you have damp items that need some heat, but this is another classic mistake some of us are making.
"We would recommend that you stop using your radiators to dry your clothes. The clothes that you place over the top of your radiators prevent the heat from escaping and heating your room, meaning that your boiler has to pick up the slack and work at a greater rate—increasing costs."
"Similarly, the increase in the air's moisture can create condensation, leading to potential issues with mold and dampness," said Plumb Nation.
8. Check Your Radiator Cover
Getting rid of old radiator covers is another idea suggested by Plumb Nation, who suggests that the covers can be huge energy wasters.
"If you have a radiator cover make sure to check that it is a good conductor of heat. Radiator covers made from materials such as wood are poor conductors and can prevent heat from being dispersed effectively—wasting energy and money. Also, if your radiator cover has a solid top then you may be losing even more heat, as it will be absorbed by the top of the cover."
9. Bleed Your Radiators
"Bleeding your radiator is essential in preventing the efficiency of your radiator from decreasing, as a result of air entering your heating system."
The company also explains how to check if your radiators need bleeding. "The quickest way to check if air has entered your heating system is to turn your central heating on and feel your radiator. If the radiator is warm at the bottom but cold at the top this is generally a sign that air is present."
10. Get Your Boiler Serviced
"If your boiler is aging and has seen better days, there's a strong chance it won't be working as efficiently as it once was. Defective boilers can increase your heating bill massively as they will need to work significantly harder to bring your home up to the desired temperature."
The experts suggest that getting your boiler serviced every year will help you save money and ensure your boiler is safe.
"We recommend that you get your boiler serviced every 12 months (preferably before the winter season), to ensure that your boiler is running efficiently and safely."
Who will get help with energy bills?
There are a variety of different schemes that can help you pay your energy bills if you are unable to afford these increased prices.
Rishi Sunak announced that £150 council tax rebates would be given to homes in bands A to D (the council tax bracket meaning the house value is between £40,000 and £88,000) and a £200 discount on bills would also be available.
Aside from this recent controversial plan, there are many other payment schemes that can help people. The Warm House Discount Scheme, Winter Fuel Payment Scheme, Cold Weather Payments Scheme can assist people who are receiving universal credit, pension credit, income support, and jobseeker's allowance.
There are also schemes for those who were born on or before September 1955, or have a low income. To find out which schemes may best be suited to your needs visit Citizen's Advice (opens in new tab) and see if you may be eligible for support from the government, your local council, or your energy supplier.
Will electricity prices go up as much as gas?
Both electricity and gas prices are increasing at the moment and many experts suggest that this isn't going to stop.
The annual price caps that are being discussed at the moment refer to the joint cost of electricity which is what the typical dual fuel user pays.
Parliamentary research (opens in new tab) has suggested that although gas prices are leading the increase in energy prices, the cost of electricity is also rising.
"Gas has led the price rise, but electricity prices have followed as gas is one of the fuels used to generate electricity." This means that as both gas and electricity are so closely linked, when the price of gas increases, electricity soon follows.
Why have energy bills gone up?
Energy bills have recently gone up because we are in an Energy Crisis. We asked an expert to explain why an Energy Crisis has taken place in the UK.
Alex Troth, Commercial Director at Seaglass Cloud Technology (opens in new tab) explains that after a surge in demands for natural gas, the UK is struggling to keep up. This has added to what he calls the 'perfect storm' contributing to the energy crisis.
"There has been a shortage of gas across Europe, and the UK has less gas storage capacity than in previous years, " he says.
The gas situation isn't our only issue, adds Alex. "Wind generation has been low; high interconnector capacity costs after Brexit and price decoupling from the larger European pool that could act as a price stabilizer; and some generators sitting out the wholesale market to get higher prices in the balancing mechanism."
Aoife is Junior News Editor at woman&home.
She's an Irish journalist and writer with a background in creative writing, comedy, and TV production.
Formerly Aoife was a contributing writer at Bustle and her words can be found in the Metro, Huffpost, Delicious, Imperica, EVOKE and her poetry features in the Queer Life, Queer Love anthology.
Outside of work you might bump into her at a garden center, charity shop, hot yoga studio, lifting heavy weights, or (most likely) supping/eating some sort of delicious drink/meal.