Research shows that one of Britain's oldest native dogs is at risk of extinction
Sad news for British dog lovers...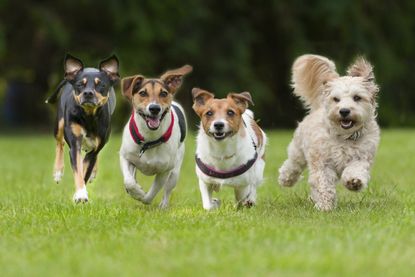 (Image credit: Getty Images)
Choosing between dog breeds can be very hard. Unfortunately for one British dog, it's at risk of extinction as its numbers are now at an all-time low.
Data on dog breeds from the Kennel Club shows that whilst the Labrador is Britain's most popular, the Pointer is now at risk of extinction.
In 2019, only436 registrations were recorded for the breed - a decline from previous years - which could soon put thePointer into the Kennel Club's 'At Watch' list for the first time ever.
There are currently seven dog breeds on Kennel Club's 'At Watch' list (opens in new tab): Bearded Collie, Bedlington Terrier, Bullmastiff, Irish Terrier, Old English Sheepdog, Parson Russell Terrier and Welsh Terrier.
MORE:This is how long different dog breeds should be walked for every day (opens in new tab)
On top of this, other British favourites such as West Highland White Terrier (known as Westies), Boxers, Staffies and Border Terriers, are no longer on the most popular list.Instead, dog owners are now favouring popular international breeds such as Dachshunds, Pomeranians, Chow Chows and Shiba Inus.
As a result of award-winning Netflix series The Crown, (opens in new tab) people are also favouring Corgis, the Queen's favourite dog breed. The monarch has owned over thirty Corgis in her life.
MORE:' Dogs don't come with a gift receipt' Heartbreaking advert about buying dogs as Christmas presents is bringing people to tears (opens in new tab)
But, in an effort to protect dog breeds, the Kennel Club is urging Brits to resist adopting popular dogs. Bill Lambert, a spokesperson, says, "People simply forget there are so many different dog breeds, with different personalities and characteristics, and it's not just the popular, well-known ones that make a great match for our varying lifestyles."
He added, "These latest figures show that whilst some historic native breeds like the Corgi are having a revival, others continue to fall rapidly in popularity and are genuinely at risk of disappearing.
"While we're lucky to have such diversity amongst our canine companions, it is worrying that old favourites like the Pointer and Parson Russell Terrier are dropping in numbers to historical lows."
The Kennel Club's website (opens in new tab) offers a Find A Breed service, which helps potential dog owners find the right match for their lifestyles.
Questions include how much exercise you're able to provide, grooming commitments, and whether you live in a town or country.
Finally, they ask if you're interested in a Vulnerable Native Breed (opens in new tab). The website reads, 'Breeds of British and Irish origin who are considered to be vulnerable i.e. those whose numbers are declining and whose status within the world of dogs has diminished over a number of years.'
Some dogs on this Vulnerable Native Breeds list include Bloodhounds, King Charles Spaniels, English Setters, Fox Terriers, Mastiffs and more.
Lucy Buglass is a Digital Writer specialising in TV, film and lifestyle content and has written for What's On TV, GoodtoKnow and Whattowatch.com. She's passionate about entertainment and spends most of her free time watching Netflix series, BBC dramas, or going to the cinema to catch the latest film releases. In her spare time, she writes film and television reviews for JumpCut Online and her own blog, Lucy Goes To Hollywood.