Desperate Measures: Is it based on a true story and other burning questions we have about the chilling Channel 5 drama
Desperate Measures tells the tale of a mother's worst nightmare as Rowan Taylor prepares to do the unthinkable to protect her teenage son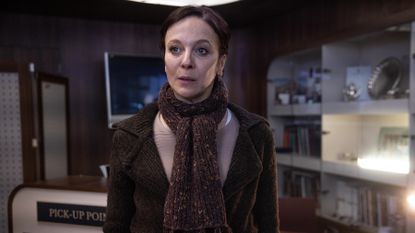 (Image credit: Channel 5/Viacom CBS)
Desperate Measures is a heart-wrenching tale of a mother's quest to do whatever it takes to save her son - even if it means joining forces with criminals.
Following hot on the heels of fellow Channel 5 dramas The Holiday which is now also a huge Netflix success and the recently concluded The Catch comes brand new four-parter Desperate Measures. Rather than dipping its toe into the world of the classic investigative whodunnit, this emotional rollercoaster of a TV show follows a single mother finding herself preparing to try and pull off a heist - all to save her teenage son. Determined to protect him from a violent gang leader, Rowan Taylor's ordinary life as a bank cashier now evolves into a life of crime.
Here we reveal more about Desperate Measures' intense storyline, if it's based on a real-life crime and other burning questions you might want the answers to…
*Warning: spoilers ahead*
What is Desperate Measures about?
Desperate almost doesn't cover the emotional turmoil faced by devoted single mother Rowan Taylor when she discovers her son Finn has got himself entangled with local gangster Kristof. From that moment on Rowan's normal life working as a cashier at a bank is overturned as finds herself willing to do anything to protect Finn.
With the emotional stakes and the mother-son bond that made No Return so unforgettable, Desperate Measures sees Rowan step up to try and pay off Finn's staggering debts after he was manipulated into a drug deal. Already struggling to pay off those of her absent father, Rowan seems to have no other option but being involved in a heist. The target in question? The same bank she works at, of course. But any price is worth paying if it keeps Finn alive, she reasons.
Is Desperate Measures based on a true story?
Unlike plenty of other heart-wrenching thrillers in recent months, Desperate Measures isn't based on a true story. Nor is it based on a book like Netflix's Snow Girl and Vera The Darkest Evening have been and instead, Desperate Measures is purely fictional and written specifically as a TV series for Channel 5. It was written by Michael Foott and although Finn Taylor's entanglement with the criminal underworld might not be universally relatable, Rowan's desire to protect her son despite considerable risk to herself is something many parents might feel deeply.
According to RadioTimes.com (opens in new tab), Desperate Measures' lead star Amanda Abbington explained that the true core of the Channel 5 TV show is that unbreakable bond between a mother and son.
"It's a really compelling, exciting series and a good story to watch, but it's really about a mother's love and I hope that's what people take away from it," she declared. "It's about what she'll do for her child and whether she gets away with it or not, and it's up to the audience to draw their own moral conclusions. If people go away talking about that, then I'll be very happy."
Who's in the Desperate Measures cast and where have you seen them before?
Perhaps Desperate Measures' most recognizable star is the brilliant Amanda Abbington - known for everything from BBC's Sherlock to Sky's Wolfe. She takes the lead in the Channel 5 show as single mom Rowan Taylor who finds herself in an impossible position which crosses her own moral boundaries to help her teenage son who's in terrible danger.
Finn Taylor is played by Jesse Cescatti-McFarlane who's previously appeared in Choose or Die alongside Sex Education's Asa Butterfield. His character has aspirations to attend university, but after getting involved with a gang-related drug deal gone wrong his life is in jeopardy.
He now owes major money to a violent gang leader and with no way to pay it off, Rowan gets in contact with an ex-partner that *might* just be able to help her pull off a Finn-saving heist.
Luther star Warren Brown plays said ex-partner and you might also remember him as a member of BBC's The Responder cast last year. After playing two prominent police officers, Warren crosses the criminal line in Desperate Measures as his character Patrick is far more used to breaking the law than upholding it.
This is exactly what Rowan needs as he's the only man who can help her in her time of dire need.
Casualty and Sherwood star Sunetra Sarker stars in the Channel 5 TV show's cast as Varisha - a colleague and friend of Rowan's at the bank who becomes embroiled in the plan too. Rowan's dad Mal is played by Francis Magee who's appeared in everything from the movie Layer Cake with Daniel Craig to Vera season 12. In Desperate Measures Mal has already abandoned Rowan leaving behind huge debts and the pair haven't spoken in many years.
Also in the Desperate Measures cast are Gábor Nagypál as criminal Kristof who threatened Finn Taylor, Seb Cardinal as bank boss Clive Powell and Harry Rose Kristof's courier Conor.
Where was Desperate Measures filmed?
Mirroring how The Teacher was filmed in Budapest, Desperate Measures was also filmed in the Hungarian capital though the sinister events of the Channel 5 drama actually go down in Manchester. This was something which Amanda Abbington previously told RadioTimes.com (opens in new tab) was a bit "weird", as they had the Northern English city in their minds when they were filming.
"[I]n everybody's head we were in Manchester", the Desperate Measures lead star explained, adding, "The building that we filmed in was amazing – this very, very old, cavernous place. It was a real bank with a proper vault and when the production team went on the recce, they got locked in, which would have terrified me because I'm really claustrophobic – I am not good with small spaces at all."
However she felt that "it makes the job a lot easier" being able to film in "places like that where it's really authentic". Meanwhile, according to co-star Sunetra Sarker the reason Desperate Measures was filmed in Budapest was because the story's events aren't only relatable linked to one specific city.
She said, "The reason we shot it in Budapest is that this story isn't city specific. It could happen in London, Sheffield, Manchester, Liverpool, Scotland, Cardiff. It's a story about people who are getting on with their lives and then something really dramatic happens, quite far-fetched, and then push comes to shove in terms of what do you do? Do you help your friend rob a bank to save her son, or don't you?"
Describing the Hungarian capital as a "beautiful part of Hungary" that's "full of history", Sunetra also expressed her belief that it shares "a lot of tonal similarities with the UK".
So whilst Desperate Measures isn't actually filmed in the same place it's set, it seems this difference likely won't go noticed by many fans as they're drawn into the Channel 5 drama's intense storyline.
Desperate Measures airs at 9pm on Channel 5 on consecutive nights from February 21-February 24 and episodes will also be made available afterwards on My5.
Emma is a Senior Lifestyle Writer with six years of experience working in digital publishing. Her specialist areas including literature, the British Royal Family and knowing all there is to know about the latest TV shows on the BBC, ITV, Channel 4 and every streaming service out there. When she's not writing about the next unmissable show to add to your to-watch list or delving into royal protocol, you can find Emma cooking and watching yet more crime dramas.