Vera The Darkest Evening ending: Does Vera Stanhope die in the ITV drama and how is it different to the Ann Cleeves book?
Vera The Darkest Evening ended season 12 in intense style and you might be wondering if Vera dies as the case took a dangerous turn...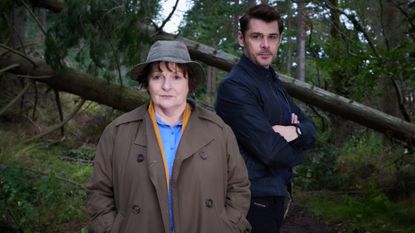 (Image credit: ITV STUDIOS FOR ITV)
Vera The Darkest Evening rounded off the latest season of the hit ITV drama to a dramatic close and it was the first in several seasons to directly adapt one of Ann Cleeves' Vera novels.
It might only have been four episodes long but Vera season 12 has been one to remember - not least because of the gripping finale based on Ann Cleeves' The Darkest Evening. This Vera novel and the ITV adaptation of it sees DCI Vera Stanhope discover an abandoned car with a toddler in it. Taking him to her relatives' stately home nearby, the boy's mother Lorna is soon found dead. So begins a quest to uncover who her son's father is and who ended her life. Making several big changes from the book, the Vera The Darkest Evening ending was full of twists and turns.
But does Vera die in season 12 and how different is the Vera The Darkest Evening ending in the book and show? We breakdown the details…
*Warning: Spoilers ahead*
Does Vera die in season 12?
Thriller fans who haven't read the Vera The Darkest Evening book might well have faced an anxious wait after she appeared to have been taken out by a shotgun in the episode's closing stages. However, Vera didn't die in season 12 and she was still very much alive at the end of the novel too. She came very close in both, but her life hung in the balance much more in Ann Cleeves' The Darkest Evening book.
After the murderer strangled her in the snow she in a very bad way when DC Holly Lawson (who left the show as a character in season 2) knelt down beside her in the darkness, though she did manage to congratulate her on her quick-thinking in apprehending the killer.
Vera explained, "I lost consciousness for a bit and only came to when I heard you shouting. He'd have finished me off, though, if he'd realized."
The DCI was rushed to hospital for treatment for not only the strangling, but hyperthermia. She was only discharged because DS Joe Ashworth (who left in season 4 of the show and was replaced by DS Aidan Healy) said he would drive her home and stay with her overnight.
In the TV episode, Vera was shot at but instead of being injured by the weapon, she sustained a head injury when she hit the wall after being knocked to the ground. She refused medical attention and later told her distant relatives Juliet and Harriet that it "twinges a bit" but that was all. The Vera The Darkest Evening TV episode isn't set around Christmas like the book so the weather isn't a factor in her injury either.
Vera The Darkest Evening ending show vs book explained
Throughout Vera The Darkest Evening, DCI Vera Stanhope, DS Aidan Healy and the team were hard at work trying to uncover who killed young mother Lorna Falstone. It was Vera who'd found her car abandoned with her baby son Thomas in it one night - kickstarting both the TV episode and the Ann Cleeves' book's disturbing events. But just like we've seen with so many of the best book-to-TV and best book-to-movie adaptations, there have been some fairly major changes made.
In the show, Lorna isn't the only murder victim as a man called Ronnie Browne is also killed during the course of the episode. However, in the Vera The Darkest Evening book the second victim is local teacher Constance Browne. She had given the killer - Nial Heslop - the benefit of the doubt after suspecting them and had been murdered to prevent her telling anyone that he was the father of Thomas.
After some heart-wrenching moments and a very near miss after being shot at for Vera, The Darkest Evening show ending featured a final showdown at the Heslop's house. Here Vera and Aidan arrived to find Nial's daughter Hettie Heslop holding Thomas and her brother Joshua with them.
Just when they'd persuaded Hettie to leave with them, Nial Heslop appeared in the doorway wielding a shotgun, confirming him as the person who'd shot at Vera. When Nial was also revealed as Lorna's murderer, Josh attacked his father and wrestled the gun from him. Nial goaded his son towards violence, but he was no match for Vera.
She gently talked Josh out of following his father's murderous example and Nial was arrested and interviewed back at the station. It's here that fans learnt about his relationship with Lorna and he was revealed to be Thomas' father.
Refusing to accept responsibility for killing her, Nial maintained that Ronnie Browne had caused Lorna's death. Ronnie had encouraged her to pursue a life of her own, painting and looking after Thomas without her controlling secret partner.
Lorna had grown stronger, wanted independence and didn't need Nial anymore - something he wouldn't tolerate as he claimed they'd made "plans'' together and he'd intended to leave his wife. Ultimately, Aidan told him that in his opinion all of the Heslops and Thomas were "better off" without Nial in their lives.
The final scenes showed Vera visiting Thomas at his maternal grandparents and learning that her distant Stanhope relatives had sold the cottage to them rather than evicting them. She then told the Stanhopes about Nial's arrest and was invited to stay for tea, though she politely declined, leaving their grand house to return to her life of crime-solving solitude.
The Vera The Darkest Evening book ending couldn't be more different. Rather than having Aidan on hand to help, Vera left DS Joe Ashworth and DC Holly Lawson an unclear voicemail. Joe was anxious as the pair set off to find their boss as he could detect panic in Vera's voice - something he remarked to himself was unheard of. The sinister confrontation between Vera and Nial went down at night in the snow in December, adding extra intrigue and intensity to the book scenes.
Having lured him away from Thomas who he'd taken to his and Lorna's "special place", she confronted Nial with what she knew and put the pieces together as he pointed a shotgun at her. Just like in the show, Nial romanticized his relationship with Lorna, but Vera refused to let him continue to manipulate Lorna's story.
"She was a much better parent to Thomas than you'd ever be and it wasn't an arrangement you wanted but some crazy idea of revenge," she told him.
(opens in new tab)
The Darkest Evening by Ann Cleeves |£4.99 |Amazon (opens in new tab)
Driving home during a blizzard, Vera Stanhope finds an car abandoned in the road, a toddler in the back seat. Taking him to the stately home her father grew up in, Vera crashes a family party. It's only later that a young woman is found dead in the snow. But could she be the boy's mother?
It's after this remark that Nial snapped and strangled the determined DCI - just as he did to Lorna. With Vera unconscious on the ground, Holly arrived on the scene and convinced Nial that armed backup is in the trees around them, before he surrendered and she could reach Vera.
It was also revealed that Holly had found Thomas and rescued him, rather than him being with Nial Heslop's children like in the ITV drama. Afterwards, The Darkest Evening book ending sees Vera and Joe have a frank conversation at her home about how she uncovered Nial's guilt.
There is a similar moment between Vera and Aidan in Vera season 12, but in the novel it's far longer and Vera goes into real detail about how she realized he could've established a fake alibi and how Lorna had been where she was because she'd been waiting for Nial that fateful night - the shortest night of the year.
The Vera The Darkest Evening book is set around Christmas, unlike the show. And inspired by the spirit of the season, Vera even ponders about being a kind of guardian in Thomas' life, helping him out and visiting him occasionally and is told by the Falstones she'd be more than welcome to drop in and see Thomas in future.
How many episodes of Vera season 12 are there?
Sadly, just like the Silent Witness Southbay ending marked the end of the latest season of the hit BBC drama, Vera season 12 ended with The Darkest Evening as the latest series consists of 4 episodes. However, this isn't the last you'll see of Vera over the coming months and book fans might be delighted to learn that a special Vera episode has been filmed that also directly adapts one of Ann Cleeves' books.
Discussing this previously with ITV, as per RadioTimes.com, Vera's actor Brenda Blethyn revealed that "later in the year" viewers can enjoy The Rising Tide.
"There's been a little wait but Vera fans can look forward to six new feature length episodes, instead of the usual four. To be followed by a seventh film – The Rising Tide – later in the year, which we only finished filming just before Christmas," she said. "That's based on the latest Ann Cleeves' Vera novel of the same name which was published in September. We began making that in November and wrapped in December."
The Rising Tide book sees a group of old school friends undertaking their traditional reunion trip to Lindisfarne, also known as Holy Island. However, the memory of the death of one of their group years before haunts them and each of them has something to hide. Before long one of their number is found dead and Vera arrives on the island to uncover their secrets.
There's currently no release date for The Rising Tide adaptation but all episodes of Vera seasons 1-12 are available to watch via ITVX.
Emma is a Senior Lifestyle Writer with six years of experience working in digital publishing. Her specialist areas including literature, the British Royal Family and knowing all there is to know about the latest TV shows on the BBC, ITV, Channel 4 and every streaming service out there. When she's not writing about the next unmissable show to add to your to-watch list or delving into royal protocol, you can find Emma cooking and watching yet more crime dramas.