Dawn French denies claims she lost 6 stone in four months in rare outburst
The beloved comedian took to Twitter to speak out against the claims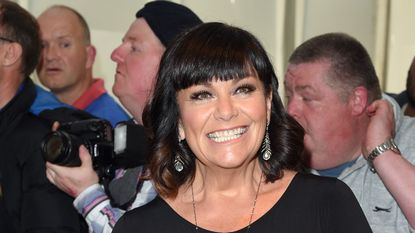 (Image credit: Getty)
Dawn French has denied claims she lost six stone in four months without doing any exercise.
A lot has been written about the comedian's weight loss in the past, and now Dawn French has hit out against fresh claims she shed six stone in four months without exercising.
A fan asked her on Twitter, "Do you mind me asking if this is true or is someone taking your wonderful name in vein?"
The quote in question was Dawn allegedly saying, "All I can say is that it works! I dropped a total of 6 stones in the course of 4 months! Beret the catch, with no exercise!"
"I wanted to see if it would do as they claimed it would if I did no exercise and to my surprise it did."
Dawn, 64—who recently made a surprising confession her Vicar of Dibley character—simply responded, "Boll**s."
Newly-grey haired Dawn French hit headlines back in 2014 when she lost over 7st. And while there were rumors about how and why she'd decided to shed the pounds, Dawn revealed it was all to do with an upcoming operation and nothing to do with vanity.
She said, "When I was due to have my hysterectomy the doctor told me that if I could lose some weight before the op, they would be able to do it via keyhole, and I would recover in three weeks or so. Otherwise it would be big open surgery, and three months to recover."
While her weight loss certainly set tongues wagging, Dawn assured it was far from miraculous, and more practical.
"I set about dropping a few stone," she confessed on her 30 Million Minutes tour. "No magic wand, just tiny, joyless low-cal eating and lots more walking for weeks and weeks. It was grim. I lost seven-and-a-half stone. I could have the keyhole surgery. Great. That's all it was, practical."
Fast forward to now and the star recently discussed how her weight has a tendency to fluctuate, but is unfazed by weight gain.
Speaking on French & Saunders: Titting About, Dawn confessed, "I've gone back to being an entire barrel but do you know what, I'm going to be 63 this year, I don't give a f***, I really don't, so long as I can walk. I'm not going to be stingy to myself anymore. I never did dislike anything about my body, even when I was very, very fat. I refuse to be forced to dislike myself."
"I used to get really angry when I did lose weight, people going, 'You look so well,' as if you looked awful before—rewarding you for managing it, which is not easy, I accept that. But I didn't want people to give me approval. It's so patronizing."
Georgia writes across Woman & Home and Good to Know and specialises in all things royal. Previously labelled the "Queen of the royals," Georgia knows the whose who and what's what when it comes to the monarchy. When she's not eagerly following the royal family, Georgia enjoys shopping and self-care. She lives with this motto in mind; "if your dreams don't scare you, they aren't big enough."