Christmas film quiz questions and answers for festive fun
Test your loved ones with these challenging Christmas film quiz questions for a merry movie challenge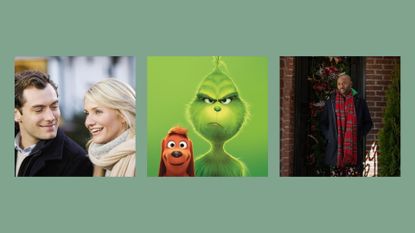 (Image credit: Photos: Netflix)
Test your movie knowledge with our Christmas film quiz - the perfect way to spend those quiet hours after all the presents are unwrapped and the food has been eaten over the holidays.
From Christmas classics like It's a Wonderful Life to modern favorites, find out who will be having a merry little Christmas and who will be sulking like Scrooge by making a Christmas party game out of these festive film quiz questions.
Starting off easier and getting more difficult, this quiz will test your knowledge on everything from the cast lists to settings and soundtracks from all your favorite holiday movies. You might want to study up by watching the best Christmas movies on Netflix and best Christmas movies on Amazon Prime first!
25 festive Christmas film quiz questions
Q: Who plays Kris Kringle in the 1994 remake of Miracle on 34th Street?
A: Richard Attenborough
Q: In Home Alone 2: Lost in New York, which iconic Manhattan hotel does Kevin check into?
A: The Plaza Hotel
Q: Who played the Grinch in the 2000's How The Grinch Stole Christmas?
A: Jim Carrey
Q: Which film did Bing Crosby first sing the song White Christmas?
A: Holiday Inn
Q: Who plays Scrooge in A Muppet's Christmas Carol?
A: Michael Caine
Q: Complete the classic quote, "Every time a bell rings, an angel gets..."
A: "...its wings."
Q: In The Holiday, who does Kate Winslet fall in love with while staying in Los Angeles?
A: Jack Black
Q: Who played the British Prime Minister in Love, Actually?
A: Hugh Grant
Q: What is the name of James Stewart's character in It's a Wonderful Life?
A: George Bailey
Q: In Scrooged, the Bill Murray reimagining of A Christmas Carol, what industry does Murray's character work in?
A: Television
Q: In the Christmas movie on Disney Plus Home Alone 2, what New York City landmark does Kevin's mum know he will visit on Christmas Eve?
A: The Rockefeller Center Christmas Tree
Q: In The Holiday, where is Kate Winslet's cottage located?
A: Surrey
Q: Which Judy Garland film features the song Have Yourself a Merry Little Christmas?
A: Meet Me in St Louis
Q: The character of Natalie in Love, Actually is played by Martine McCutcheon. What popular British soap did she star in?
A: EastEnders
Q: In The Santa Clause, who does the character played by Tim Allen accidentally kill forcing him to take over their duties?
A: Santa Claus/Father Christmas
Q: Which director, known for her earlier hits like Baby Boom and What Women Want, directed The Holiday?
A: Nancy Meyers
Q: In Scrooged, the Ghost of Christmas Past visits Bill Murray's character disguised as what mythical creature?
A: Fairy
Q: Which real life famous couple play Mr and Mrs Claus in Netflix's The Christmas Chronicles?
A: Kurt Russell and Goldie Hawn
Q: In which fictional town is It's a Wonderful Life set?
A: Bedford Falls
Q: In Miracle on 34th Street, which annual parade does Kris Kringle take part in?
A: The Macy's Thanksgiving Parade
Q: In Love, Actually, what album does Harry (Alan Rickman) give to his wife, Karen (Emma Thompson) instead of the necklace that was actually for his mistress?
A: Both Sides Now, Joni Mitchell
Q: This actress played Susan in the original Miracle on 34th Street before going on to become a Hollywood icon as an adult. Who is she?
A: Natalie Wood
Q: Which comedic actress plays Kevin's mother in Home Alone?
A: Catherine O'Hara
Q: Which iconic country singer released a Christmas movie called Christmas on the Square in 2020?
A: Dolly Parton
Q: What is the highest grossing Christmas movie of all time (correct as of December 2021)? The Grinch (2018), Home Alone or Elf?
A: The Grinch! The animated remake which featured the likes of Benedict Cumberbatch voicing the Grinch has grossed $511,595,957. Home Alone comes second, grossing $476,700,000
Jack Slater is not the Last Action Hero, but that's what comes up first when you Google him. Preferring a much more sedentary life, Jack gets his thrills by covering news, entertainment, celebrity, film and culture for woman&home, and other digital publications.
Having written for various print and online publications—ranging from national syndicates to niche magazines—Jack has written about nearly everything there is to write about, covering LGBTQ+ news, celebrity features, TV and film scoops, reviewing the latest theatre shows lighting up London's West End and the most pressing of SEO based stories.