Christmas card etiquette rules to keep in mind ahead of the festive season
From knowing which card to buy to what you really should write, writer Julia Llewellyn Smith shares her tongue-in-cheek advice for Christmas card etiquette—including insight from etiquette experts...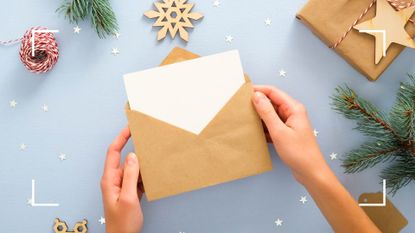 (Image credit: Getty Images)
Christmas card etiquette may not be something you've thought about this festive season, but if you want to send cards the traditional way, it's important to bear in mind when connecting with loved ones over the holidays.
Sending and receiving Christmas cards may have fallen out of favor in recent years. Be it due to the popularity of texts or emails over the written word, or to busy diaries—but finding the time to sit down at home and scribe messages can seem like the least of our priorities during a busy festive season.
But in the spirit of slowing down, sending Christmas cards can be a lovely way of staying close to family and friends. And journalist Julia Llewellyn Smith argues that the ritual should make a comeback. "To me, cards are as essential a part of the Yuletide tradition as the turkey, tree, and crackers," she said.
So if you'd like to get a head start on your Christmas cards and want to ensure they follow the traditional rules, make sure to follow these Christmas card etiquette rules—relayed only slightly tongue-in-cheek by Julia...
Christmas card etiquette rules to follow
1. Keep a proper list
Make this the last year you squander your money on sending unrequited season's greetings into the ether—or hang your head in shame when your poor old Auntie's card arrives too late to be reciprocated. Ensuring you send a card to everyone that you need to is arguably the number one rule of Christmas card etiquette, lest anyone feels forgotten or lonely at Christmas.
To help you make sure you tick everyone off, write a list of everyone you receive a card from, including names (of all family members—"and the kids" won't cut it) and addresses. And make sure you put this list somewhere it won't get ruined. An online document—or even better—a spreadsheet, will save you time, money and hassle in the long run, says etiquette expert William Hanson, author of The Bluffer's Guide to Etiquette.
And if you want, make a list of those who don't return your Christmas wishes, too, so you can save your pennies in the future...
2. Choose a card that supports a charity
According to Hanson, sending a Christmas card which doesn't support a charity is "tantamount to social hara-kiri" (i.e. ritual suicide by disembowelment!). Dramatic, sure, but choosing a Christmas card that supports a charity is a great way to connect with loved ones whilst giving back in a small way.
Many charities collaborate with Christmas card-makers. Some of the charities in the US that you can support with Christmas cards are:
The Salvation Army
ASPCA
Oxfam
UNICEF
And in the US, many charities work with Christmas card creators, including:
The RNLI
Macmillan
Great Ormond Street Hospital
Shelter
All you need to do is make sure when you're buying your card (from wherever!) that is has information about which charity it supports on the back, or front of the packet.
And if you want to do more over the festive season for good causes, see our guide to how you can volunteer at Christmas.
3. Choose an appropriate image
Etiquette specialists suggest picking traditional images. Not sure whether your recipients will welcome a religious image or message? Play it safe with 'Season's Greetings', robins, snowflakes and snowscapes—which are also great motifs for the rest of your Christmas decorating ideas. If you opt for a family portrait, make sure it's well done—remember, this image will be adorning mantelpieces up and down the country...
4. Never send e-cards
Five years ago, e-cards marked you out as an innovatory dispenser of Christmas magic. In this day and age, though, no one under the age of 75 is likely to be impressed by an animated elf coming through your email. When it comes to etiquette 'rules' (whether you subscribe to those or not), your family and friends are more likely to appreciate a physical card through the mail.
And according to etiquette experts, there's really no need to send a festive newsletter to loved ones either, detailing the ups and downs of your family's last 12 months. If they're a close friend, they'll be familiar with the ins and outs of your year already.
5. Make sure it is handwritten
When it comes to Christmas card etiquette, this one is vital. Yes—you do have to handwrite them—names (yours and theirs) and addresses (recipient's and return) at the bare minimum. You might think printed address labels make you look fancy, but unless you are, at the very least, the reigning monarch of a small country, they should be avoided, according to etiquette experts.
They are also adamant that, if someone is important enough to be included on your list, they merit a personalized message. It doesn't need to be more than a sentence or two long, but should be made up of a heartfelt message that doesn't feel too generic (and not the hope that you'll see each other again soon, if you haven't met up in 17 years...)
6. Don't sign your pet's name
If you're sending a card to a confirmed crazy cat/dog lady/gentleman, go ahead and add signatures, paw-prints—the works. If not, though, keep the sign-off to two-legged family members.
And that brings us to another important point—don't forget to send your vets/dog groomers a Christmas card this year if you have the time, especially if you've been much in need of their services for your precious pet over the last 12 months!
7. Don't use 'love' for everyone
You might never have thought about your Christmas card sign-off, but according to etiquette experts it's important to choose the correct option, depending on who you are addressing the card to.
They say, save 'love', 'with love' and 'love from' for those you are genuinely close to, such as close friends and family. 'Best wishes' works better for more distant acquaintances and business associates. And there's no need to add 'to' to the top of your card either. Apparently, just the addressee's names at the top will suffice!
8. Ensure you use the right envelope
As 'social correspondence', your Christmas cards' envelope flaps should always be triangular—who knew? Apparently, straight flaps should be reserved for business correspondence only.
Of course, most Christmas cards will come with an accompanying envelope that is often triangular anyway. But feel free to swap it out if yours only comes with straight flaps...
9. Make sure to address people correctly
Not sure about the correct way to address people you're sending Christmas cards too? Here's how, according to etiquette experts...
Married couple—Mr & Mrs R. Smith
Unmarried man—H. Jones, Esq (if he owns property—Mr H. Jones, if not)
Unmarried woman—Miss C. Roberts (Ms is not used socially)
Widowed woman—Mrs R. Smith (R being the initial the late husband's first name)
Divorced woman—Mrs I. Smith (I being the initial from her first name)
Unmarried/widowed/divorced man—Mr Smith
Two men—Messers Cranshaw & Davidson
Two women—Miss Flinders & Miss Davis
Of course, if you know the person well and intimately, there's no need for such formal titles. And you may want to bypass the formalities altogether—remember, this and all of the Christmas card etiquette rules are only relevant to you if you want them to be!
10. Make sure you send your cards at the right time
It's one of the biggest questions of the festive season—when should we send our Christmas cards? Is December too late—and is November too early?
According to etiquette experts, the 8th December is about right. That gives them plenty of time to receive them wherever they are in the country, and display them for around two-three weeks. This is arguably the perfect amount of time to have Christmas cards displayed—it's enough time to enjoy them without them becoming annoying or cluttering up your space. The same rule also applies to sending the best Christmas hampers.
You can display your own from around the 10th etiquette experts say (as long as you've accumulated more than a handful by this point).
And now you've nailed how to create your Christmas cards, why not turn your attention to your presents and see our guides to the best Christmas gifts for her and the best Christmas gifts for men?
---
This article was first published in Woman & Home magazine in 2018. It has since been edited.
Amy Hunt is an experienced digital journalist specialising in homes, interiors and hobbies. She began her career working as the features assistant at woman&home magazine, before moving over to the digital side of the brand where she eventually became the Lifestyle Editor up until January 2022. Amy won the Digital Journalist of the Year award at the AOP Awards in 2019 for her work on womanandhome.com.