Christie Brinkley proves gray roots are trending and her son strongly agrees too!
Model Christie Brinkley just posted a series of photos embracing her fabulous gray hair - and we're so impressed!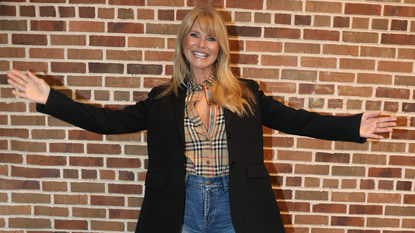 (Image credit: Kevin Kane / Contributor)
If Christie Brinkley does it, we can't help but want to imitate her.
In a new Instagram post, Christie, who is still 'overjoyed' at successful hip replacement despite initial fears, is seen rocking her gray roots while enjoying a day at the beach wearing brown suede boots, a pair of jeans and a tan colored coat everyone should add to their fashion repertoire.
"Grey sky! Gray hair!," the 69-year-old model wrote in the caption to the post. "The second you see gray hair it raises the question, just like when you cut bangs... to keep or not to keep? Thank goodness both are just a personal preference or a fun change of pace."
Christie then went on to reveal that a particular family member of hers is actually a fan of the look: her 27-year-old son Jack Paris Brinkley Cook, whom she shares with ex-husband Richard Taubman.
"My son thinks it looks cool, but I think I may want to wait till it's more like the silver whitecaps than the grey wave itself!," she continued. "The verdict is still out!"
The star's followers quickly took to the comments section of the post to chime in on the discussion - and there was certainly a difference of opinion.
Whereas some spurred Christie to keep on rocking the grays ("Go natural to encourage more women to embrace the beauty of aging gracefully," one user wrote), others suggested she color her hair again ("It may be 'cool' [to go gray] but not as flattering. Just my honest opinion," someone noted).
Alas, Christie opted to go back to blonde, looking fabulous while attending an event in Long Island, New York. To each its own, right?
This isn't the first time that Christie, whose Hollywood body secrets are the stuff of legend, has opened up about aging.
"Forget anti-aging this and all of that. It's really about gratitude," she said to People (opens in new tab) less than a year ago. "It all has to do with your spirit and the energy that you deliver and bring into the room with you. That's what is going to define you. And when you find something to be grateful about in whatever situation you're in, and wherever you may find yourself, that translates to happiness, and happiness and good energy that you can share with other people."
The model obviously knows what she's talking about, having led a stellar career since she first landed on the scene in the early 1980s and all throughout the birth of her three children: Jack; 37-year-old daughter Alexa Ray Joel, born from her previous marriage to Billy Joel; and 24-year-old Sailor Lee Brinkley, whom she shares with ex-husband Peter Cook.
Gray or not, Christie knows how to look fabulous all the time and we can't help by follow her every lead.
Anna Rahmanan is a New York-based writer and editor who covers culture, entertainment, food, fashion and travel news. Anna's words have appeared on Time Out New York, the Huffington Post, Fortune, Forbes, Us Weekly, Bon Appetit and Brooklyn Magazine, among other outlets.