Challenges To Do With Friends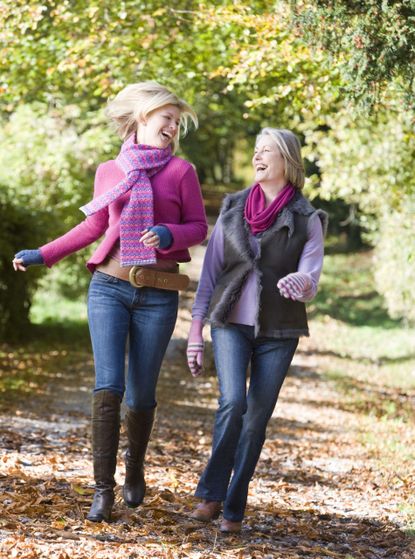 (Image credit: Business Images/REX/Shutterstock)
Feel like taking a step out of your comfort zone this spring, but don't fancy stepping into the unknown on your own? There's a simple solution: drag your friends along with you. Whether you want to replace those tried-and-tested party games with some good challenges to do with your friends at home or book in some bonding time for a charity challenge that'll push your boundaries to the limits, we've got something to suit you. Forget the ice bucket challenge; these are the ultimate comptetitive (or non-competitive) activities to do with your friends in 2017...
Challenges to do at home with friends
Tired of Trivial Pursuit? Sick of charades? Don't despair. Get your next get-together off to a flying start with these fun suggestions...
Food Challenges
Heard of the gallon milk challenge? How about the cinnamon challenge, pickle challenge, raw onion challenge, wasabi challenge or lemon challenge? Call us crazy but, whilst the idea of attempting to eat/drink as much as you can without vomiting might appeal to the average student after a shot or seventeen of Sambuca, we're a little less convinced. If you're with us, read on to discover the fun activities that won't endanger your health, your friends or your new carpet...
Oreo challenge
Take on the Oreo challenge by balancing your favourite chocolatey treat on your forehead. Now eat it - without using your hands. You can make the challenge easier (or, depending on your perspective, harder) by removing one of the biscuit halves first!
Chubby bunny challenge
This one might take you back to your youth/ days around camp fire. You'll need a lot of marshmallows for this game. Take it in turns to pop a marshmallow into your mouth. Now, without chewing or swallowing, say 'chubby bunny'. So far, so good. Continue until your mouths are stuffed with sugary goodness. If you chew, swallow or fail to utter 'chubby bunny' in a coherent manner, you're out.
Blind taste test challenge
There are a few ways to approach the blind taste test challenge. You can don nose clips, synchronised swimmer-stylee, and see just how much your sense of smell influences your sense of taste. If you're not taking part yourself, you can be as kind - or as mean - as you like with your food choices...
Alternatively, try buying a few different examples of premium and budget cheeses, wines or chocolates and seeing who can guess which is which.
Hair and makeup challenges
Have your friends arrive make-up free and bring their make-up bags with them. If there's an odd number of you, try the no mirror make-up challenge. As in, you're putting on your own make-up without looking in the mirror. Think you're up to the test? Set a time limit, then vote on the winner. Make it even harder by turning the lights off...
If there's an even number, pair up and do each other's make-up - blindfolded. Hilarity pretty much guaranteed.
Thumb Challenge
Do your friends spend 90% of your precious time together scrolling through Instagram or texting their significant others? Nip those irritating habits in the bud by introducing the thumb challenge. Use your thumbs - for anything at all - and you're out. Bandage or tape everyone's thumbs down to ensure nobody cheats.
Whisper Challenge
How does the whisper challenge work? One person dons headphones and plays music through them - loudly. Another person whispers something to them (ensuring their lip movements are visible). If the first person guesses what was whispered correctly, they win a point. Big news to share? This can be a fun way to do it...
Accent Challenge
Write down as many different accents and funny phrases as you can think of on slips of paper and pop them into two separate hats (or bowls). Take turns to draw an accent out of one hat and a phrase out of the other. Now say the phrase - in the accent. The first person to correctly guess the accent wins the point.
Charity challenges
Fancy something a bit more, well, challenging? Then why not try a charity challenge? These tend to have a more physical bent, but plenty are suitable for beginners. They're a great excuse for a bit of bonding and, of course, a fab motivation to get fit. Well, you can't let a charity down, can you?
Walking and running challenges
Whether you're a bunch of couch potatoes or a pack of runner beans, there's a walking or running challenge to suit you and your friends and family. Think anything from hill walking challenges like theThree Peaks Challenge (opens in new tab)to the slightly more out-there London Superhero Run (opens in new tab).Think of yourself as a bit of a Wonder Woman? It's time to prove it. Add a bit of friendly competition by holding a sweepstake for the best costume, and why not keep up with each other's training progress usingFitbit (opens in new tab)challenges?
Cycling and rowing challenges
If walking or running strikes you as a bit pedestrian (sorry), why not try amulti-activity team challenge (opens in new tab)? You'll not only walk or run, you'll cycle, canoe, kayak and maybe even zip line, too.
Obstacle course challenges
Don't mind a bit of mud? Then an obstacle course challenge like Tough Mudder could be right up your street. Checklistings (opens in new tab)for upcoming obstacle course races near you.
Survival skills challenges
Fancy learning to navigate by the sun and stars? Building your own shelter or raft and surviving in the great outdoors? Try a survival challenge likeInto the Wild (opens in new tab), organised by LOROS Hospice and Leicester Outdoor Pursuits Centre.
Skydiving challenges
Is a skydive on your bucket list? Why not make it count by raising money for a charity likeBreast Cancer Now (opens in new tab)? Enlist a couple of comrades and see who can raise the most money. The Big Pink Jump takes place onSaturday 10th JuneandSaturday 14th October 2017.