Celebrity holiday cards that delightfully surprise us—from Joan Collins, to Kyle Richards coordinating family outfits
Turns out that celebrities love holiday cards as much as we do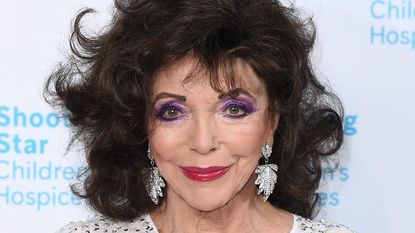 (Image credit: Jeff Spicer/Getty Images)
Sometimes, we forget that celebrities are just like us—which is why seeing them pose with their families for their annual holiday cards fills us with wonder and sweetness every single year.
From Kelly Ripa and her whole family to Joan Collins with her husband Percy Gibson, these notes give us a peek inside stars' everyday lives—some following Christmas card etiquette and others opting for more modern takes on the form. Either way, we're pleasantly surprised with them all.
Here are some of our favorites...
Kelly Ripa
The Consuelos family—Mark, Kelly Ripa, Michael, Lola and Joaquin—made things easy for themselves and simply repurposed a vacation photo as a holiday card. An awesome a simple idea, if you ask us!
---
Kyle Richards
Kyle Richards, of Real Housewives of Beverly Hills fame, and her family—husband Mauricio Umansky and daughters Farrah, Alexia, Sophia and Portia—are all wearing white tops with jeans on the reality star's holiday card, talk about coordinating outfits!
Joan Collins
The one-and-only Joan Collins poses with husband Percy Gibson for a Christmas card looks as festive as we feel on the inside. "Wishing all my family, friends and fans a wonderful and healthy Christmas!!," the iconic actress writes on Instagram alongside a reproduction of the card.
Ashley Tisdale
In a two-picture post on Instagram, actress Ashley Tisdale gives us a behind-the-scenes look at her holiday card-building process. "This year has been so exciting for our growing family and I can't wait to spread the joy we feel," she writes in a note accompanying the photos. Her cute cards feature the 35-year-old actress alongside husband Christopher French and adorable daughter Jupiter Iris French.
Tori Spelling
"It's that time again. It's a winter wonderland at my house," writes Beverly Hills, 90210 alum Tori Spelling on Instagram alongside a photo of her holiday card. In addition to her family, the card features some of the animals that live on the farm with them all—and we actually find the entire thing to be absolutely adorable.
Anna Rahmanan is a New York-based writer and editor who covers culture, entertainment, food, fashion and travel news. Anna's words have appeared on Time Out New York, the Huffington Post, Fortune, Forbes, Us Weekly, Bon Appetit and Brooklyn Magazine, among other outlets.