What to write in a Christmas card: Festive things to say instead of Season's Greetings
Thinking of what to write in a Christmas card can make the process of writing them arduous, but it doesn't have to be with these meaningful message prompts...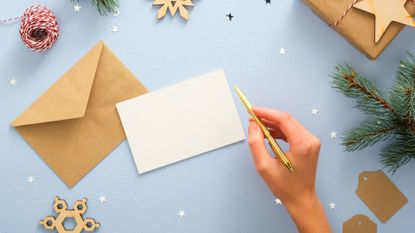 (Image credit: Getty Images)
Get some inspiration for what to write in a Christmas card this year with our list of ideas ranging from heartfelt messages to lighthearted lines intended to raise a smile.
Traditional Christmas card etiquette states that all cards should be hand written and sent in plenty of time before Christmas Day, which doesn't leave long until your festive greetings need to be signed, sealed and delivered for 2021.
Christmas is always a time of celebration, but, after the last couple of years, the season has never felt so important. With people losing quality time together since the pandemic began, letting someone know you care at this time of year can really make all the difference, especially as we know loneliness at Christmas affects more people every year.
Solve your annual Christmas dilemma of who to send a card to by crossing off everyone on your list and sending them all a festive note. Get the job done faster with our ideas for what to write in a Christmas card below.
What to write in a Christmas card for friends and family
Whether it's funny and cheeky or memorable and moving, the right greeting can personalize a card and mean a lot to someone in your life. Try these festive lines in your family Christmas cards:
From our family to yours, we wish you a merry Christmas.
Have a holly, jolly Christmas, we hope you enjoy spending time together over the holidays.
Ho Ho Hope you've all been good this year. Merry Christmas!
For the most wonderful family, we wish the most wonderful time of the year!
I have it on good authority that Father Christmas has your address on his list this year. Merry Christmas all!
Happy holidays! Sending you love and Christmas cheer.
Merry Christmas. Although we're apart, I hope you feel the warmth of my love.
We wish your holidays are full of glee and happiness. Not just this Christmas, but for years to come.
There's snowbody like you, have a great Christmas!
What to write in a Christmas card for colleagues
Striking the right tone when thinking about what to write in a Christmas card to an employee (like thinking of appropriate Christmas gift ideas for coworkers) is really important. Think about your professional working relationship with them before deciding what you might say. Do you need to be polite and formal? Or can you be more relaxed, personal and even humorous?
Here are some ideas for things to write in a Christmas card to coworkers:
Warm wishes for you this holiday season.
You made it onto my nice list this year, thank you for all you've helped me with!
Getting to work with you has been the real present! Have a great Christmas.
We wish you and your loved ones all the best that the season has to offer.
You've earned some time off – put your feet up and have a mince pie. Merry Christmas!
Merry Christmas–and in the coming new year I wish you blessings of prosperity and success.
Thank you for being an integral part of our team this year. I hope you have a happy and restful Christmas break.
Christmas quotes and lyrics from celebrities
If you're really struggling for what to write in a Christmas card, let the words of famous poets, writers, comedians and stars inspire your Season's Greetings.
"Have yourself a Merry little Christmas, let your heart be light" - Judy Garland
"Christmas is a time when everyone wants his past forgotten and his present remembered." - Phyllis Diller
"You know you're getting old when Santa starts looking younger." - Robert Paul
"The way you spend Christmas is far more important than how much." - Henry David Thoreau
"One of the most glorious messes in the world is the mess created in the living room on Christmas Day. Don't clean it up too quickly." - Andy Rooney
Religious messages for Christmas
May you have the gift of faith, the blessing of hope and the peace of his love at Christmas and always.
Rejoice in the birth of our Lord and Savior. May the blessings of Christ be upon you and your loved ones this season and into the New Year.
Hope you're filled with His love and wrapped in His peace as we celebrate the miracle of His birth
Jesus is the reason for the season and we wish you a wonderful time celebrating!
For today in the city of David there has been born for you a Savior, who is Christ the Lord. (Luke 2:11)
Jack Slater is not the Last Action Hero, but that's what comes up first when you Google him. Preferring a much more sedentary life, Jack gets his thrills by covering news, entertainment, celebrity, film and culture for woman&home, and other digital publications.
Having written for various print and online publications—ranging from national syndicates to niche magazines—Jack has written about nearly everything there is to write about, covering LGBTQ+ news, celebrity features, TV and film scoops, reviewing the latest theatre shows lighting up London's West End and the most pressing of SEO based stories.