Celebrate Mother's Day With The Stars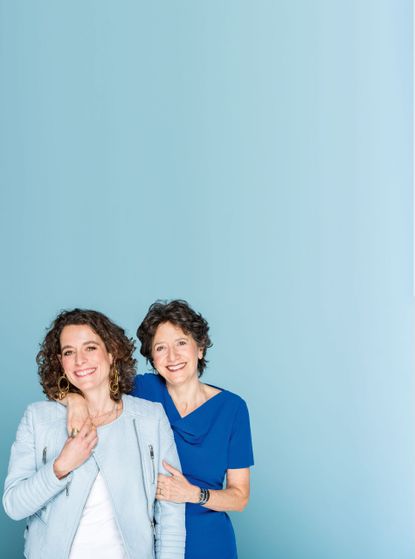 Laughter, shopping and friendship - a look at eight famous mother and daughter relationships
Laughter and friendship - eight famous mums and daughters about their special relationships.
Alex and Olga Polizzi
Alex Polizzi, 43, is presenter of The Hotel Inspector and The Fixer. She lives in London with her husband, baker Marcus Miller, and their children Olga, six, and Rocco, two.
'Mum's the person I most emulate and would like to live up to. Whatever I've tried to do, whatever new thing, whatever venture, whoever I've been with, she has never removed her supportive love for me…even when I've acted like a twit!'
Olga Polizzi, 68, is the director of design for the Rocco Forte Collection. She has two daughters from her first marriage to Alessandro Polizzi, and now lives with her husband, the author William Shawcross, between London, Sussex and Cornwall.
'I've had hard times with Alex but we get on incredibly well now. We like being together and we try to get away to a health spa in Italy once a year.'
Natasha Corrett and Kelly Hoppen
Interior designer, Kelly Hoppen, 55, lives in London with her partner John Gardiner. 'I love the way Tash has insisted on doing everything on her own. She's not doing well because she's Kelly Hoppen's daughter or Sienna Miller's stepsister. She went out there on her own and did it for herself.' Vegetarian chef and author of Honestly Healthy Cleanse, Natasha Corrett, 31, lives in Gloucestershire with her fiancé Simon Bateman. 'I'm lucky to come from a family of really strong women. My mum has instilled in me that if you're passionate about something and you love what you do, then you will be successful. I hope I have the same connection with my children as I do with my mum.'
Prue Leith and Li-Da Kruger
Cookery writer and broadcaster Prue Leith, 75, lives in London. 'My husband Rayne and I decided to have one child and adopt one. The moment I saw Li-Da I fell in love. She is very funny and philosophical – she is such a wonderful woman.' Li-Da Kruger, 40, is a documentary filmmaker and lives in London. 'I grew up feeling like my life was a fairytale. Mum wanted me to know my roots, and she recorded documentaries about Cambodia for me. Since Dad's death, mum and I have got even closer and go on holiday together.'
Minnie Driver and Gaynor Churchward
Actress Minnie Driver, 45, lives in Los Angeles with her son Henry, six. 'I learned from mum that I don't need to be in a relationship to be happy. But I still aspire to be madly in love. I'm very romantic and believe in happy endings.' Interior designer and former model Gaynor Churchward, 77, lives in London. 'Trying to control Minnie was like trying to dam a river. But it was hard to stay angry with Minnie because she always made me laugh.'
Emilia Fox and Joanna David
Actress Emilia Fox, 40, lives in London with her four-year-old daughter Rose. 'Mum and I share a lot of friends – my pals adore mum and confide in her, because she's completely unshockable.' Actress Joanna David, 68, lives in London with husband Edward Fox. 'When Emilia became a mum it put into focus why I'll never stop worrying about her. She asks me for parenting advice, but I'm relearning everything with her daughter Rose, and enjoying every moment.'
Emma and Lily Forbes
Emma Forbes, 49, lives in London with her husband Graham and two children, Lily, 18 and Sam, 15. 'I look at Lily and I just burst with pride. She's the kindest person I know. I remember watching her with my dad when he was dying and she was amazing. She was only fifteen but she wasn't frightened to talk to him and spend time with him.' Lily Forbes, 18, lives in London. 'Mum always knows what to do and say to make me feel better. I know I can call home in the worst-case scenario. She listens and gives good advice.'
Alex and Mary Jones
Alex Jones, 37, presenter of The One Show, lives in London with her fiancé Charlie, who works in finance. 'I wish I looked as groomed as mum does. She has a really good eye for fashion too. I'm always asking her to come shopping with me.' Mary Jones, 62, is a retied bank manager and lives in Swansea with her husband Alun. She has two daughters, Alex and younger sister Jennie, and one grandson, Dash, aged three. 'Losing my mother to bowel cancer when I was 16 made me determined to always be there for my girls. I never go for longer than a few weeks without seeing them and I'm always on the end of the phone if Alex needs me.'
Arlene and Alana Phillips
Choreographer Arlene Phillips, 71, lives in London with her partner Angus Ion. 'When Alana started school we clashed dramatically. We both have a fiery side, and I'd become so irritated by her defiance I'd argue back. Now, I think, why didn't I stop and take a breath?' Make-up artist Alana Phillips, 35, lives on London. 'My childhood was spent travelling with mum's work. People were scared of her; she was seen as the dreaded Arlene! To me, she was mum.'