Blake Shelton opens up about falling in love with wife Gwen Stefani's kids
Blake Shelton and Gwen Stefani got married almost eight months ago and the country singer is now gushing about his stepkids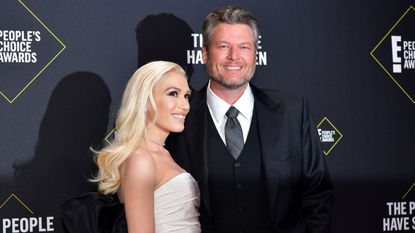 (Image credit: Rodin Eckenroth/WireImage)
We never thought that Blake Shelton and Gwen Stefani's relationship could get any cuter—but we stand corrected. In a recent interview, Blake spent time gushing over his three stepsons, whom Gwen shares with ex-husband Gavin Rossdale, and we can't help but smile at his comments.
The couple got married about eight months ago and mostly live at Blake's Oklahoma ranch (Gwen shared a sneak peek inside their home together and we can't get enough of the country vibe!) but, before tying the knot, the two spent a lot of time getting to know each other and making sure that Gwen's children would feel comfortable with their potential stepdad.
In a recent interview at the Country Radio Seminar, Blake, 45, said that, when he first started dating Gwen, 52, he "didn't know what [he] was signing up for" but was "all about signing up for it." The country star specifically named his own father, Richard Shelton, as the perfect example to follow in his quest towards fatherhood.
Richard, a car salesman, actually raised Blake's late half-brother, Richie, from when he was young. "He took Richie on and raised him from the time he was 1 [...] and my brother never thought of my dad as anything other than his dad," said Blake. "The example that my dad set for me was that [children were] not even a consideration [in a relationship]. You've got three boys? Awesome! My dad did it. My dad raised me. I could do this [...] and every day I've fallen in love with the boys as much as I do with Gwen."
The artist went on reminiscing about the first time that two of the kids—15-year-old Kingston and 13-year-old Zuma—visited Blake's ranch in Oklahoma. "The two of them were like, 'Well, what do we do now?' I go, 'Go out that door and don't come back till you're too tired to go any further'," recalled Blake. "Well, they can't even imagine just going to the creek with a net or turning over rocks or getting on a buggy and driving around." How do they feel about the home now? They treat it "like Disneyland," revealed Blake.
Blake's devotion to Kingston, Zuma, and 8-year-old Apollo hasn't been a secret. Just a few weeks ago, Gwen posted the sweetest video of her son Apollo during her wedding to Blake Shelton. The never-before-seen video captures the couple showering their child with kisses. Gwen captioned the post, "The stars, the moon, my whole world."
Talk about couple goals.
Anna Rahmanan is a New York-based writer and editor who covers culture, entertainment, food, fashion and travel news. Anna's words have appeared on Time Out New York, the Huffington Post, Fortune, Forbes, Us Weekly, Bon Appetit and Brooklyn Magazine, among other outlets.