BBC One's Les Miserables: Everything you need to know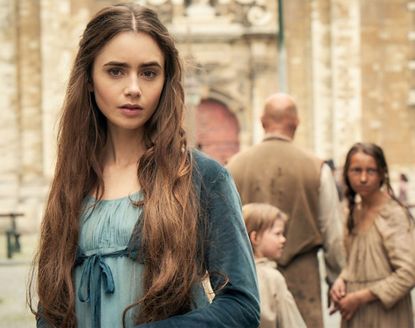 The world's longest running musical, Les Miserables, is to be shown as a six-part television drama on BBC One.
Fans of the musical might be disappointed to hear there will be no songs. The writer behind the adaptation, Andrew Davies, has decided to focus on the novel rather than the musical.
Andrew is a multi-award winning writer and is behind BBC's War and Peace, Netflix's House of Cards and Bridget Jones's Diary.
The cast of BBC One's Les Miserables
Leading the cast will be Dominic West, best known for his role in The Affair, as Jean Valjean.
David Oyelowo will play the antagonist, policeman Javert. The star has previously played Martin Luther King Jr. in Selma.
The wild and abusive Madame Thénardier will be played by Olivia Colman. She has become a national treasure since starring in huge hits Broadchurch and The Night Manager. She is also set to appear in The Crown as Queen Elizabeth II.
Adeel Akhtar, award-winning actor best known for his role in Murdered by My Father, is set to play her husband, Monsieur Thénardier.
Lily Collins will also be starring in the six-part drama. She will play Fantine alongside Ellie Bamber who will play her daughter, Cosette.
Josh O'Connor, known for his role as Lawrence Durrell in The Durrells, will portray Marius.
Erin Kellyman, a young British actress, will star as Éponine.
What is Les Miserables about?
Set in 19th century France, Les Miserables follows the life of Jean Valjean, a convict who is trying to start a new life for himself.
He has been on the run from the ruthless and determined inspector Javert for many years. Another character closely followed is Fantine; a young working-class French woman who becomes pregnant.
She is abandoned by the father and parts from her daughter, turning to prostitution as a means of making money.
The story reflects the difficulties and struggles of French poverty during the June Rebellion of 1832.
What the cast of Les Miserables say about the show
Olivia Colman has high hopes for the show and said, 'It's a gripping story with all the ingredients for something you are going to love.'
The popular actress added, 'I can imagine myself not wanting to turn off and wanting to watch the next one. It's an age old story but it will still appeal.'
Daughter of musician Phil Collins, Lily Collins, has loved working on the drama. She said, 'This series has so many moving parts; an incredible cast that I feel really fortunate to work opposite... Everyone gave 110 percent to this.'
Dominic West said about his character, 'What is the most interesting thing about Valjean is his moral core and his battle with his own demons to be a good man. He is a true hero in that way.'
When will it be shown?
The first episode will air on Sunday the 30th of December on BBC One at 9pm.
What can we expect from the BBC One's Les Miserables?
A trailer has been released and now we are looking forward to it even more!
Fans were excited to see a glimpse of what to expect after viewing the trailer with one saying, 'Looks amazing!'
A second fan commented, 'Waiting eagerly!'
While some were disappointed with the lack of music 'Am I the only one waiting for the songs?' others were delighted, 'Finally! A non-musical version!'
Fans of the novel are hoping the television drama is an accurate representation, one said, 'I've already watched this trailer a thousand times, please don't disappoint me,
BBC, it's my favourite book ever and I love it with every inch of my heart.'
Another viewer said, 'I really hope they show us all the important things from the book. I love the book so much.'
We can't wait!
Rachel Howatson is a digital writer who works across a range of publications. Whatever your passion, whether it's hillwalking, cooking, gardening, running, socialising or even sleeping, she'll likely have written about it.