As usual, Salma Hayek looks absolutely incredible in this plunging green gown that everyone is talking about
Magic Mike's Last Dance star Salma Hayek donned the gorgeous dress at pal Marc Anthony's wedding in Miami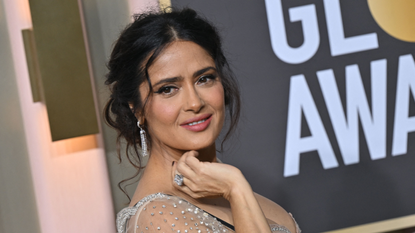 (Image credit: FREDERIC J. BROWN / Contributor)
Salma Hayek quite literally never looks bad but, sometimes, she looks absolutely radiant.
Case in point: her memorable outfit of choice at pal Marc Anthony's recent wedding in Miami, just a few days after Salma's see-through fishnet dress wows on the red carpet.
The 56-year-old actress, one of many celebrities who attended Marc's wedding to Paraguayan model Nadia Ferreira, wore an acqua green Giambattista Valli, ethereal-looking halter dress that featured beautiful beaded details all along its neckline and right below the corset.
Beauty-wise, Salma opted for a bold red lip that looked particularly good with her hair worn up and the various sparkling diamond jewels that finished off the ensemble.
The star posted a picture of her getup on Instagram to mark the occasion.
"Just before getting in the car to go celebrate the love of my friends @marcanthony and @nadiatferreira," Salma wrote in her caption, where she also tagged the designer Giambattista Valli. She finished off her message with a few words in Spanish that translate to "long live love" and "long live salsa" with an emoji of a dancing woman.
As fans of Salma may remember, her and Marc go way back, having starred in the TV movie In the Time of Butterflies together back in 2001. Based on the eponymous novel by Julia Álvarez, the film tells the fictionalized story of the lives of Dominican revolutionary activists and sisters Patria, Minerva and Maria Teresa. Salma took on the role of middle sister Minerva and Marc played her very first love.
Marc and Nadia got married at the Pérez Art Museum in Florida during a beautiful ceremony that was attended by Salma, Broadway darling Lin Manuel Miranda, David and Victoria Beckham (the soccer star was actually one of two best man alongside Carlos Slim Domit) and, according to Hola! (opens in new tab), "the presidents of some Latin American countries." No wonder Salma dressed up!
In addition to celebrating her dear friends and always showing off her legendary figure in beautiful clothes, Salma has recently made headlines for getting candid on menopause.
"They [the doctors] were asking me things like, 'Are your ears growing, and is there hair growing out of them? Are you growing a mustache and a beard? Are you easily irritable? Are you crying for no reason?,'" she recounted during an appearance on Red Table Talk with Jada Pinkett Smith. "'Are you gaining a lot of weight really fast that doesn't go away no matter what you do? Are you shrinking?' And then they ask you, 'Is your vagina dry?'"
The celebrity also opened up about the various physical changes that she noticed while first hitting menopause.
"The boobs grow a lot," she joked. "They have just kept growing. Many, many sizes. And my back has been really suffering from it." She then laughed and said she wasn't surprised people thought she'd had a breast enlargement.
Needless to say, menopause or not, Salma has been looking fabulous in recent months - and acqua green seems to be her color!
Anna Rahmanan is a New York-based writer and editor who covers culture, entertainment, food, fashion and travel news. Anna's words have appeared on Time Out New York, the Huffington Post, Fortune, Forbes, Us Weekly, Bon Appetit and Brooklyn Magazine, among other outlets.