Anna Hathaway just wore a see-through dress on the red carpet and we're absolutely obsessed with the look
Anne Hathaway attended her latest film premiere in Berlin wearing a beautiful see-through column dress by Valentino.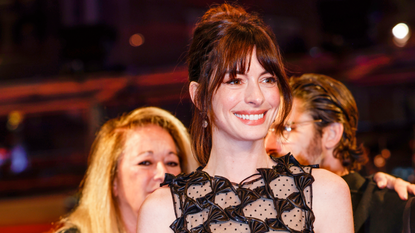 (Image credit: Isa Foltin / Contributor)
Anne Hathaway catapults us smack-dab in the middle of proper fashion trends once more.
Just a few weeks after combining two '90s fashion trends at once, Anne showed up at the Berlin premiere of her newest movie She Came to Me as part of the 73rd Berlinale International Film Festival wearing an astounding Valentino column dress that she paired with classic black stilettos with a bow in the back and a pair of over-the-elbow leather gloves.
The sheer gown deserves an extra bid of attention: worn over a skin-colored bodysuit, the patterned dress boasts a number of see-through sections, each one decorated with black polka dots that pull the entire outfit together. Talk about a memorably stylish ensemble.
Beauty wise, the 40-year-old actress wore her hair up in a bun with her bangs down. A nude lip and neutral makeup completed the ensemble and, we must be honest, reminded us of one of Anne's most iconic roles: that of Andy Sachs from A Devil Wears Prada.
After all, just last year, Anne did dress like her character in The Devil Wears Prada to the delight of all of her fans.
Anne's latest appearance came in support of her new movie, She Came to Me, which also stars Peter Dinklage, Marisa Tomei and Brian d'Arcy James, among others.
The rom-com focuses on Peter's Steven Lauddem, a composer dealing with a creative block that prevents him for finishing the score for his "big comeback opera," according to an official synopsis. Propelled by his wife Patricia (Anne), the musician "sets out in search of inspiration."
Interestingly enough, back in 2017, an entire different cast of celebrities was attached to the production, including Steve Carell, Amy Schumer and Nicole Kidman.
In addition to She Came to Me, the Academy Award winning actress is gearing up for the release of Mothers' Instinct , a psychological thriller chronicling the deteriorating relationship between two 1960s housewives (Anne stars as Celine opposite Jessica Chastain's Alice), and The Idea of You, yet another rom-com, this one based on a novel of the same name by Robinne Lee. In the latter production, Anne is Solène, a 40-year-old divorcee who attends Coachella and "inadvertently runs into the most famous pop star in the world."
Although both upcoming movies sound entertaining and we definitely can't wait to catch each one, we're even more excited about what Anne will choose to wear at the various premieres she'll be attending as the star has been knocking it out of the park in the past few months, starting with her top Cannes looks.
From a metallic floral two-piece set designed by Schiaparelli to a texture brown mini dress designed by Louis Vuitton a stunning pink jumpsuit by Valentino, the Hollywood icon's fashion choices are as deserving of praise as her acting chops are.
Anna Rahmanan is a New York-based writer and editor who covers culture, entertainment, food, fashion and travel news. Anna's words have appeared on Time Out New York, the Huffington Post, Fortune, Forbes, Us Weekly, Bon Appetit and Brooklyn Magazine, among other outlets.