And Just Like That teases huge A-list star set to join cast in season 2
This star just hinted that an And Just Like That appearance is coming...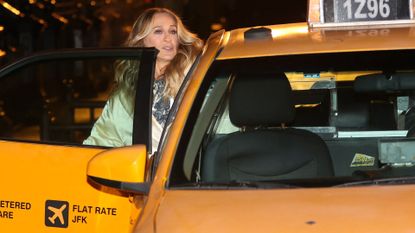 (Image credit: Getty Images)
An A-list addition to the And Just Like That cast was just teased - consider our interests piqued.
And Just Like That season two is already shaping up to be an intriguing one. With the juicy reuniting of old flames Carrie (Sarah Jessica Parker) and Aidan (John Corbett), the continued absence of Samantha Jones, and of course, the fashion that continues to inspire, we've already been looking forward to the release of season two and what it has in store for us.
Grammy winner Sam Smith recently posted a picture of them "on set" to their Instagram, although they don't confirm exactly for what.
However, if you look closely, you can see that they collaborated on the post with the official And Just Like That account - plus, Cynthia Nixon, who plays Miranda Hobbes, commented under the post, "And just like that… it's getting hot."
The Grammy winner, who has recently been at the butt of discussion due to their recent music videos and controversial Grammy performance, could be making their TV debut with the Sex and the City reboot. And we can't help but wonder... what part will they be playing? Will they befriend Miranda? The possibilities are truly endless, but we're seriously here for a Sam Smith cameo.
Sam's caption references their song made in collaboration with artist Kim Petras titled Unholy, which won a Grammy in February 2023. Their Grammy performance was met with some mixed reviews, with some saying that its references to doing something "unholy" were a bit too literal - while others praised Sam and Kim for their artistic values and commitment.
Either way, the criticism hasn't stopped Sam - and we must say, they're on a roll.
Another character in the And Just Like That cast is Che Diaz, Miranda's new non-binary love interest. Che's character, though, has been met with some mixed reviews from fans, especially since they broke up Miranda's marriage with fan-favorite character, Steve.
Creator of the show Michael Patrick King said that, this season, we're going to see a deeper side of Che. "One of my burning passions about season 2 is Che," he told Variety in June 2022. "I want to show the dimension of Che that people didn't see, for whatever reason — because they were blinded, out of fear or terror. I want to show more of Che rather than less of Che. Like, really."
Regardless of what happens between Che and Miranda, we hope to see Sam Smith make an appearance on the show - and who knows? Sam could get up to "something unholy" on set with the famous trio of ladies. We'll have to wait to find out.
Madeline Merinuk is woman&home's US lifestyle news writer. She covers celebrity, entertainment, fashion, and beauty news but is also obsessed with internet trends - you can find her reciting trending TikTok sounds out loud at any given time.
After winning multiple student journalism awards for her investigative work, she graduated from Hofstra University in 2021 with a B.A. in Journalism. After graduating, she worked at today.com, the digital site for the Today Show, where she wrote pop culture news and interviewed big-name personalities like Emily Ratajkowski, Haley Lu Richardson, Emma Corrin, and more.
Her personal interests, in no particular order, are: cheese, Joni Mitchell, reading, hot yoga, traveling, having multiple chapsticks in every handbag at all times, and dancing to ABBA songs as if she were in the Mamma Mia movies.