Sarah Jessica Parker responds to 'misogynist' And Just Like That... comments
Sarah Jessica Parker addresses the haters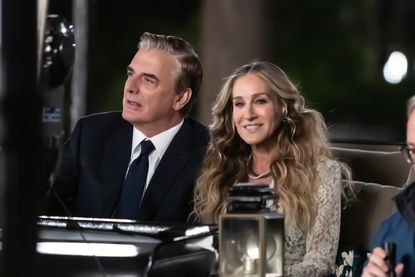 (Image credit: MEGA / Contributor)
Sarah Jessica Parker has responded to the "misogynist chatter" that has surrounded the And Just Like That... cast since filming began.
Since the announcement of the 10-episode sequel set to premiere on HBO Max this month, the Internet has been filled with fans and detractors expressing their excitement and disappointment with the legendary show (a mere photo shared by Sarah Jessica from the Sex and the City set had fans go berserk online).
Chatting with Vogue before the premiere, Sarah Jessica notes that male actors don't necessarily elicit the same sorts of response that middle-aged female actresses do. "There's so much misogynist chatter in response to us that would never. Happen. About. A. Man," she told the magazine.
---
The star continued, "'Gray hair gray hair gray hair. Does she have gray hair?' I'm sitting with Andy Cohen and he has a full head of gray hair, and he's exquisite."
"Why is it okay for him? I don't know what to tell you people! Especially on social media. Everyone has something to say. 'She has too many wrinkles, she doesn't have enough wrinkles.' It almost feels as if people don't want us to be perfectly okay with where we are, as if they almost enjoy us being pained by who we are today, whether we choose to age naturally and not look perfect, or whether you do something if that makes you feel better. I know what I look like. I have no choice. What am I going to do about it? Stop aging? Disappear?"
Kristin Davis, who will reprise her role as stay-at-home mom Charlotte York Goldenblatt in the reboot, echoed her co-star's sentiments, "people are like, 'Why should they come back?' and it really bugs me," she says. "Are women's lives not interesting now? Nobody ever asks, 'Why would you do this violent remake over and over again?' For me that is so indicative of our reluctance to sit and watch women's lives develop over time."
Of course, given her celebrity status and the popularity of Sex and the City, which ran on HBO for six seasons from 1998 through 2004, Sarah Jessica is no stranger to avid attention, with fans analyzing every morsel of information they receive—including a reboot video of a funeral scene that plenty believe to be associated with the character of Samantha (Kim Cattrall, who played the hilarious and promiscuous PR executive on the show's original run, has announced she won't be returning for the sequel).
Sarah Jessica assures the public that plenty of the issues that the show has been criticized for over the years—from the lack of colored actors to the vainness that defines Carrie Bradshaw, her own character—will be explored head-on in the 2021 version of the series. "In no way were we interested in tokenism," she tells Vogue, discussing the new additions to the cast, which include colored and nonbinary actors. "You can't bring people on the show and not let the camera be with them! These characters are all gifts to us."
How updates to the beloved series will shake out is yet to be seen, but one thing is for sure—a whole lot of people will be tuning in to watch.
Anna Rahmanan is a New York-based writer and editor who covers culture, entertainment, food, fashion and travel news. Anna's words have appeared on Time Out New York, the Huffington Post, Fortune, Forbes, Us Weekly, Bon Appetit and Brooklyn Magazine, among other outlets.