Cynthia Nixon addresses anger towards Miranda's storyline in And Just Like That...
Cynthia Nixon discusses Miranda's "out of character" choices on And Just Like...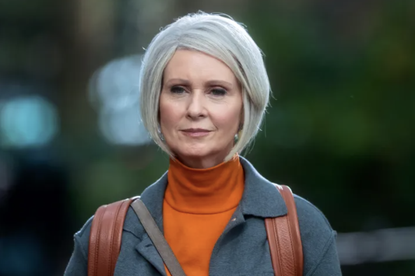 (Image credit: HBO)
As excited as fans have been about the Sex and the City reboot, the release of And Just Like That has been accompanied by a slew of complaints by watchers.
From the complete absence of Kim Cattrall's Samantha Jones to (spoiler alert!) the surprising passing of Mr. Big (and why Carrie didn't just call 911), the series has drawn a lot of criticism by longtime devotees. Chief among them—Miranda Hobbes' storyline.
Played by Cynthia Nixon, Miranda spends the season chronicling her newly discovered romance with Che Diaz (Sara Ramirez), a nonbinary comedian who is also Carrie Bradshaw's boss at the podcast they both work for. In the last aired episode, the season's penultimate, Miranda tells her husband Steve (David Eigenberg) that she wants a divorce).
Let's be clear: as a general statement, fans are excited about the way that showrunners have embraced the social and cultural issues that they seemed to entirely gaze over during the original run of Sex and the City. That being said, a whole lot of audience members have found Miranda's life choices in the last nine episodes to be entirely out of character—and the actress has finally acknowledged the backlash.
"Miranda is so overwhelmed by how attracted she is to Che and how off-kilter Che has turned her that she becomes Charlotte," the actor told Drew Barrymore on The Drew Barrymore Show. "When you put a negative spin on it, you call it a midlife crisis. But out of crises come really productive things. You're not young anymore but you're not old either and you still have time to make sure that your life is the way you want it to be and if you're deeply unhappy in your career choices and you're really deeply unhappy in your marriage, you should look at it and demand more."
When pushed further by the host, Cynthia delved into the psyche of her character even more deeply. "Miranda is very smart, and she's very tenacious and very strong, but she's always been kind of a bull in a china shop, kind of rushing ahead, and then maybe having to go back and sweep up the china afterwards," she said. "I think some people are not loving seeing these characters maybe off-kilter, but I love that. … Whatever age you are, you haven't figured everything out. If you think you've figured everything out, you're kidding yourself."
Cynthia then went on to discuss her latest role on another HBO Max show, The Gilded Age. Marketed as the "American version" of Downtown Abbey, the new series is a historical drama set in the boom years of 1880s New York City and it premiered to much fanfare just last week.
Whether Cynthia's character in the new show will draw as much attention as her iconic part in And Just Like That is yet to be seen, but one thing is for sure, people seem to love just about anything the actor stars in.
Anna Rahmanan is a New York-based writer and editor who covers culture, entertainment, food, fashion and travel news. Anna's words have appeared on Time Out New York, the Huffington Post, Fortune, Forbes, Us Weekly, Bon Appetit and Brooklyn Magazine, among other outlets.