Sex and the City's Chris Noth finally tells us why Carrie didn't call 911
Actor Chris Noth addresses the untimely death of his character Mr. Big on Sex and the City reboot And Just Like That...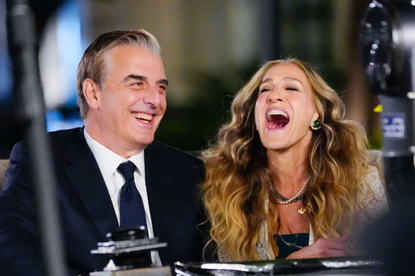 (Image credit: HBO)
Chris Noth has finally discussed the most talked-about scene of the Sex and the City reboot, And Just Like That…, finally addressing (spoiler alert!) what many think to be the untimely death of his character, Big.
Although, before the show premiered last week, most fans couldn't stop talking about why Samantha is not in the Sex and the City reboot, the first episode ended in a shocker that still has fans puzzled.
During the last scene of the premiere, Mr. Big suffers a heart attack in his home after completing his 1000th Peloton ride while Carrie is at Lily's piano recital. Upon returning home, Carrie notices her husband in the bathroom and runs towards him but, to the shock of just about anyone (including Jonah Hill, who commented on the episode on Instagram (opens in new tab)), she doesn't call 911.
The question on everyone's lips (and social media accounts) for the past week has been: why didn't Carry call 911? And, now, Chris himself—who played Mr. Big in six Sex and the City seasons and two follow-up movies—tries to posit an answer.
Talking to Vogue (opens in new tab) about the show, he said, "One thing Michael [Patrick King, the show's creator] and I agreed on: We both called it the Bonnie and Clyde moment, which is that moment when Bonnie and Clyde are about to be eviscerated by bullets. They have that look with each other, Warren Beatty and Faye Dunaway. They both know that it's the end."
To put it simply, it seems like everyone involved in the show thought that it was time for the character to pass.
"We knew that we had to have that, that I just shouldn't die alone in the bathroom," said Chris. "There had to be that last moment and no words, no corny dialogue, just a look, and I thought [King] did it so beautifully."
He went on, "It was very important for both of us to find a way to have that last moment together, not that she walks in and finds me dead in the bathroom. That was essential for me to come back to."
Although he seems to be pleased with the way things have turned out, Chris also revealed that he wasn't always into the idea of being part of a reboot that would see him die off immediately.
"When we were in discussions about it—because at first I balked at even the idea of coming back and dying—it just was like, 'Well, just let it be, you know?'," he explained. "I always know I'm gonna be taken care of by Michael in the writing and shooting and editing, so I felt very comfortable with dying."
Really punctuating his comfort with the storyline, Chris also said, "All things end, and it was time for him to go, unless we're gonna be doing Scenes From a Marriage, Sex and the City style. There was nowhere to go with it but six feet under."
Unfortunately, we just don't agree. After witnessing their relationship for over 20 years, we were expecting to be able to enjoy Mr. Big and Carrie's marriage for a few extra episodes. But, alas, all good things, as Chris said, come to an end.
We are, however, delighted to have been able to witness one of the most viral and marketing-efficient moves by a company in 2021—all courtesy of how the episode turned out. After Mr. Big's passing, Peloton released a commercial with Ryan Reynolds and Chris, also featuring Jess King, an actual instructor who played Allegra on the show. The ad basically pokes fun at the whole ordeal, reminding us that it's all just fiction.
It seems like Mr. Big will live on in some form or another, thanks to Peloton.
Anna Rahmanan is a New York-based writer and editor who covers culture, entertainment, food, fashion and travel news. Anna's words have appeared on Time Out New York, the Huffington Post, Fortune, Forbes, Us Weekly, Bon Appetit and Brooklyn Magazine, among other outlets.