7 most controversial Oscars moments ever—outrageous outfits, awkward speeches, drama, and everything in-between
The most controversial Oscars moments ever bring more drama and OMG moments to the annual awards ceremony than the movies it honors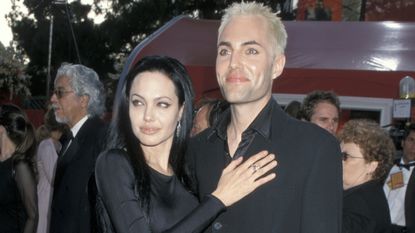 (Image credit: Jim Smeal/Ron Galella Collection/Getty Images)
Choosing the most controversial Oscars moments ever is a bit of a challenge as there's no denying the annual awards ceremony is often marred by a little chaos. That's just Hollywood, right?
The most bizarre moments in Oscars history are innumerable, with the people of La La Land being famed for their eccentricities from day dot. Look no further than controversial books like Hollywood Babylon or podcasts like You Must Remember This for jaw-dropping examples.
As time has passed, the ceremony still manages to shock and astound and although fans may not like to admit it—that's often half the fun! So before the Oscars 2022 ceremony begins, take a seat and roll up, roll up for the circus that is the event and its most controversial moments.
---
1. Angelina Jolie's confusing comments about her brother
Siblings, love them or hate them, they're a part of most peoples' lives. However, the standard rule is that you don't fall for them or even allude to it.
The pair locked lips during the red carpet ahead of the Oscars in 2000, during which she won the Best Supporting Actress award. Much to the bemusement of onlookers, fans, and the international press.
During her acceptance speech for Girl, Interrupted, the Best Supporting Actress winner said to a bemused audience, "I'm in shock and I'm so in love with my brother right now."
In response to the controversy, Angelina instantly bit back when she told Entertainment Weekly, "My parents really loved that moment, and that's what will always matter."
Despite the absolute love being shown, the siblings haven't been seen in public over the last few years and multiple sources, including the Daily Mail, claim they've drifted apart.
2. Marlon Brando rejecting his Oscar
In 1973, Hollywood legend Marlon Brando was honored for his role in The Godfather, as the infamous mob boss Vito Corleone.
The actor chose to decline not only his invite, but the award itself and instead offered the podium to a very important cause, that of the maltreatment of Native American people.
Native American civil rights activist Sacheen Littlefeather took to the stage and read a letter, written by Marlon, which explained her rejection was owing to, "the treatment of American Indians today by the film industry."
3. Lady Gaga and Bradley Cooper's duet
Love is love guys, real or acted, but does love mean...singing a duet with your face stuck to your co-star throughout? According to this meme-worthy performance, yes.
The pair's unforgettable rendition of the song Shallow, which took home best original song, gained infamy for being a little OTT.
4. When a streaker took to the stage
Nothing makes people giggle quite as much as the simple hilarity of a streaker and in 1974 when artist and gay rights activist Robert Opel did just that—it really brought the house down.
David Niven was introducing the legendary Elizabeth Taylor when it all went down, much to Elizabeth's amusement and the audience's too. Quick as can be, host David hilariously joked, "Isn't it fascinating to think that probably the only laugh that man will ever get in his life is by stripping off and showing his shortcomings?"
5. Marisa Tomei's Oscar win with My Cousin Vinny
Few Oscar wins have been quite as debated as Marisa's best supporting actress win for her role in the underdog My Cousin Vinny, which turned 30 in 2022. As a matter of fact, some still firmly believe the win was a mistake.
Vanity Fair reports that an urban myth, based on the idea that the wrong name was read out, persists today. They explain these rumors were, "the result of elderly presenter Jack Palance supposedly reading the name off the teleprompter instead of the envelope in his hand."
Marisa beat legendary actresses including Vanessa Redgrave and Miranda Richardson, and despite the rumors—My Cousin Vinny remains a hugely popular film.
6. Edy Williams 1986 outfit
Of the most head-turning Oscar looks, one that often gets overlooked is that of actress Edy Williams back in 1986. Well, in all honesty, this was only one of the controversial looks chosen by the star, who's perhaps remembered more for her outrageous outfits than her acting roles.
Edy, born in 1941, once famously said, "I just look in the mirror and I say, 'God, it's really fantastic, the Lord really gave me something.' So why on earth should I cover any of it up?" Throughout the years she stayed true to this statement, wearing everything from a leopard bikini, to a little bo peep inspired look, to this iconic pearl necklace getup.
7. Adrien Brody's unsolicited kiss
Halle Berry presented the Best Actor award at the 2003 Oscars, which went to Adrian Brody for his role in The Pianist. Things took a very strange twist when he chose to dramatically kiss Halle on stage.
The toe-curlingly uncomfortable and inappropriate moment garnered a lot of awkward laughs and a very shocked-looking Halle. No wonder, as she explained after the fact that she didn't consent to the moment.
During a 2017 appearance on Watch What Happens Live, she told host Andy Cohen that the kiss came completely out of left field and wasn't something she had any say in. Vulture reported that she explained, 'I was too focused on 'What the f*** is going on right now?'"
Despite the wildly inappropriate incident, Halle remained in good humor about the whole thing.
Aoife is Junior News Editor at woman&home.
She's an Irish journalist and writer with a background in creative writing, comedy, and TV production.
Formerly Aoife was a contributing writer at Bustle and her words can be found in the Metro, Huffpost, Delicious, Imperica, EVOKE and her poetry features in the Queer Life, Queer Love anthology.
Outside of work you might bump into her at a garden center, charity shop, yoga studio, lifting heavy weights, or (most likely) supping/eating some sort of delicious drink/meal.