Investing for beginners—5 easy steps to help you invest safely
Investing can seem like an intimidating option if you're unsure of where to start. We show you how to make a start in 5 easy steps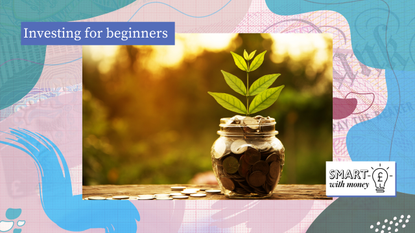 (Image credit: Getty)
When it comes to making your money grow and building your financial future, investing is one of the best ways to reach your goals.
Yet only 10% of women actually invest, according to data analytics firm Kantar.
Investing offers you an opportunity to grow your money and beat inflation, which is the cost of living.
Inflation is expected to average out to 4% next year according to the chancellor Rishi Sunak, and unless you earn an interest rate on your savings that is higher than the rate of inflation, then your money is losing value over the year.
With investing, you can beat inflation and earn around 8% on your money. Of course, investments can go up as well as down, but as long as you are invested for a minimum of five years and take a sensible approach, then you have plenty of time to ride the ups and down of the stock market and let your money grow.
With so much jargon, it's easy to put off investing. Here are five easy steps to help you start investing money safely.
1. Use a robot to help you invest
One of the easiest ways to start investing is by using what is known as a robo-adviser. Robo-advisers are digital products—like the best investing apps—that use algorithm-driven services to help you invest. When you sign up, the platform will take you through a series of questions to assess your attitude to risk and values - it will then use your answers to suggest ready made portfolios for you to invest in - and then all you have to do is pay in whatever the minimum requirement is.
It is as easy as that. Here are some popular robo-advisers to help you get started:
2. Start investing with small amounts
You don't need a lot of money to invest. You can open accounts with just £1, but try dedicating a small amount each month to invest. The easiest way to build the habit is to set up a standing order to pay in regularly. If you're working, then make sure the money comes out on pay day rather than the end of the month to avoid spending it.
Start with whatever you feel comfortable with, such as £25 a month, and then you can increase it over time when you feel a bit more comfortable with the concept of investing.
3. Pick funds, not stocks
Smart With Money
Smart With Money is our dedicated money channel created to give you expert, easily digestible information to help you make the most out of your money.
You don't need to be a stock picker to invest. Investing in a fund is easy, safe and your money is more likely to deliver returns.
When you invest in a fund, your money is pooled with other investors and spread across a number of investments.
If you pick stocks, you're relying on the growth of one company to make you money, which is very high risk.
If you're investing with a robo-adviser, as mentioned above, you don't have to worry about picking funds, but if you feel confident enough to pick them, then start with providers such as AJ Bell, Interactive Investor, Fidelity, Vanguard or Hargreaves Lansdown, for example. These companies are like fund supermarkets, allowing you to pick your own funds and stocks. But before you buy, do your homework to understand what you are investing in.
Many of the platforms all list best buy funds, such as interactive investors quick start funds guide or AJ Bell's favourite funds list, to help you along.
As a beginner, consider passive funds - these funds track a specific index, such as the FTSE 100 and deliver returns in line with the market. They are low cost and low risk as no one is involved in picking companies for you. Active funds on the other hand involve a fund manager making choices for you and cost a lot more.
Take a look at Comparetheplatform to help you compare fees and find the right provider for your needs.
4. Use your stocks and shares ISA
When you open an account, you will have a choice of either opening a general investment account or an investment ISA. If you have yet to make use of your £20,000 ISA allowance which allows you to save without having to pay any tax on returns, then make sure you tick that box. Learn more about which types of ISA are available to you.
When you make an investment return, you have to pay what is known as capital gains tax, but with an ISA, you don't.
5. Start investing now
When you're investing, you're essentially saving for the long term such as moving to a new location or helping to fund retirement. Whatever it is, the sooner you start the better, as your money will have more time to grow.
And if you're still a bit nervous, then take comfort in knowing that your pension is invested, so you are in fact already unknowingly investing. Putting your savings into an investment is the next step. Learn more about investing for your grandchildren for options to give your family a nice head start in life.
How to invest safely
Never invest in anything you don't understand
If something sounds too good to be true, then it most likely is
Investment fraud is high, so before you part with your cash, check the Financial Conduct Authority's site ScamSmart site for known scams and Take Five Stop Fraud for tips to safe with your money
Don't go into high risk investing such as cryptocurrencies - you're more likely to lose money than make money
Remember, investments can go down as well as up, so make sure you only invest if you don't need the money for at least five years - that gives your money time. It is normal for the stock market to move up and down, so do not panic
Investing in funds is a sensible approach as it gives you exposure to a number of companies and your money is managed by fund managers, so don't try to be a stock picker - leave that to the experts.
Sign up to our free daily email for the latest royal and entertainment news, interesting opinion, expert advice on styling and beauty trends, and no-nonsense guides to the health and wellness questions you want answered.
Kalpana is the editor of The Money Edit and wealth editor for Woman & Home. She's an award-winning journalist with extensive experience in financial journalism. She started her career at the Financial Times group, covering pensions and investments.
As a money expert, Kalpana is a regular guest on TV, podcasts and radio – appearances include BBC One's Morning Live, ITV's Eat Well, Save Well, Sky News and more. She is also the resident money expert for the BBC Money 101 podcast and co-author of the e-careers personal finance course.