How to budget—how to get started and stick to your household budget
A well-planned budget for life will allow you to free yourself from excess financial worry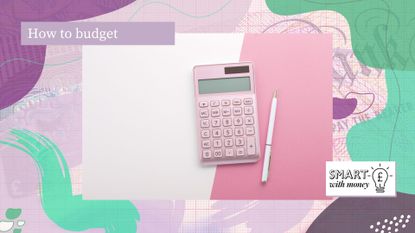 (Image credit: Getty)
With household expenses continuing to rise, now is the time to start thinking about drawing up a budget to help you stay in control of your finances.
In December 2021, the UK saw inflation hit 5.1%, the highest we've seen in 11 years, meaning more of us are feeling the pinch when it comes to the cost of living. Not only has the cost of our everyday shopping gone up, but we're also paying eye-watering charges for our energy bills too.
This comes at a time when many are still reeling from the impact of the pandemic on our finances. Research from the charity Turn2us shows almost 16m adults in the UK are more financially vulnerable than before the onset of Covid.
If your household finances are feeling the squeeze, budgeting can help to get back on track with your money, prepare you for any shocks and keep you out of debt.
Here's how to get started with budgeting.
More from Smart With Money
Why is a household budget important?
Budgeting not only helps you stay in control of your money, but it can help you save for a financial goal. By having a clearer understanding of your personal finances and financial behavior, you can look to change any bad habits, which in turn will help you better weather any financial shock, such as losing your job. According to research by Shawbrook Bank (opens in new tab), almost two-thirds of those who suffered a loss of income due to the pandemic are worried about being unable to pay a large, unexpected bill.
"If you don't have a budget, it can be hard to know whether or not you can afford to spend your money; whether that's on a 'want' or a 'need'," says Sarah Pennells, consumer finance specialist at Royal London (opens in new tab).
How to get started with budgeting
"Some people love the idea of a budget, whereas others find the concept a bit dull or worry that it will be complicated. My tip would be to focus on how you'll feel once you have a budget in place," says Pennells.
Start by adding up all the money that you have coming in each month, which includes your wages, but also any benefits, pensions, investments, or rental income. Next, work out your monthly essentials. Write different categories for your mortgage or rent, utility bills, food and drink, and Council Tax. Remember to include debts, such as credit card or personal loan repayments.
Now it is time to include the 'nice-to-haves' - for example, trips to the theatre, restaurant bills, or spending on hobbies and interests. It's important to note that having a budget isn't an exercise in denying yourself all the pleasures in life, but rather having a clearer picture of your financial situation.
"It's about knowing how much money you need to cover your household bills, so you don't have any nasty surprises," adds Pennells.
Use a budgeting app
For those who feel spreadsheets and lists sound like too much bother there are plenty of apps that you can use to take most of the heavy lifting of budgeting. Finance apps Chip (opens in new tab) and Emma (opens in new tab), for example, link to your bank account and work out how much you can afford to save, making some suggestions on where you might be able to cut back. Chip analyses your spending habits and moves any spare cash into a savings account.
Many big banks will offer charts and other tools in their banking apps and online, to check where you are spending your money. Read our guide for the best money-saving apps to pick the right app for your needs.
Be clear on your financial goals
A good way to stay on track is to set clear financial goals. Having something to aim for, whether that's going on a cruise, getting out of debt, or saving for a more comfortable retirement, will keep you motivated in those times where you may be tempted to blow your budget.
According to research from Yorkshire Building Society (opens in new tab), although more than half of us feel comfortable setting long-term saving goals, a sizable number don't feel that they are achievable. Only by becoming familiar with your financial situation by writing a budget will you be able to know how you can achieve your goals—and feel more confident in doing so.
"One thing about saving money is that it's never too soon or late to start," says Hughes, from Yorkshire Building Society. "The first step is to think about your financial goals, what do you want to do and when?"
Spring clean your spending to stay on top of your budget
Now that you know where your money is going, look to see where you can cut back. Think about what really brings you joy and keep those things if you can; for everything else, be ruthless. Cut the subscriptions that you barely use, switch to own-brand supermarket food and see if you notice the difference. Check your bills regularly and make sure you are on the best deals, remember to buy train tickets in advance, and consider making gifts for family and friends.
"It's worth having a quick look through your bank transactions and credit card statements over the past few months to remind you of any regular payments that come out. You may be surprised at some of the things you are still paying for, but don't need or use anymore," says Pennells.
Get on top of your debt
Smart With Money
Smart With Money is our dedicated money channel created to give you expert, easily digestible information to help you make the most out of your money.
Now that you know where you can cut back by drawing up a budget, you can divert that money to paying off more of your debt—if you have any. Even if you are comfortably managing your repayments every month, paying them off faster means you will pay less overall in interest—money that could go towards achieving your financial goals.
Note down all of the debts you need to pay back and put them into priority order. The consequences of not paying back some debts are more serious than others: for example, you may lose your home, be cut off, or even be prosecuted. These include your mortgage or rent, council tax, and energy bills, and need to be paid first. Debts such as credit cards, overdrafts, personal loans and buy now, pay later, (opens in new tab) while important and potentially very expensive, are considered secondary.
If you are worried, speak to a free debt charity such as Turn2Us, Step Change (opens in new tab), or Citizens Advice (opens in new tab). MoneyHelper's Debt Advice Locator Tool (opens in new tab) can help you to find a trained debt adviser to support you.
Start saving
Once you have your debt under control, it is vital to build up that emergency savings pot. The recommendations are you should aim to have enough to cover 3-6 months of outgoings in an easy-access account, in case something goes wrong.
Lots of people like to follow the simple 50/30/20 rule to help them manage their money. You divide your monthly income into three pots: 50% for your essential spending such as rent and bills, 30% is for your wants, while 20% goes towards saving or paying off debt.
If you struggle to save, apps like Moneybox (opens in new tab) can make it seem easier and more fun by rounding up your spending and diverting that money into a savings or investment account.
How to stick to a budget
Sticking to a budget can be particularly difficult if you are self-employed and have irregular income, but others get blown off course by unexpected bills or, in some cases, "they can't resist an impulse buy!", says Pennells. But she adds that the important thing is how you deal with any overspend, and that you get back on track.
The simple act of drawing up a budget is a statement of intent to yourself that you plan to take control of and engage more with your finances, but remember to think ahead, says Hughes, even if it's only by a few months.
"It can help to alert you to any events that you may want to have some money put aside for. Things like Christmas, holidays, or traveling to watch your football team, which simply cost more than a normal day or week would."
Boost your income
The most obvious way to earn more is to ask for a payrise, but if that isn't an option then there are others.
Check what state benefits or government support that you might be entitled to. "Turn2Us have a Benefits Calculator (opens in new tab) to check your entitlement to means-tested benefits", says Pennells. "The results page will tell you which means-tested benefits and tax credits you may be entitled to and how much you may receive." If you live alone, remember you are entitled to a 25% reduction in your council tax bill.
The government's Rent a Room Scheme (opens in new tab) lets you earn up to £7,500 per year tax-free if you let out a room in your home. If this sounds a little scary, you could rent out your driveway on the likes of Just Park (opens in new tab) or Parklet (opens in new tab) and earn up to £200 a month.
Do you have a skill that you could turn into a side hustle, such as fluency in a foreign language or an art degree? You could set up your own website or Facebook profile page, or join the Tutorful (opens in new tab) app instead.
Review regularly
Drawing up a budget isn't enough. Give yourself a financial MOT every 6 months—at the start of the year and midway through are good times. This should include looking over your budget (have any bad habits snuck back in?), ensuring you are on the cheapest deals for your bills, and checking that your savings are in the highest paying accounts. Review whether your personal circumstances have changed in a way that may affect your financial goals and adjust them accordingly if needs be.
Follow the above advice—and stick to your budget—and you'll be on top of your finances in no time. Which means you can look forward to the satisfaction of saving, a bit of a treat for yourself, or maybe even both.
Georgie is the contributing editor for The Money Edit and also covers finance for Woman & Home. Georgie is a multi-award-winning financial broadcaster and journalist and a trusted voice on all matters personal finance and consumer affairs, hosting a number of money podcasts and appearing regularly on TV, radio and in print.