Lily's Kitchen launches new 'beef ghoooulash' dog food for Halloween
A spooky treat for canines this Halloween!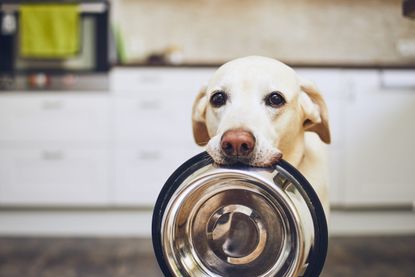 (Image credit: Getty Images/iStockphoto)
Halloween is just around the corner which means brands are jumping on the brandwagon with their spooky offerings.
Pet food brand Lily's Kitchen has launched a limited edition product that's bound to get animal owners and their four-legged friends talking (and barking).
The new item goes by the name of 'Beef Ghoooulash (opens in new tab)' (we see what they did there) and is packed full of seasonal ingredients. Inspired by the Hungarian classic, the new tins feature freshly prepared beef, spinach, red peppers and autumnal pumpkins. So it's safe to say the recipe sounds far more like a 'treat' than a 'trick.'
MORE:Is your dog depressed? How to spot dog depression and why it happens (opens in new tab)
Lily's Kitchen prides itself on fresh ingredients, natural botanicals and herbs - all designed to give pets all the energy they need for a fun-filled day of activities. The new Beef Ghoooulash recipe includes nettle, aniseed, rosehips, marigold petals, kelp, milk thistle, dandelion root, celery seeds and more.
Beef Ghoooulash tins, priced at £2.65, are available to buy now from lilyskitchen.co.uk (opens in new tab) as well as at various independent pet stores.
The product description online jokes, "Just in time for spooky season, our limited edition Halloween Beef Ghoooulash may not be a sure way to keep the witches, ghosts and vampires at bay but we can guarantee eerily empty dinner bowl."
But, it's worth pointing out that this hair-raising treat is only around for a limited time only - so it's worth stocking up now.
Some of the brands other popular products include the cottage pie and chicken casserole tins and the cat food pâtés. There are also feeding guidelines available on the website, to help with portion control for an individual pet. Owners simply need to enter their furry friend's age, weight, activity level (based on how much dogs are being walked every day (opens in new tab)) and the site will explain portion ratios and offer helpful calorie information.
Lily's Kitchen also offers a subscription service, which means owners can get their pet's favourite meals and treats delivered on a regular basis - and this is easy to cancel or pause at any time.
Lizzie Thomson is a regular contributor to woman&home, and also contributes to Metro.co.uk, Ideal Home, Culture Trip, and Evening Standard, covering all things lifestyle.