Meet the 72-year-old who credits her youthful looks to her homemade beauty treatments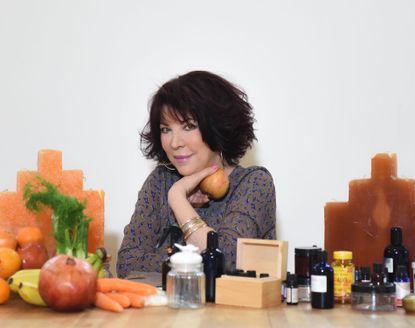 (Image credit: Stella Ralfini)
woman&home newsletter
Sign up to our free daily email for the latest royal and entertainment news, interesting opinion, expert advice on styling and beauty trends, and no-nonsense guides to the health and wellness questions you want answered.
Thank you for signing up to Woman & Home. You will receive a verification email shortly.
There was a problem. Please refresh the page and try again.
70 is the new 50, as the likes of celebrities including Helen Mirren, Susan Sarandon, Meryl Streep and Goldie Hawn bear testament to.
With advances in the world of health and an increasing awareness of the changes we need to make to our lifestyle to make the everyday happier and healthier, we are now living even longer – and looking fabulous to boot.
And one woman who knows this first hand, is professional life coach, beauty advisor and author Stella Ralfini.
The 72-year-old's new book Sensual Sorcery: Natural Beauty & Health Recipes is packed with easy-to-follow recipes for homemade beauty treatments using natural ingredients that she credits for helping to maintain her youthful looks.
She writes, "When women see me for the first time, they say 'You can't possibly be in your seventies, you have the skin of a much younger woman.' I smile, firstly because I even I cannot believe how or when I reached this age and secondly because my skin is exceptional and I'm proud of it."
From anti-ageing masks made from everyday fruit and vegetables to facial serums using essential oils as a base, the recipes include those that have been passed down in her family through the generations.
Stella's journey to wellness was an unusual one, as she actually started out her career mixing with A-listers as part of her role in the music industry.
Revealing more she told Woman & Home, "In my younger years, I never imagined I would become a yoga teacher, life coach or beauty/health adviser. Back then I was a rock chic, who in 1970 at age 23, landed a job as a Personal Assistant to the Rolling Stones - what wild times they were!
"I'm still filled with awe to think I rubbed shoulders with the likes of Paul McCartney, Elton John and Cat Stevens every day. However, I've experienced lots of amazing things in my life since then. I got the opportunity to live among a tribe of Cofi Indians on the Amazon, studied at the feet of wonderful gurus in India and travelled to many far flung destinations around the globe."
And despite facing numerous challenges over the last two years including being diagnosed with melanoma cancer and having a hip replacement, the psychologist and empowerment teacher hasn't wavered in her commitment to spreading the message about a fuss-free beauty regime.
She continued, "There are now so many anti-ageing treatments on the market that women lean towards to help keep their skin youthful looking. I have nothing against face fillers in moderation but these are not the answer to retaining silk-soft glowing skin.
"I grew up in a family where my mum and gran both made face masks, exfoliators and creams with simple, natural ingredients like eggs, honey and oatmeal. They had amazing skin into their eighties and said things such as 'Just because its expensive doesn't mean it's better than homemade.'"
And on her hope for the book's impact she said, "My hope for Sensual Sorcery is that it will encourage women to take the reins where their beauty and health is concerned and feel as passionate as I do about what can be achieved through mother nature's generosity and to stop wasting unnecessary money."
MORE:Everything you need to know about the woman&home Amazing Women Awards 2019 in partnership with Hotter
Here's a recipe from the forthcoming book to whet your beauty appetite.
Wrinkle Busting Oatmeal Face Mask
"I created this mask for older women but that doesn't mean younger folk wouldn't benefit from a treatment," Stella explains.
Ingredients:
½ cup of oatmeal
1 egg
1tbsp apple sauce
4 drops Frankincense oil
Method:
Mix half a cup cooled, cooked oatmeal into 1 egg, 1tbsp apple sauce and 4 drops Frankincense oil. Blend until you have the consistency of a cake mix, apply to face and neck for 30 minutes then rinse off with warm water.
Stella Ralfini's top three natural beauty tips
Below Stella reveals her top three tips natural health beauty tips:
1. To stop the skin from slacking, all it needs is to rub an ice cube over your face and neck for 30 seconds every morning. The skin looks immediately fresher and tighter with one application but the more we do it, the better the results.
2. My gran told me this one. I've been doing it for years and intend to keep going since I believe it does help. Over your nightly eye cream/serum, dab on a tiny bit of Vaseline. This acts like a seal to help whatever is underneath penetrate the skin better.
3. Egg yolk! This has to be one of the best skin nourishers I can think of, so whenever you make a face mask, include a whipped egg yolk. For older folk, adding 4 drops of essential Frankincense oil, turns it into a neat wrinkle fading mask. This mask can also be applied around the eyes. Leave on for 30 mins and rinse off with warm water (see recipe above).
Sensual Sorcery: Natural Beauty & Health Recipes is out on the 28th June (UK Book Publishing) and is priced at £6.99.
Sign up to our free daily email for the latest royal and entertainment news, interesting opinion, expert advice on styling and beauty trends, and no-nonsense guides to the health and wellness questions you want answered.
Miriam worked for woman&home for over five years and previously worked on the women's lifestyle magazines Woman and Woman's Own.