50 Over 50 Awards: 'Social Influencers' shortlist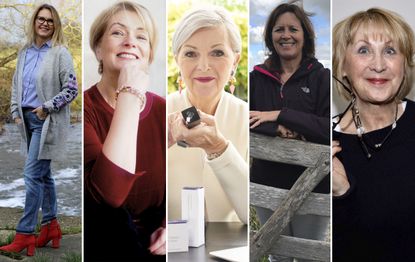 The first batch of finalists in our 50 Over 50 Awards is in...
TheWoman&Home50 Over 50 Awards in association with JD Williams - launched to celebrate amazing midlife women - are in full swing.
There are ten categories in all, with five finalists selected for each. We'll be revealing these in the magazine and online over the coming months.
Below you can read all about the five shortlisted finalists in the Social Influencerscategory, which celebrates the best bloggers and vloggers shouting about midlife online.
From the women challenging preconceptions of what beauty means over the age of 50 to those encouraging fellow midlifers to seek out adventure, these are the sites to bookmark for a daily hit of inspiration...
Annabel Simons, 59, & Grace Carnegie-Brown, 65
Countrywives.co.uk (opens in new tab) - weekly inspiration for women over 50 Friends since their twenties in London, Annabel and Grace now live in different parts of the UK. Eight years ago, they started a blog to stay in touch and share experiences of their rural lives. The blog took off when it captured the imagination of other women in a similar situation, and was highly commended at the UK blog awards 2017 in the lifestyle category. Grace says: "Reading CountryWives is like spending time with your girlfriends, happy women who love sharing useful ideas and inspiring stories. We also test and cherry-pick the best products for 50+ women, which saves our readers having to trawl the internet." Annabel says: "You're never too old to do something creative and challenging. it's like having a new lease of life and this age is no longer a time to wind down. We hope CountryWives reflects that."
Nikki Garnett, 50
Midlifechic.com (opens in new tab) - the thinking woman's style blog Nikki created the blog as a personal project after 17 years of the school run came to an end. Today over 40,000 women read each post and Nikki has 14,000 Instagram followers. Nikki says: "Most of my blog posts are about style, but I cover topics like life with teens, travel and the effects of the menopause too. The most important thing I can do is challenge preconceptions of how 50 looks and feels."
Nikki Garnett, 50
Midlifechic.com (opens in new tab) - the thinking woman's style blog Nikki created the blog as a personal project after 17 years of the school run came to an end. Today over 40,000 women read each post and Nikki has 14,000 Instagram followers. Nikki says: "Most of my blog posts are about style, but I cover topics like life with teens, travel and the effects of the menopause too. The most important thing I can do is challenge preconceptions of how 50 looks and feels."
Tricia Cusden, 70
Lookfabulousforever.com (opens in new tab) - celebrating mature beauty Aged 65, Tricia started a blog and make-up company to "challenge perceptions and embrace the benefits of ageing". Her video tutorials - which have clocked up more than 4.9 million YouTube views - cover all aspects of older beauty, something her brand's 44,000 Facebook followers really appreciate. Tricia says: "When I started my make-up business, I decided to write a weekly blog to reflect my experience of living as an older woman. I have around 125,000 subscribers, the vast majority of whom are post-menopausal women who've found a place they can feel confident about their older faces, bodies and selves."
Heather Cowper, 55
Heatheronhertravels.com (opens in new tab) - innovative travel blog Heather runs an inspiring travel blog with a little luxury, and an impressive following - she has 18,000 Instagram followers and 14,000 on Twitter. She co-founded travelatormedia.com (opens in new tab), a collective of leading UK bloggers writing for the 40+ UK market. Heather says: "Ten years ago I travelled to Ecuador with friends. It was my first adventurous trip away since having my children and I loved it. When I returned I decided to start a blog to inspire older women to travel. I try to inspire midlife women who love to travel and want ideas on where to go."
Ashley Cramp, 54
Lazydaisyjones.com (opens in new tab) - stylish interiors and creative living Ashley runs a beautiful interiors and lifestyle blog, where she shares DIY ideas for craft projects with yarn, fabric and paint. She has over 15,000 Instagram followers. Ashley says: "At 49, I taught myself to crochet and started my blog as an online journal to share my progress and 'meet' other creative folk. I started sharing patterns and designs and over the next few years began to write about my house and life. "Now I write about all aspects of midlife, including fashion and beauty. I hope lazydaisyjones.com encourages women of all ages to live their best life."