50 Over 50 Awards: 'Best in Business' shortlist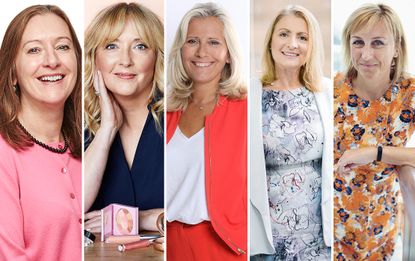 These inspiring businesswomen are at the top of their game
We're delighted to reveal the latest shortlist in our 50 Over 50 Awards, in partnership with JD Williams.
The awards celebrate midlife women who are making a difference in the world - and the five successful businesswomen on ourBest in Businessshortlistare certainly doing that.
From the woman who is one of only seven female bosses in the FTSE 100 to the former air stewardess who has risen to Chief Operating Officer at a major tech firm, these inspiring businesswomen are all the work-life motivation you need.
The winners of this and all ten 50 Over 50 Awards categories will be revealed at an exclusive event this autumn. Until then, read more about our Best in Business nominees below...
Alison Young, 53
The beauty game changer Alison is a beauty expert and TV presenter for QVC. She began working in her local salon, but soon counted A-listers among her clientele. In QVC's infancy, she convinced the all-male directors to abandon the US model of selling generic beauty TV shopping brands and, instead, focus on amazing but hard to find salon brands that she knew customers would want to repeat buy. She's helped shift over £500 million of world-class products in her career. She also set up the Aveda Training School and the Espa Training School when these brands first launched in the UK. Alison says: "Self-care should be easily accessible. I pride myself on being the customers' champion. I'm a Northern lass living in the south. "I travel all over the UK meeting customers and I know sometimes they want a quick solution to get them to the newsagents or to walk the dog – it's not always about a full face of make-up. Sometimes a two-minute fix is enough. "The right problem-solving skincare still moves me. I've met women who say treating themselves has helped them through bereavement. It's not called beauty therapy for nothing!" www.alisonyoungbeauty.com
Dr Pauline Williams, 51
The doctor saving newborns Dr Pauline Williams, 51, is head of Global Health R&D at GSK. While browsing the internet, she came across research that showed the massive impact of the antiseptic chlorhexidine (an ingredient in mouthwash) when used to clean newborns' umbilical cord stumps in developing countries. If used widely it has the potential to save more than 400,000 lives over five years. She came up with the idea to reformulate this into a gel, with advice from Save the Children about the needs of remote communities. It is now available at a not-for-profit price and targeted at countries with the highest newborn mortality. Pauline says: "My proudest moment was when Save the Children invited me to see the gel being used in Kenya. The healthcare workers danced to welcome me in celebration of the potential of the gel to save babies' lives. "My husband died in 2015 and I now realise that focusing on the chlorhexidine project kept my head above water. I'm so much stronger than I ever gave myself credit for."
Véronique Laury, 52
The home improvement boss Véronique is one of only seven female bosses in the FTSE 100. She's CEO of Kingfisher plc (best-known in the UK for its B&Q and Screwfix stores). She employs 77,000 people. Véronique says: "It's not just about selling power tools and garden furniture. We want customers to have a home they can feel good about. DIY can be a nightmare, especially if you're short on ideas, money or skills. "As a female CEO you always need to be true to yourself and not try to pretend to do things the way a man might. It's about finding the balance between being tough and being human."
Véronique Laury, 52
The home improvement boss Véronique is one of only seven female bosses in the FTSE 100. She's CEO of Kingfisher plc (best-known in the UK for its B&Q and Screwfix stores). She employs 77,000 people. Véronique says: "It's not just about selling power tools and garden furniture. We want customers to have a home they can feel good about. DIY can be a nightmare, especially if you're short on ideas, money or skills. "As a female CEO you always need to be true to yourself and not try to pretend to do things the way a man might. It's about finding the balance between being tough and being human."
Jill McDonald, 54
The retail trouble-shooter Jill is MD of Marks & Spencer Clothing and Home. She was also the UK's first female CEO of fast-food chain McDonald's. Jill says: "My favourite game growing up was to play shops, lining up toys to 'sell' to family, complete with toy cash register! "Today, it's a privilege to work for such a well-known brand. It's great to see how customers instantly respond to a new product or service. "My career to date has been more than I ever thought possible. It's a real lesson not to constrain your own ambitions and that you can achieve more than you ever imagined."
Sheila Flavell, 62
Spearheading returners in tech Sheila heads the Global Women in Tech campaign and Get Back to Business programme, aimed at women returners. She is currently Chief Operating Officer at FDM. Sheila says: "I was an air stewardess in the Middle East for 12 years, then when I returned to the UK I had young children and found it hard to get a job; I don't want the same to happen to other women. "We've employed over 100 returners in the past year – I'm proud of that. You don't need to have studied STEM to embark on a career in IT. We re-launch careers, enabling women to take charge of their destiny." www.fdmgroup.com/careers/returners-to-work