How to get sunscreen out of clothes: 4 steps to remove sun cream stains from fabric
Cleaning and stain removal experts explain how to get sunscreen out of clothes and how to remove sun cream stains from fabric for a spotless summer wardrobe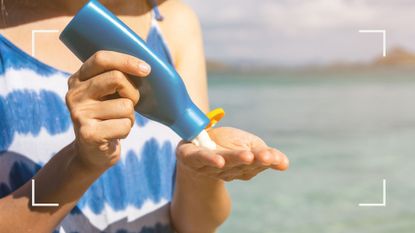 (Image credit: Getty Images / Kittiphan Teerawattanakul / EyeEm)
We asked cleaning and stain removal experts how to get sunscreen out of clothes and then tested their advice ourselves to see if their simple tips really worked (spoiler: they do!)
Sunscreen stains on clothing are a problem that plagues us all at some point during the summer, as we apply lotion to stay protected and invariably get traces of it onto the garments we're wearing. Even the best facial sunscreens tend to present as an oily stain if you accidentally getting it on fabric and even lightly tinted moisturizers will show up as a yellowish stain on white garments.
Here you'll find a tried and tested guide on how to get sunscreen out of clothes, with just four, simple, expert-approved steps to remove sun cream stains from fabric for a long-lasting summer wardrobe.
How to get sunscreen out of clothes
1. Act quickly
Speed is of the essence when it comes to effectively treating and removing stains, whether you're trying to remove suncream or get rid of wine stains.
"As with all stains, the quicker you act the easier the stain is to remove," advises Susan Fermor from Dr. Beckmann (opens in new tab). "So make sure you remove any excess sun cream from the garments as soon as possible.
2. Rinse clothes in cold water
"If you're at home, rinse clothes in cold water or if you're at the beach an old hack is to rub the affected area with sand to dry out the stain and then use a dedicated stain remover once at home," advises Susan.
Professional cleaning expert and TV's Queen of Clean Lynsey Crombie (opens in new tab) agrees, speaking exclusively with woman&home she says, "As soon as you can, rinse the stain from the reverse under a cold-water tap, this way the stain is being pushed out of the fabric and hopefully flushing out as much of the stain as possible."
It's important to rinse the stain with cold water instead of warm because warm water could make the stain worse.
3. Wash with a targeted detergent
After rinsing the worst of the satin away with cold water, it's best to wash the clothes with a targeted detergent.
"Use a laundry detergent that is formalized to cut through oil and grease, as most sunscreens are oil-based to keep the skin moisturized in the sun," advises Lois Siciliano, garment technologist at Pour Moi (opens in new tab).
"As well as this always pre-treat the stain before the wash, helping loosen those stubborn stains," adds Susan.
Applying a pre-treatment when tackling any stain, like when cleaning white trainers, offers a concentrated spot clean directly to the stain before you do a full-scale wash.
Pre-treatment is particularly effective for oil-based stains, as Lois explains, "Adding a pre-treatment helps to break down the oils. So that when you come to pop it in the washing machine all the hard work is done."
4. Leave to dry in the sun
For light colored clothes where the sun cream may have stained the fabric yellow, try hanging your clothes out in the sun to dry after the wash. The sun is great at naturally bleaching whites in a natural way.
"You can also use chemical bleaching agents diluted with water," Susan adds for tough stains. However she also warns "but these can leave garments with a chemical after smell."
Will vinegar remove sunscreen stains?
Yes, vinegar will remove sunscreen stains. This trusty store cupboard staple is a handy, natural cleaning hack for all manner of items, including how to clean a washing machine.
"Sunscreen has an oil base, so you need something to break that down, so one of your go-to products here is white wine vinegar" advises Lynsey. "Cover the stain in the vinegar and leave it for a good 30 minutes to an hour to really allow the vinegar to work." After this time rinse the vinegar away, to avoid any odors. "Then wash the garment at the hottest temperature that is safe for the fabric then check the stain has gone before you dry it."
"Another option is eucalyptus oil," suggests Lynsey. "Eucalyptus oil is great for oily stains. Just cover the stain with the oil, leave for 15 minutes and then rinse." Repeat the same post-wash method as you would do for the vinegar option. "Once the item has dried you will not get the stain out. So, if there is still a trace of the stain repeat this process again."
What to avoid when cleaning sunscreen stains
Our cleaning and garment care experts agree that tumble drying is to be avoided when getting sunscreen out of clothing. Lynsey explains why: "When an item of clothing has had a grease-based stain avoid the tumble dryer because if there is any trace of the stain it will then be permanent. I would air dry on the washing line or a clothes airer."
When applying a pre-treatment to your sunscreen-stained garment, Lois emphasises the importance of avoiding extreme heat, "this can worsen the condition of the stain by interfering with the oil enzymes and make it harder it remove."
Remember, sunscreen acts as an invisible shield that either absorbs, reflects or scatters UV rays to protect skin against sun damage. Sunscreen does not prevent tanning and ideally should be worn in the winter, too. See the CDC's guidance on Sun Safety (opens in new tab) for more info.
Tamara is a highly experienced homes and interiors journalist, with a career spanning 19 years. Now the Lifestyle Editor of womanandhome.com, she has spent the last 16 years working with the style teams at Country Homes & Interiors and Ideal Home, and it's with these award-winning interiors teams that she gained a wealth of knowledge and honed her skills and passion for shopping, styling and writing about every aspect of lifestyle and interiors.
With a keen eye for the latest interior trends, there's not a lot she doesn't know about home decor – whether it's what colour we should be painting our living rooms next season, or if the latest 'must-have' buys are actually worth investing in.
A true homes and interiors expert, Tamara has served as an ambassador for leading interior brands on multiple occasions, including appearing on Matalan's The Show and presenting at top interiors trend events such as the Autumn Fair and Spring Fair.