The White Company have published an interiors book and it's the perfect Christmas gift
The White Company celebrates 25 years with this gorgeous new interiors book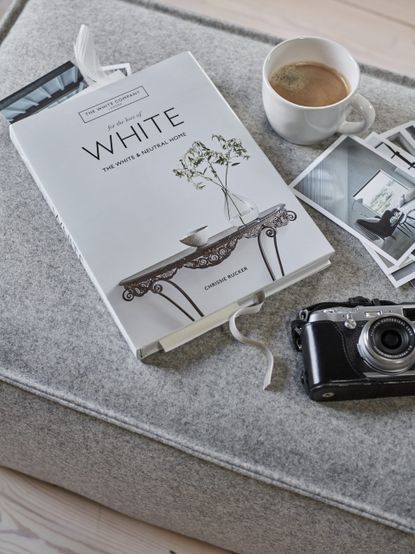 Group lifestyle director Jayne Marsden talks to The White Company founder about the inspiration behind the brand and why now felt like the right time to move into publishing...
My favourite room in my home is my bedroom – it's very calming, cool in summer and cosy in winter with the bedside lamps on. The reason it's my favourite is because it's different shades of white. So, it's no surprise that I'm a fan of The White Company. This week the brand celebrates its 25 year anniversary on the 5th September 2019, and founder Chrissie Rucker, launched her first interiors book: For the Love Of White, to mark the occasion.
As you would expect, it has cover to cover gorgeous pages of homes, including the author's, to pore over, with masses of ideas to inspire you, wherever you live. Chrissie also shares many finishing touches to help us make our homes feel so special and look like they're lifted from The White Company catalogue.
Speaking to Chrissie about the book, she told me, 'I've loved every minute of this project – from the wonderful home owners who have shared their incredible interiors, to the dream team who have created the book – it has felt, surprisingly, like I've opened up my soul and unlike anything I've ever worked on before.'
Chrissie left school at 16 and it wasn't until she met her husband Nicholas Wheeler, who then owned a bed with burgundy sheets and green towels, and she begun tackling creating their first home, that she struck on the idea for The White Company. She found it difficult to buy plain white sheets for their home, so the germ of an idea was sown.
I asked Chrissie, one of Britain's most successful businesswomen, to talk to us about The White Company's journey:
Tell us about how you launched The White Company?
'We began as a mail order business – a 12-page catalogue. We had a small government grant and £6K inheritance from her grandmother, so I have so much to thank her for, and there were 500 people on my mailing list. I wanted to create a company that specialised in stylish, white homeware – high quality and at affordable prices.
What is the secret to your success?
'I believe simple is often best and less is often more – I like the idea of closing your front door and feeling cosseted in your own home. A spa like bathroom can make you feel wonderful, a white bedroom can feel like a retreat and, in these busy times, I believe the need for calming white is more important for our wellbeing more than ever before. Think of white as being like the little black dress – so simple, yet so effective.'
For The Love Of White, £30, is published by Octopus Books and is out now.