The summer décor trend you're about to see everywhere
Bring a little beach life into your home…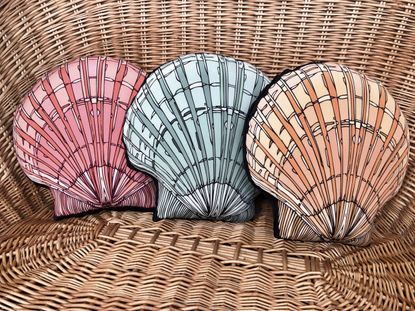 Welcome to woman&home's online shopping guides, where we reveal where to buy the most popular and top-rated products. This guide is about the shell décor trend, but you may also be interested in our edits of stylish picnic essentials, comfortable non-wired bra's and flattering swimwear styles for every shape.
We've spotted a new home wear trend making waves across the interiors world. Yes, the shell décor movement has been steadily growing amongst Instagram bloggers, meaning that it's now all over the high street this summer. But you don't need to have a whitewashed beach house to dip into this pretty décor trend.
Whether it's a shell shaped vase or a raffia scalloped lampshade, shell motifs bring the organic elements of nature into your home in a tasteful and natural way. This trend may even be a subconscious mode of us seeking out more nature- something we have all been hugely reconnecting with over these past months of isolation. Many of us have missed the beach; the sound of the waves and the feeling of sand beneath our toes, so bringing shells into the home has never come at a better time.
We all love that airy coastal house vibe but shell décor has really moved on from wooden panels and white washed walls, in fact darker interiors work beautifully against the organic shapes of the humble shell. Below, designer Matilda Goad subtly incorporates dark scalloping into her kitchen design, while Art Director @heartzeenahome works bright silk shell cushions into her luxe pink sofa arrangement.
We must stress that we do not endorse buying real shells or removing them from the beach. Shells are a hugely important part of the costal ecosystem, providing materials for birds' nests and homes for a vast array of sea life. Removing shells in large quantities can also contribute to shoreline erosion, so we'd also advise against purchasing real shells or products made from them. If you are desperate for the real deal then look out a vintage or second hand piece.
For more inspiration search #shelllamp, #shellprint, #scallopededge, #shelldecor on Instagram and you'll probably come across a great selection of vintage stockists too.
Luckily shells translate beautifully into glass, ceramic, metals, and fabrics so there's plenty to shop to incorporate this airy natural feeling into your home. We love the idea of searching out vintage botanical drawings and dedicating a frame wall to these, or introducing a lush velvet cushion onto your bed or a raffia chair.
Here's our pick of sea shell inspired interiors you can buy now for your home...
Terracotta shell vase, £18, thelittledeer.co.uk
A3 shell print, £36.34, hotelmagique.com
Ariel grey velvel shell chair, £795, grahamandgreen.co.uk
Velvet shell cushion, £8 Matalan
Shell candle, £4.50, grahamandgreen.co.uk
Large scallop lampshade, £180, matildagoad.com
Set of 6 framed prints, £275, oka.com
Shell dish, £30, John Lewis & Partners
1/2 pint mug, £9.95 (was £19.95), emmabridgewater.co.uk
Wallpaper, £68, Designers Guild at John Lewis & Partners
Personalised note paper, from £20 Matilda Goad for papier.com
Silk shell cushion, £95, silkenfavours.com
Shell poster, £23.95, desenio.co.uk
Mermaid fork set, £35, anna-nina.nl
Scallop ceiling shade, £65, John Lewis & Partners
Vintage shell lamp, £41.41, FinestFlotsam at Etsy