Garden Furniture To Transform Your Outdoor Space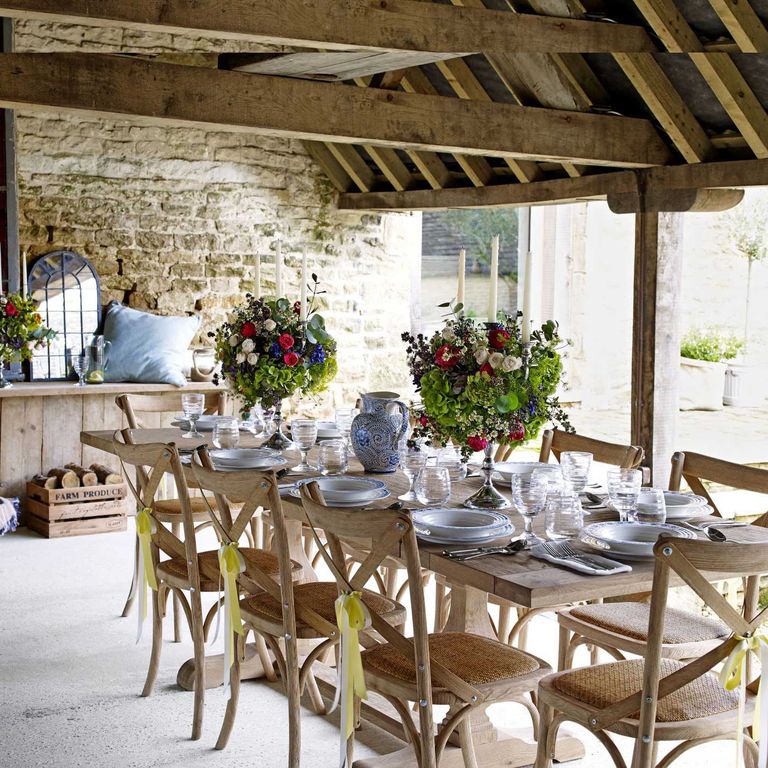 Give your garden a Chelsea Flower Show style makeover with our pick of the best garden ideas, furniture and accessories
Whether it?s a grand, country garden or a tiny, town terrace, everyone needs garden furniture, and there are plenty of fabulous styles to choose from. From sturdy teak, new and realistic all-weather rattan, traditional wicker perfect for an English look, French-style, ornate, wrought iron, funky and colourful powder coated steel, or the latest textilene fabrics.
From large 8 seater dining tables, perfect for a party or family gathering to small café tables with 2 chairs for an intimate dinner for two. Creating an outdoor space extends the home to give an extra room in the Summer, so dress it as you would your indoor rooms.
Start with the furniture then add the accessories. Parasols or larger canopies for keep the sun off, cushions for comfort and colourful china and glass for the table. Think about the lighting for when dusk falls, from fairy lights in the trees to lanterns on the tables or garden spikes for atmospheric candlelight dotted around the garden. Water features have become more popular with ever interesting models, and statuary has become more accessible from small items to large, statement pieces. Firepits are widely available and help to warm up chilly evenings to extend the time spent outside.
Choose planters or pots for the patio, especially useful in small spaces with few flower beds, choose from rustic terracotta to sculptural plastic. New innovation such as artificial ?living? walls or fake grass create new looks for awkward areas and if we have a drought, clever ways of watering. Above all, Summer is coming, so get outdoors and enjoy the warmer weather!
John Lewis Marcelle extending dining-table, £1200, Isabelle oak chair, £125 and outdoor mirror, £60
Tesco Windsor dining set
Windsor folding dining chairs £50, wooden round table, £160 and parasol, £35.
Neptune Bordeaux table with Pesaro chairs
Bordeaux table with Pesaro chairs, £2895
Kettler Bretagne dining set
Kettler Bretagne table from £459 and chair, £199 each
B&Q Canterbury Dining Set
B&Q Canterbury Dining Set, £475
Cromer table and benches
Crocus Cromer table and benches, £649.99
Go Modern Colour garden chair, £160
GoModern Colour garden chair, £160
M&S Cortado outdoor dining set
M&S Cortado table and two chairs set, £99
Dunelm Mill Balinese 8-piece cube set
Dunelm Mill Balinese 8-piece cube set, £699.99
Tropical Fan Garden Set
Dunelm Tropical Fan Chair, £24.99 and table, £6.99
Provence Garden Set
Cox&Cox Provence round table and chairs set, £375
Ornate Metal Folding Bistro set from, £35
Tesco Ornat Metal Folding Bistro Chair, £35 Ornate Metal Folding Bistro Table, £40 Clear Acrylic Pressed Pitcher, £8
Primrose-Sofa-Outdoor-£2145-raftfurniture.co.uk.jpg
Raft Furniture Primrose Sofa Outdoor, £2145
Homebase Mali corner sofa, £499.99
Homebase Mali corner sofa, £499.99 Cushions, £9.99
Natural Wooden Bistro Set, £275
Cox&Cox Natural Wooden Bistro Set, £275
Morella-sofa-£249marksandspencer.jpg
Marks and Spencer Morell sofa, £249
English Aboad Garden Tree Seat, £299.00
English Aboad Garden Tree Seat, £299.00
B&Q Roscana-6-Seater-Extending-Dining-Table-£275
B&Q Roscana-6-Seater-Extending-Dining-Table-£275
Davey Lighting Portico-wall-light-in-weathered-brass-£629
Davey Lighting Portico-wall-light-in-weathered-brass-£629
Homebase MIlazzo-dining-set-£969.99
Homebase MIlazzo-dining-set-£969.99
Dunelm Mill Milan-5-Seat-Conversation-Set-£399.99
Dunelm Mill Milan-5-Seat-Conversation-Set-£399.99
John-Lewis,-Drift-Eucalyptus-8-10-Seater-Dining-Table-and-2-Benches-£599,-Bench-£75
John-Lewis Drift Eucalyptus 8-10 Seater Dining Table and 2 Benches £599 Bench £75
Homebase Messina-6-seater-dining-set-£499.99-and-panelled-arbour-£349.99
Homebase Messina-6-seater-dining-set-£499.9
Garden Trading Dean-Street-Set-of-Table-and-Two-Chairs-£150.jpg
Garden Trading Dean-Street-Set-of-Table-and-Two-Chairs-£150.jpg
B&Q Flores Bistro set £90
B&Q Flores Bistro set £90
Homebase Greenwich-6-seater-teak-dining-set-£1299.99
Homebase Greenwich-6-seater-teak-dining-set-£1299.99
Shed Decor by Sally Coulthard £25 jacqui small
lechuza.co.ukCubi-self-watering-planters-from-£9.99
lechuza.co.ukCubi-self-watering-planters-from £9.99
johnlewis.com-Corsica-Lounging-Set,-2-Seater-Sofa,-Coffee-Table-and-2-Armchairs,-£699
johnlewis.comCorsica-Lounging-Set,-2-Seater-Sofa,-Coffee-Table-and-2-Armchairs,-£699
sandmanplanters.co.uk. chipperfield planters £199
sandmanplanters.co.uk chipperfield planters £199
sandmanplanters.co.uk Flaunden planters £199
sandmanplanters.co.uk Flaunden planters £199
sandmanplanters.co.uk Chipperfield planters, £199
sandmanplanters.co.uk Chipperfield planters, from £199
george.com-retro-moon-bistro-set-£149
george.com-retro-moon-bistro-set-£149
Solvinden outdoor lights £15-each-ikea.co.uk
Solvinden outdoor lights £15-each-ikea.co.uk
Salomie-Relax-Hut-£2650-outthereinteriors.com
Salomie relax hut-£2650-outthereinteriors.com
Shining cage outdoor lights £170 each outthereinteriors.co.uk
Shining cage outdoor lights £170 each outthereinteriors.co.uk
Point Armadillo garden swing, from £1950 gomodern.co.uk
Point Armadillo garden swing, from £1950 gomodern.co.uk
Cacoon-Hanging-Pod,-£225 johnlewis.com
Cacoon-Hanging-Pod-£225 johnlewis.com
Japan-Outdoor-Lighting-£490 gomodern.co.uk
Japan-Outdoor-Lighting-£490 gomodern.co.uk
Kamino outdoor fireplace £1569-morso.co.uk
Kamino outdoor fireplace £1569-morso.co.uk
Outdoor Illuminated-Decorative-Ball-Light-£165 Debenhams.com
Outdoor Illuminated-Decorative-Ball-Light-£165 Debenhams.com
Firefly-Outdoor-Lightingwww.gomodern.co.uk
Firefly-Outdoor-Lighting www.gomodern.co.uk
Solvinden outdoor lights £15-each-ikea.co.uk
Solvinden outdoor lights £15-each-ikea.co.uk
Poole Harbour Table £2100-okadirect.com
Poole Harbour Table £2100-okadirect.com
Poole-Harbour round-table-set_£3750_okadirect.com1.gif
Poole Harbour round table set, £3750 www.okadirect.com/new-season
Shed Decor by Sally Coulthard Shed with awning
Shed Decor by Sally Coulthard Shed with awning
shed decor by Sally Coulthard shepherdshut
shed decor by Sally Coulthard shepherdshut
Shed Decor by Sally Coulthard, £25 jacquismallpub.com
Shed Decor by Sally Coulthard £25 jacquismallpub.com
Shed Decor by Sally Coulthard £25 jacquismallpub.com
Shed Decor by Sally Coulthard £25 jacquismallpub.com
Shed Decor by Sally Coulthard £25 jacquismallpub.com
Shed Decor by Sally Coulthard £25 jacquismallpub.com
Shed Decor by Sally Coulthard £25 jacquismallpub.com
Shed Decor by Sally Coulthard £25 jacquismallpub.com
Shed Decor by Sally Coulthard £25 jacquismallpub.com
Shed Decor by Sally Coulthard £25 jacquismallpub.com
Shed Decor by Sally Coulthard £25 jacquismallpub.com
Shed Decor by Sally Coulthard £25 jacquismallpub.com
Shed Decor by Sally Coulthard £25 jacquismallpub.com
Shed Decor by Sally Coulthard £25 jacquismallpub.com
Shed Decor by Sally Coulthard £25 jacquismallpub.com
Shed Decor by Sally Coulthard £25 jacquismallpub.com
Shed Decor by Sally Coulthard £25 jacquismallpub.com
Shed Decor by Sally Coulthard £25 jacquismallpub.com
Shed Decor by Sally Coulthard £25 jacquismallpub.com
Shed Decor by Sally Coulthard £25 jacquismallpub.com
Notcutts.co.uk Florenty Verdi plant shelf £129
Notcutts.co.uk Florenty Verdi plant shelf £129
Notcutts.co.uk Hothouse picnic range
Notcutts.co.uk Hothouse picnic range
TopInteriorDesign_notcutts.co.uk Lutyens bench £299
notcutts.co.uk Lutyens bench £299
miafleur.com-Heart-Garden-Chair-£95-Bistro-Garden-Table-£102.--Accessories-from-£22
miafleur.com-Heart-Garden-Chair-£95-Bistro-Garden-Table-£102.--Accessories-from-£22
dobbies.com Glass-bell,-£20,-pear-glass-arrangement,-£19.99-cactus-from-£1.49
dobbies.com Glass-bell,-£20,-pear-glass-arrangement,-£19.99-cactus-from-£1.49