Common mistakes when buying outdoor furniture: 9 things to avoid according to experts
Planning to buy new outdoor furniture this year? Avoid these common mistakes that experts warn can prove costly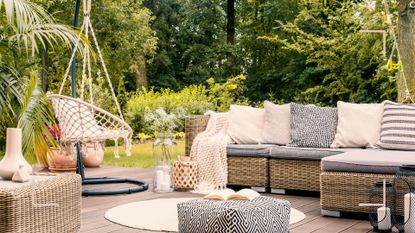 (Image credit: Getty Images | Katarzyna Bialasiewicz)
Before investing in new furniture for your backyard ensure you don't fall for the most common mistakes when buying outdoor furniture – because they're all too easy to make, not to mention expensive.
Buying outdoor furniture is always an investment, whether you're looking for a cozy couch for an outdoor living room idea or hunting down a teak dining table set to be able to host BBQs in style there's no room for error because mistakes can prove costly. To help avoid them we've consulted a team of interior experts to explain the common mistakes we all make when it comes to buying outdoor furniture.
Before you take the plunge, take a look at our expert advice to ensure you buy the best outdoor furniture to suit your space and cater to your needs.
9 mistakes when buying outdoor furniture and how to avoid them
From not measuring up properly to misjudging materials it's easy to make small errors that soon become bigger issues for your outside plot.
Here are 9 of the most common mistakes to avoid when buying garden furniture...
1. Not taking climate into consideration
Consider the climate to avoid buying a beautiful outdoor furniture set that you are restricted from using due to the weather conditions.
"One of the biggest mistakes people make when buying outdoor furniture is not considering the climate of their area," says Emma Putrimas, VP of product and design at Teak Warehouse. "Different materials hold up better in different climates."
"For example, metal furniture may rust in humid areas, while certain types of wood furniture may warp in areas with high levels of rainfall. I always recommend teak furniture to our customers, as teak is a hardwood that holds up in all climates and will last over time."
2. Failing to measure accurately
Errors with measurements are the cause of many kitchen design mistakes and even more living room design mistakes. It's an easy one to make, however, it is imperative that the furniture fits comfortably into the space available.
"One of the most common mistakes people make when buying outdoor furniture is not measuring," says Wendy Ortiz, a designer, and co-founder of Caravana Furniture. "Often, people find something they like online or in a showroom and they purchase it without taking into account the space where it's going to go."
"Before buying any furniture, it's important to measure the area where you plan to place it to ensure that it will fit properly," agrees Emma. "This will also help you determine how much furniture you can realistically fit in the space."
"Furniture always seems smaller in a showroom, so taking measurements before buying anything is a must," adds Wendy. "Ask your sales representative to provide you with measurements or get them from the description on the website.
Take guidance from the best essential small garden tips and only choose furniture that feels to scale – don't overwhelm your yard with oversized designs. Wendy's top tip is to: "Map out the furniture placement with painter's tape in the area you want it to go. Now, you can actually see the area the furniture will occupy and make sure there is enough space to move freely around it."
3. Buying on impulse
Following trends and impulses rather than going down a more practical route is one of the most common interior design mistakes to make, so it's no surprise it's highlighted as a mistake when buying outdoor furniture too.
"A common mistake is buying on impulse," says Artem Kropovinsky, head of Arsight, a team of interior designers based in NYC. "It's vital to deliberate on the overall design theme and function of the space before picking outdoor furniture."
"To avoid unsuitable or crammed arrangements, always measure the space and visualize how the furniture will harmonize with the existing setting.
4. Buying furniture unfit for purpose
Choosing the best furniture is not just about finding where to buy nice furniture online and buying what looks good, it has to be suitable for outdoor use.
"A frequent error is purchasing furniture that is not suitable for outdoor use," explains Artem. "Pick furniture that can handle rain, sun, wind, and other outdoor factors. Look for materials that are water-resistant, UV-protected, and rust-proof."
"A word of advice: NEVER put furniture that is intended for indoor use outside, as the fabrics will fade or metals will rust," warns Wendy.
5. Going by looks alone
It's not always just about how things look, especially when it comes to choosing comfy furniture – a common mistake when choosing a couch. The aesthetic is important. but it should never be the only factor taken into consideration.
"While it's important to choose outdoor furniture that looks nice and fits your personal style, it's equally important to choose furniture that is comfortable and functional," says Emma. "Don't sacrifice comfort for style, as you'll likely regret it later."
"I always recommend testing out furniture in person whenever possible to ensure that it's comfortable and functional before a purchase." Even when sourcing nice furniture online, try to find a central showroom where. you can test the furniture in real life first.
6. Choosing the wrong material
"Another mistake is selecting the wrong fabric," says Artem. "Pick materials that are not only attractive but also resilient to weather conditions, fading, and staining."
Because while you can clean outdoor cushions the fabric still has to be durable enough to withstand the elements. "High-quality, easy-to-clean fabrics are indispensable for preserving a neat and crisp look in any outdoor space."
"It's critical to consider the type of material of your outdoor furniture," agrees Wendy. "The best material for outdoor cushions that will last for years without fading in the sun is Sunbrella."
7. Misjudging maintenance
Misjudging maintenance is a common error we all make because we forget about the long term – a trait also responsible for common mistakes when buying second hand furniture.
"When choosing outdoor furniture, it's important to consider how much maintenance it will require and whether you're willing to put in the effort to keep it looking good over time," warns Emma. "Some materials, such as teak and aluminum, require little maintenance, while others, such as wrought iron and wicker, require more upkeep."
"My advice is to always get covers for all your outdoor furniture. This saves you from having to worry about the upkeep. My favorite covers on the market today are the Couverture Covers, where each and every cover is custom-made for the individual piece."
"Another error is leaving your furniture exposed to the weather. Even if your furniture is suitable for outdoor use, it can still use some protection. Use covers, umbrellas, awnings, or shade structures to protect your furniture from direct sunlight, rain, or snow."
8. Not properly accessing your plot
"Truly assess your space and how you plan to use it," advises Isabel Runsewe CEO and designer at New York-based interior design studio Isy's Interiors. Stand back and access the space you have and how you envision it being used to maximize its potential.
"While a large 8-person dining table is lovely - if you're likely to only have a couple of large dinners each year - it may not be the best use of the space. Instead, get a smaller table that can extend so you have more space for other furniture."
"If you're buying outdoor furniture for a balcony, it's important to take into account the height of the railing," advises Wendy. "Some balconies are not see-through and if the furniture is too short, you won't be able to enjoy the view. A bar set is the perfect balcony furniture setup where you can sit at a higher level and enjoy the view."
9. Cost cutting
Outdoor furniture of any nature is never 'cheap' but it doesn't mean looking for a budget option to save because that could end up costing you more in the long run.
If the furniture isn't well made or crafted using cheaper alternative materials you are less likely to get the same amount of years out of it. Therefore saving in the short term isn't always the best option.
That said, don't forget that seasonal sales hold the key to bagging a bargain, which is all more important when making a large investment. The same as when looking to replace your best mattress, you know the brand and expertise but if you seek out the best mattress deals you can make a saving on a trusted product you know will serve you well.
Tamara is a highly experienced homes and interiors journalist, with a career spanning 19 years. Now the Lifestyle Editor of womanandhome.com, she has spent the last 16 years working with the style teams at Country Homes & Interiors and Ideal Home, and it's with these award-winning interiors teams that she gained a wealth of knowledge and honed her skills and passion for shopping, styling and writing about every aspect of lifestyle and interiors.
With a keen eye for the latest interior trends, there's not a lot she doesn't know about home decor – whether it's what colour we should be painting our living rooms next season, or if the latest 'must-have' buys are actually worth investing in.
A true homes and interiors expert, Tamara has served as an ambassador for leading interior brands on multiple occasions, including appearing on Matalan's The Show and presenting at top interiors trend events such as the Autumn Fair and Spring Fair.