Easy Easter ideas to decorate your home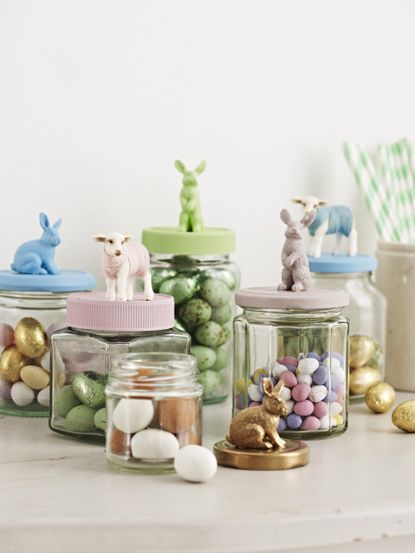 Looking for Easter ideas? Look no further.
Easter gives the perfect excuse to style your home with plenty of spring bulbs and flowers, lush fresh foliage and decorated eggs.
Look out for crockery and ceramic finds featuring Easter designs, as well as textiles depicting signs of spring.
Here are our top Easter ideas to try this year…
Spring wreath
Freshen up up a dull door with this beautiful meadow wreath, £16, tch.net
Sweet shelves
Introduce a few Easter touches to an all-white kitchen. Pick pieces in sugary shades to keep the look fresh.
Wrendale Good Hare Day mugs,£11 each, royalworcester.co.uk. For a similar mini wreath, try homesense.com. Set of two stone-washed linen tea towels in spa green, £18.99, linenme.com.
Crockery refresh
Mix in a few pastel-coloured or oral pieces to plain white for a pretty spring table.
Vase, £10; Rooted oral dinner plate, £2.50; side plate, £2; cereal bowl, £2; pasta bowl, £3.50; set of four teal dinner plates, £5, all george.com.
Spring bulbs
Dress your table with a spring centrepiece that simply screams 'spring is here'.
Pussy willow milk churn, £15; narcissi and eggs in a box, £20; Easter mini mugs, £3 each; grey wooden rabbit, £10; brown wooden rabbit, £5, all sainsburys.co.uk.
Egg jars
Treat-filled jars topped with painted toy animals make a great gift.
Fix the toys to the lids using a glue gun. spray-paint both with an acrylic primer, then paint with a tester pot in a pastel shade. For the lambs, wrap their bodies with coloured wool.
5 easy Easter touches
Spend time making Easter extra special this year, with these easy ideas…
* Hang painted eggs and decorations from a branch suspended above your dining table, weaving in strands of ivy and spring blossom.
* Wrap large chocolate eggs in fabric, tying at the top and adding a hand-stamped name tag for the lucky recipient.
* Part-dip blown eggs into emulsion paint (duck eggs look best), then suspend to dry, before adding ribbon bows.
* Go to town with paper decorations –chains, honeycomb balls and crêpe paper flowers add colour and spring style.
* Organise an egg hunt, handing out painted buckets, baskets trimmed with ribbon or decorated fabric tote bags for the goodies
Words: Jennifer Morgan.
Stephanie is Editor of Fit&Well. She has previously worked for titles including Now, MSN and Stylist, covering all aspects of women's lifestyle including health and fitness.