The most expensive dog breed to own has been revealed
Can you guess which one it is?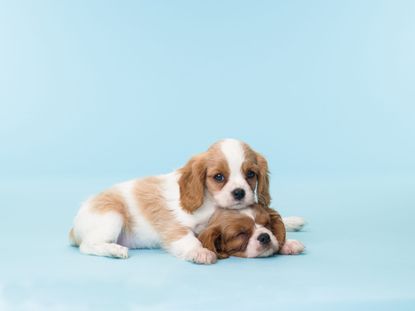 (Image credit: Getty Images)
The pandemic led to many people spending lots of time in the great outdoors, going for walks, exploring the neighbourhood and realising the beauty in our country. This meant many people wanted a furry friend to keep them company on their adventures and we saw many people welcome new additions to their family (did you know that different dog breeds need walking for different amounts of time, BTW?)
New data has revealed the real cost of owning one of the most popular dog breeds in the UK. So before you take the plunge too, perhaps you should weigh up the costs, as you may be shocked.
Poodles take first place for being the most cash-demanding breed. Over their average lifespan, as well as day-to-day accessory and equipment costs, this breed can set owners back over £18,700.
MORE:Expert reveals how to prevent your dog's separation anxiety post-lockdown
But for over half of that cost – between £7,000 and £8,000 – you could have a Jack Russell, Patterdale, Staffordshire Bull Terrier or a Whippet. These breeds tend to live to 13-14 years on average and so cost much less over that time.
NetVoucherCodes.co.uk have researched over 40 of the most popular dog breeds to reveal which burn the biggest holes in owners' pockets.
Poodles with their beautiful fur and abundant fluff have an intense grooming schedule meaning they cost a lot more. Somewhat surprisingly, Miniature Schnauzer's grooming bill can stack up to nearly £500 a year.
The costs of each breed have been calculated by looking at the average costs of food and treats, vaccinations and boosters, grooming, toys, basic equipment, and even insurance (if you want to lean more about caring for your pet, check out our sister site PetsRadar).
On average, new dog owners should expect to pay around £2,030 in the first year – including the new puppy cost – and around £850 per dog each year after. It is no small feat!
MORE:Study reveals dogs go through puberty just like humans do
A spokesperson for NetVoucherCodes.co.uk said before you decide on a breed you should, "look at how much they're going to cost to care for each year because some breeds are significantly more costly than others."
"To provide an accurate figure we've also looked at the basic costs of food and treats based on the average weight of each breed, as well as vaccinations and boosters, grooming costs, toys, basic equipment like leads and collars, and even insurance prices."
They also urge to check your local rescue centres as there are hundreds of dogs who still need homes. "Adopting is usually a lot cheaper than buying a puppy from a breeder as well, so you'll be rescuing an adorable pup whilst saving yourself cash that can be used for its care in the long run."
Rachel is a freelance contributor to woman&home, covering news as well as books, lifestyle and travel. Her byline has also appeared in The Independent, The Financial Times, ELLE Magazine, VICE, Glamour Magazine and others. She loves nothing more than talking with people to share their stories. When she is not writing you will definitely find her nose in a book or magazine, or perhaps training for the next half marathon, practicing yoga or eating in London's best restaurants.