Unfair boss? Here's how to deal with a toxic personality in the workplace
Is your boss making you miserable at work? To help out we sought out expert advice on how to deal with a horrible boss.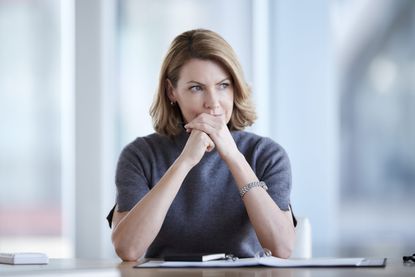 Even the greatest of bosses can be unfair at times. You may be dealing with a bully, a micromanager, a boss with anger management issues, or one who loves to play favourites.
Work politics and the corporate hierarchy can at times be unjust, and is of course frustrating. Dealing with a horrible boss can take its toll on your mental health, and even at times threaten your career.
A new study carried out by TotalJobs of 2,000 employees revealed that 49% of individuals quit their job because of their manager, and 24% had experienced nightmares because of their manager.
The study also revealed that 26% of participants have sought mental health support, and 19% have requested to move teams.
Commenting on the research, Ellie Green, job expert at TotalJobs said, "The top five grievances workers had with their managers were: playing favourites, disrespecting colleagues behind their backs, making informal threats, taking credit for others' work and criticising colleagues in public."
In order to tackle the situation effectively we have compromised a list of things you can do to help deal with an unfair boss in the workplace. From seeking help from human resources, to confronting the problem face on by talking to your boss, here are some tips on dealing with unfairness in the workplace.
1. Don't blame yourself
As an employee, you're inclined to agree with your boss. "Yes, OK", "Yes, I agree", you automatically respond even to their berating of your abilities. Don't blame yourself automatically because your boss thinks you're not doing a good enough job. You'll slow yourself down and knock your confidence.
2. Emotionally detach
Your boss is just a coworker higher up the ladder, not a parental figure. Maybe they gave you your first big break, but that doesn't mean you owe them your unfaltering loyalty. Learn to emotionally uncouple yourself from this person and their words won't carry the same weight.
Success coach Rebecca Lockwood, "Sometimes we can get caught up in ourselves. Sometimes though it is not personal at all and it may come down to some other factor that you do not know about and have no control over. Remembering this can make a huge difference in the way you feel about the situation."
3. Talk to your boss
Although this might seem daunting, have an objective conversation with your boss. It's better to speak up and address the issue, rather than remain silent due to fear or an awkward conversation.
Ellie advises, "If you feel comfortable, you can calmly and professionally talk to your boss and express how their behaviour is impacting your enjoyment of work, or how it is affecting your wellbeing." Before arranging a meeting with your boss, Ellie suggest you could "seek advice from a trusted friend or colleague".
She continued: "If you're worried you might be seen to be 'gossiping' by talking about your boss at work, you might feel more at ease discussing the issue with someone who doesn't work with you at all."
4. Understand how they communicate
Observe your boss. Understand how they communicate, their behavioural traits, their preferences and pet hates. The more your match your style to his way of working, the more likely you are to get in on the workplace.
Rebecca Lockwood said, "Understanding how others communicate and prefer to receive information will help. For example, some people are very visual, some prefer to hear things, some people like to hear things and others prefer to think things through.
"Listen out and watch how they seem to prefer to receive information and make an effort to communicate in this way going forward."
5. Cover your tracks
Sometimes it's hard to tell if your boss is picking on you or you've just made a lot of mistakes. The way to test is by covering your tracks and working as hard as you can. If you improve your work and you're still being harassed by your boss, it's time to take action.
6. Take the matter to Human Resources
If you genuinely believe you're being treated unfairly by your boss, it's time to speak to someone. Every company will have a system to deal with employee misconduct.
Ellie said, "If you feel the behaviour in question is classed as bullying or harassment, or it's a situation that cannot be resolved between you and your manager, talk to your Human Resources (HR) department. If you want to keep your complaint confidential, HR should respect this."
In most cases it is best to talk to your internal HR team for guidance. HR will probably advise you for a record of any incidences occurring at work, and therefore if you do feel you are being treated unfairly you should make note of each time in a diary of what happens and when.
In certain cases it may be necessary to take the case further to court, for example if you are experiencing, racial or sexual discrimination in the workplace.
7. Keep your head up
If none of these tips work, all you can do is keep your head up. Show your boss that you're stronger than his or her personal hang-ups and that you're there to do your job. You don't deserve to be treated unfairly and a positive attitude will ensure that you won't.
Will Butler is currently a senior publicist with an extensive editorial portfolio from his years working in journalism.
He began his journey in the media industry at a local community radio station during his undergraduate degree. Will then got an MA in Media and Communications at Goldsmiths. This led to a role as head of music, then to intern at a music publication which then gained him a news writer position at NME.