Could the John Lewis Christmas advert singer Lola Young be the next Adele?
The new John Lewis Christmas advert singer Lola Young has a lot on common with the Grammy Award winner...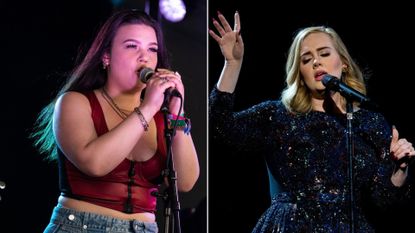 (Image credit: Future // Image 1: Photo by Lorne Thomson/Redferns // Image 2: Photo by Philipp Schmidli/Getty Images for September Management)
The new John Lewis Christmas advert singer Lola Young has put her iconic stamp on 2021's campaign and from her management to her deeply personal lyrics, she could just be the next Adele.
The John Lewis Christmas advert 2021 has officially landed and once viewers have enjoyed the initial excitement and possibly shed a tear (or two) onto their best Christmas jumpers, they might be left wondering who's singing the emotional song. Speculation over the past few weeks even named Adele as a possible choice, though it actually featured the astonishing vocal talents of Lola Young. As we've come to expect from the retailer's adverts, which are just as watchable as many of the best feel good Christmas movies, Lola performed a cover of a classic—Together in Electric Dreams by Philip Oakey and Giorgio Moroder.
After hearing Lola's emotional rendition of the 80s tune, many people might be eagerly discovering more of her work. And it seems there are more than a few hints to suggest that the John Lewis Christmas advert singer could be the next Adele...
---
Lola Young's intriguing link to Adele's record label
John Lewis Christmas advert singer Lola Young is an up-and-coming star and her unforgettable cover of Together in Electric Dreams in this year's John Lewis Christmas advert has certainly caught people's attention. But whilst she might already be set to follow in Adele's iconic footsteps with her spectacular vocals alone, Lola also has a very exciting connection to the Grammy-Award winner.
So im singing on the @JohnLewisRetail christmas advert…yuppp, u heard me lolll whattt?Im covering Together In Electric Dreams, an all time classici grew up watching these and it never even crossed my mind i could be a part of oneThank u to everyone involved #unexpectedguest pic.twitter.com/A3bC8RX6aqNovember 4, 2021
See more
As revealed back in 2020 by Music Week (opens in new tab), Lola is under the stewardship of Nick Hugget, who signed Adele to XL Recordings. The Skyfall singer remained signed to the record label from 2008-2015, before officially signing with Sony Music in 2016 and making Columbia Records her label across both the UK and US. It was whilst she was with XL that Adele released her spellbinding album, 21, which featured singles, Rolling in the Deep and Someone Like You.
Lola's work with Nick Hugget is one that could see her career continue to rise to extraordinary heights as she continues to amass fans with her similarly meaningful tunes.
And that's not the only person of interest looking out for the young singer, as according to Music Week, she's also being managed by the late Amy Winehouse's manager, Nick Shymansky. With these industry figureheads' experience working with superstars like Adele and Amy, it seems the sky could be the limit for Lola as she forges her own path in the music industry.
Lola Young is just 20 years old
Lola might have just featured on one of the biggest adverts of the entire year, but it might come as a surprise to some listeners who've yet to explore her past releases that she is just 20 years old.
In a startling parallel, Adele also started out her career at the same age, releasing her debut album 19 in 2008 which featured popular hits Chasing Pavements and, of course, Make You Feel My Love. Both Lola and Adele's talent was discovered at a young age and Lola already has multiple EPs and singles to her name, meaning fans better keep a close eye out over the coming months and years as her career continues to blossom.
Lola Young was raised in London
Both Lola and Adele are from London and though Adele has now relocated to California, the UK capital is still a huge part of who she is. Adele's house tour with Vogue recently stunned fans with the Englishness of her décor and even addressed this, telling viewers, "I tried to make it feel like the English countryside" and described her garden as "very English" too.
It's also thought that where Adele's from in England continues to inspire her music as many of her songs including Hometown Glory, A Million Years Ago and River Lea all have connections to her upbringing in North London. Adele was raised in the borough of Tottenham by her mum Penny.
In contrast, Lola hails from South London and she's shared on her Paradigm Talent Agency (opens in new tab) profile that music was also a key part of her life whilst growing up there.
"It's been a part of my life since I had my first memory," she said. "And I've been singing since I could talk. Not that I was a good singer then. I really had to learn, practice, get lessons and teach myself. Hard work was involved when it came to me learning how."
Lola Young also attended the BRIT School
Just like Adele, Lola Young is also a prominent alumni of the prestigious BRIT School, the leading performing arts school in the UK that also counts Amy Winehouse and Jessie J amongst its former students. Adele graduated in 2006 shortly before being signed to XL Recordings and in a testimonial shared on the BRIT school website (opens in new tab), revealed just how much her four years there meant to her when it came to honing her skills.
It's #NationalAlbumDay! To celebrate, we're recognising albums from some of our many brilliant BRIT School alumni including Adele, Rex Orange County & Loyle Carner. What's your favourite #AlwaysBRIT album? 💜🎵 @AlbumDayUK pic.twitter.com/qZRNymreOqOctober 12, 2019
See more
"They were by far the best four years of my life ever...Everyone was amazing. It was so supportive. I was encouraged to learn to write my own music which is what I do today and is one of the reasons why I am so successful," Adele declared.
As reported on her talent agency profile, Lola also described her years at the famous school as being a time of "finding [herself] creatively and stylistically".
Even so, she suggested that her time spent in education wasn't without its challenges given her independent spirit and unique artistic vision. Lola explained, "School is a difficult thing because it's about conforming and authority", before sharing, "those are two things that I've never really loved."
So proud of you @lolayounggg voice of #UnexpectedGuest #johnlewisadvert https://t.co/oldRUEOC4yNovember 4, 2021
See more
After graduating from the BRIT school, Lola went on to pursue her dream of performing, gigging non-stop around London and fine tuning her skills. She was also quick to realise that achieving her dream meant hard work and commitment as she built up to larger venues.
She revealed, "When people talk to me about performing live I say that I've always worked so hard in that area. I've done so many s***** open mic pub gigs where I've rocked up and played to three old men drinking beer and talking through my performance. But I had to do that."
Lola Young uses writing as "therapy"
Adele has long been known for incorporating aspects of her personal life and most commonly heartbreak into her songs. It's often hard not to read too much into her lyrics and it's thought that her boyfriend could affect her new album, 30, as well as her divorce from Simon Konecki, with whom she co-parents son Angelo.
She has also recently discussed her belief that with 30 she would finally be able to explain to her son why she and his father divorced, telling Vogue, "I just felt like I wanted to explain to him, through this record, when he's in his twenties or thirties, who I am and why I voluntarily chose to dismantle his entire life in the pursuit of my own happiness."
After releasing the first single on her new album, Adele's Easy on Me lyrics also seemed to contain a heartbreaking meaning. Though Adele isn't the only one who uses song-writing as a way of expressing her innermost emotions and working through reflections about her life.
Lola Young has also previously spoken out about the "therapy" she finds in writing, opening up in her talent profile to reveal she still feels a strong connection to the songs she wrote when she was still a teenager.
Recalling an especially heartbreaking performance of I Learned From You which she wrote when she was 13, she explained, "That song was written about a close family member and after I performed it at that show, someone came to me and said that it made them think about this figure in their life. And it was like, 'Wow! That is exactly what I wrote it about.' They had attributed it to their own life. That blew my mind."
She went on to disclose, "As a songwriter I like that I can listen to an album and I can feel inspired to write a song. But usually I'd say that I write when I'm really in touch with my feelings. I use it as my therapy."
Lola described herself as being particularly inspired by artists who she considers poets, saying that a lot of people "don't hear Joni [Mitchell] or these artists in my music", however they're there all the same. The singer-songwriter also shared how music is "all the different parts" of her.
Her songs range from her debut single, Six Feet Under, which recounts the fight to pull yourself out of depression in a haunting and deeply moving manner, to the tender love song, Blind Love. Ultimately, however, Lola maintains a fierce determination to avoid being categorized or placed in a box with her music.
"I think it's interesting because people always try to box you," she said. "But what I always say is that you should just make the box really big. Because at the end of the day, when people say they want to box you or pigeonhole you, it means that they want to restrict you."
The singer continued, "Without sounding narcissistic, I'm not really one thing. I'm quite a few things and my music is quite a few things. And I think that's important to remember: you're not just one thing."
Lola Young's transporting vocals and flair for song-writing certainly have all the makings of superstardom. And with more than a few similarities between her and Adele, the John Lewis Christmas advert singer is definitely one to watch!
Emma is a Senior Lifestyle Writer with six years of experience working in digital publishing. Her specialist areas including literature, the British Royal Family and knowing all there is to know about the latest TV shows on the BBC, ITV, Channel 4 and every streaming service out there. When she's not writing about the next unmissable show to add to your to-watch list or delving into royal protocol, you can find Emma cooking and watching yet more crime dramas.