Movies to watch online now to celebrate pride
In June every year, LGBTQ+ people and their allies come together to celebrate pride month. This year, though, it's looking a little different so celebrate with one of these pride movies…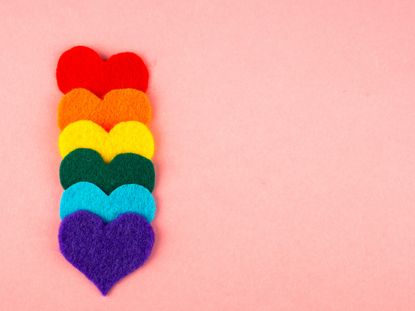 (Image credit: Getty Images)
woman&home newsletter
Sign up to our free daily email for the latest royal and entertainment news, interesting opinion, expert advice on styling and beauty trends, and no-nonsense guides to the health and wellness questions you want answered.
Thank you for signing up to . You will receive a verification email shortly.
There was a problem. Please refresh the page and try again.
Where normally Pride month would be greeted in the UK with fundraising for charities and celebrations up and down the country, this year the community is facing the impact of Covid-19 and rightfully reconciling with its own place in the Black Lives Matter movement (opens in new tab).
Therefore, it's more important than ever for LGBT+ people and those who support them to take a step back and educate themselves about issues that have been on-going for generations, to better try and solve them in the future.
READ MORE:These are the bestselling books about racism you can read right now (opens in new tab)
Whether it be the history of the gay rights movement, initiated by Black LGBT+ people, and its impact on the world today, or the proposed changes to the Gender Recognition Act, pride movies and television shows can help us understand the context and cultural importance of these issues.
Why do we still need to celebrate Pride in the UK?
While homosexuality was legalised in the UK in 1967 and same-sex marriage was allowed under law in 2013, lesbian, gay, bisexual and transgender (LGBT) people continue to face aggression and discrimination.
In 2019, a report by the Guardian revealed that homophobic hate crimes – including stalking, harassment and violent assault – had doubled in the last five years. In the case of hate crimes directed towards transgender people, this figure had trebled.
"Gay conversion therapy" is still technically legal in the UK and in ILGA-Europe (opens in new tab)'s rankings, the UK barely scrapes into the top 10 countries committed to LGBT+ rights and equality.
While we might see an ever-growing number of LGBT+ people in the media, with Philip Schofield coming out (opens in new tab) earlier this year, and more representation in television and film than ever before, the most important thing we can do to make real positive change for LGBT+ people is educate ourselves and make sound choices based on that education.
So how can we educate ourselves and celebrate pride at the same time?
Movies to watch online now to celebrate pride
Pride
Based on a true story the first of our pride movies, Pride takes us back to the 1984 miners' strikes. An LGBT+ group in London recognise that as a persecuted minority under Margaret Thatcher, the police and the conservative media, they share something in common with the striking miners.
Determined to make alliances, the group name themselves "Lesbians and Gays Support the Miners", pick a random mining town in Wales and decide to raise money for them. As an uplifting story of finding hope in the face of adversity and two unlikely groups coming together to celebrate what makes them similar, rather than different, Pride was a smash hit when it was released back in 2014.
Where to watch it:Prime Video (opens in new tab), rent on iTunes
Pose
A television show rather than a film, Pose follows Paris is Burning, one of the most iconic LGBT+ documentaries ever made, in taking a look at the iconic ballroom scene of the 1980s and 90s in New York.
The series, created by Brian Murphy and Brad Falchuck, highlights the joy of the LGBTQ+ experience as well as issues faced by the community – such as AIDS, homo – and transphobia, racism, violence and poverty. So it serves to celebrate pride while at the same time, educating viewers about the history of the movement.
Where to watch it:Netflix (opens in new tab)
A Secret Love
If you're looking for something to watch on Netflix during Pride month, consider this hugely moving documentary. It follows the 65-year-long relationship of two women - Terry Donahue and Pat Henschel - and the struggles they faced coming out later in life, as they endeavoured to tell their friends and family about their relationship.
The description on Netflix reads, "Facing the hardships of ageing and illness, their love proves resilient as they enter the home stretch." Keep the tissues close by for this one.
Where to watch it:Netflix (opens in new tab)
Milk
Harvey Milk was the first openly gay person to be elected into office in California in 1977 and only the third openly gay politician in the United States at that time. The film, directed by Dustin Lance Black and starring Sean Penn as Harvey, follows his quest for gay rights laws in the state right up to his eventual assassination.
Posthumously considered to be one of the most prominent American gay rights campaigners, the film tells the story of Harvey Milk's activism and his fight for the community around him.
Where to watch it:Rent on Amazon (opens in new tab) or the iTunes store
A Fantastic Woman
Winner of the Best Foreign Language Film category at the Academy Awards in 2017, A Fantastic Woman is about a transgender woman whose boyfriend suddenly passes away.
One of the most important Pride movies on our list, the film follows Marina as she's subject to scrutiny by the police for her role in the death, then belittled and targeted by her late boyfriend's family. As Marina grapples with both grief and hostility, she tries to move on as her life is turned upside down.
In a film that essentially reminds us how cruel society can be, Marina's story thankfully ends on a high note and we watch her flourish once again.
Where to watch it:Rent from Prime Video (opens in new tab), or the iTunes store
Portrait of a Lady on Fire
Released in the UK at the beginning of this year, Portrait of a Lady on Fire is a historical drama set in France during the 1770s, against the backdrop of European high-society. Marianne is a painter, commissioned to create the wedding portrait for Héloïse, a young woman who has just left a convent and whose mother decides she must get married.
Héloïse, however, doesn't want to and refuses to sit for a painting. So Marianna agrees to observe and paint her secretly. The perfect film to celebrate Pride with this year if you're a fan of French-language films and beautiful, aesthetically pleasing pictures.
Where to watch it:Rent on Prime Video (opens in new tab) or watch free with a MUBI trial on Prime Video (opens in new tab), rent from Curzon Home Cinema (opens in new tab) or iTunes
Carol
Based on The Price of Salt by Patricia Highsmith, Carol tells the story of a wealthy divorcee and a sales assistant who meet by chance and unexpectedly fall in love.
While it's all snow drifts and motel stop-overs for a while, the film is set in the 1950s and so the couple are forced to keep their relationship hidden, so that Carol can keep custody of her young daughter. As beautiful in aesthetics as heart wrenching in places, Carol is a tale about enduring love in the face of complicated circumstances.
Where to watch it:Prime Video (opens in new tab)or rent from the iTunes store
God's Own Country
Johnny is forced to take over the family's farm in Yorkshire after his father suffers a stroke. As he takes on this burden of responsibility, he suppresses his feelings of disappointment with life through alcohol and casual sex. At least until Gheorghe, a Romanian worker, comes to help with lambing season. With Gheorghe, Johnny discovers the joy in his work and his own emotional vulnerability.
When the film first came out in 2017, it was given a host of four and five stars reviews for its unique representation of sex-same intimacy in a traditionally masculine world.
Where to watch it:Rent on Prime Video (opens in new tab), or the iTunes store.
Philadelphia
Philadelphia stars Tom Hanks as a lawyer who is fired from his job after his sexuality and HIV-positive status is made public. Denzel Washington stars alongside, as another lawyer helping to fight for justice.
Released in 1993, it was one of the first Hollywood films to publicaly acknowledge homosexuality, homophobia, HIV and AIDS.
Where to watch it:Rent on Prime Video (opens in new tab) or from the iTunes store.
With an ever-increasing number of movies being released to celebrate pride and plenty to get through on this list, there is no better time than now to educate ourselves about the issues affecting the LGBT+ community.
A digital health journalist with over five years experience writing and editing for UK publications, Grace has covered the world of health and wellbeing extensively for Cosmopolitan, The i Paper and more.
She started her career writing about the complexities of sex and relationships, before combining personal hobbies with professional and writing about fitness. Everything from the best protein powder to sleep technology, the latest health trend to nutrition essentials, Grace has a huge spectrum of interests in the wellness sphere. Having reported on the coronavirus pandemic since the very first swab, she now also counts public health among them.