Call The Midwife... Sixties Style!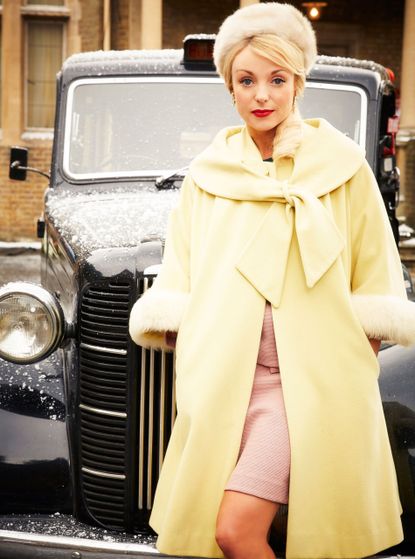 (Image credit: BBC Press)
Series six picks up in 1962 and the Nonnatus House team is as committed to caring for the people of Poplar as ever. But as they strive to help mothers cope with the demands of childbearing, disability, disease and prejudice, the social revolution is underway, bringing a host of new challenges...
Judy Parfitt, 81, was married to actor Tony Steedman, who died from dementia in 2001. She has a son, David, and plays Sister Monica Joan.
I have such wonderful memories of the 60s. I got my first car (a Mini Minor!), met my husband-to-be (in 1960 when I was 25) and had my son three years later. And while I started acting in the 50s, it wasn't until the 60s that I got to work alongside Anthony Hopkins and Marianne Faithfull, and I was photographed for the Sunday Times by Lord Snowdon.
I didn't have a huge amount of body confidence back then. Everyone wore mini-skirts but just above the knee was about as short as I'd go. Now I look back and think, "What a fool you were Judy" because my legs were my best asset!
I was extremely slim back then and my style was very androgynous. I'd buy tuxedos and blouses from Biba and get evening gowns made by a designer called John Bates. He made me the most beautiful sapphire blue dress. Oh, I loved that gown!
I often tried to replicate Twiggy's eyes - putting false eyelashes on both my top and bottom lids. You had to have the Revlon black eyeliner and eyeshadow too. And does anyone remember Max Factor's Pan Stik? People wouldn't dream of putting anything as heavy on their skin now - but we all did back then.
When Tony and I married in 1963 I wore a sleeveless cream knee-length linen dress, with a matching threequarter jacket. After the wedding, we went round the corner to a café and had cream puffs and chocolate éclairs!
In the new TV series all the young mums are now wearing exactly the dresses I wore when I was pregnant with David! A-line dresses with round necks and big flared bell sleeves.
My style adviser is now my 14-year old granddaughter. I'll put something on and she'll say, "Why are you wearing that? Go and take it off at once!" I shop at MaxMara, Margaret Howell, Armani and Ralph Lauren.
Somebody stopped me recently and said, "Oh, I do love Sister Monica Jean because you never know what she's going to do next" - that's certainly true in the new series. She has dementia and will suddenly surprise you by doing something extraordinary and I love that. There's one episode in this series that will grab everyone's attention.
Linda Bassett, 67, lives with her husband, journalist Julian Foster, in London and plays midwife Phyllis Crane in the series.
The 60s was an extraordinary decade for me - I was ten at the start and 20 by the end. In the 50s and the start of the 60s, children were dressed in smaller versions of adult clothes. I remember wearing a bodice, twinsets and A-line skirts. My mother, her friend, her daughter and I all went to the same hairdresser and had exactly the same style - like the Queen, curled and set. I looked appalling!
As a teenager though I had a front row view of the fashion revolution. We lived in Chelsea and my school was on the end of the King's Road. At the beginning of the 60s, the road was sombre, mainly antique shops. Then Mary Quant opened her shop Bazaar. I saw it from the bus on the way to school and felt so excited. We then discovered Biba when it was in Barbara Hulanicki's first shop in Abingdon Road.
It was thrilling to find clothes that were meant for me instead of my mum! The designs also suited my body type. I was very skinny, with long, thin legs. I wore mini-skirts and blouses in bright colours with white collars and tight sleeves with big white cuffs. I also began to grow my hair - first into a bob and then long curtains - the Joan Baez look.
My favourite band then was The Beatles. I went to see them with my friends and remember agreeing we wouldn't scream like all the "silly girls". Within three minutes, we were screaming like banshees and running down the street at the end to try and glimpse them as they left! I never got into make-up nor did I run around with boys or behave in a risky way. Our dad was a policeman, and we felt very conscious that we couldn't do anything wrong or he would lose his job.
My character in Call the Midwife, Phyllis Crane, reminds me of the teachers I had at school - dedicated women who were still wearing 40s clothes. They looked odd to us. In this series, her clothes do move forward a little bit. She's still in flat shoes and sensible skirts but we do see her in a rather nice dress, which is elegant in its way. She's not in the 60s - but maybe she's in the 50s now!
Jenny Agutter, 64, lives in London with her husband, hotelier Johan Tham. They have a son, Jonathan, 26. Jenny plays Sister Julienne.
My style icons in the 60s were Twiggy (of course!) and Jean Shrimpton. I loved the op art black and white clothing and had a great mini-skirt and tank top.
I was living in Cyprus from 1961-70 and going to boarding school in the UK . At school we were allowed record players at the weekends and I used to listen to The Beatles. I also watched Dr Who and Sunday Night at the London Palladium!
I'd often spend half terms with a school friend Cath. We'd wander down the King's Road and have tea at the Chelsea drug store.
Living in Cyprus, my mother often had clothes made. She'd take designs she'd seen in magazines and have them copied. But when I was in London, I'd go to Biba, and my mother took me to C&A where she bought me a coney coat that I loved.
I LOVE THE LOOK!
Helen George, 32, who plays Trixie Franklin, says: "The 60s were a really interesting time for Trixie. In terms of fashion you see the silhouette of the woman change; it becomes less of the big skirts and pointy bras, and it becomes a much more feminine, slim, fitted outline. And I love wearing things like that.
The make-up also changes. You get a bit more eyeliner and the flick starts getting larger and I'm hoping that we get to 1967, so I can do the Twiggy thing at some point. And also the hemlines are getting shorter and shorter, so it'll be the mini-skirt soon - fingers crossed!"
Series six of Call the Midwife starts on BBC One this month.
Jane Kemp is the Features Director for Woman & Home, Woman's Weekly, Woman and Woman's Own. She's worked in journalism for many years, mostly in Women's consumer magazines, and enjoyed a long stint at Practical Parenting while her own four children were little. These days, her interests are more focussed on gardens and books, and she has taken great pleasure in seeing the expansion of books coverage in all the titles, as well as big-name authors writing exclusive fiction for Woman & Home and Woman's Weekly.