Bridget Jones' Sally Phillips On What Happened Next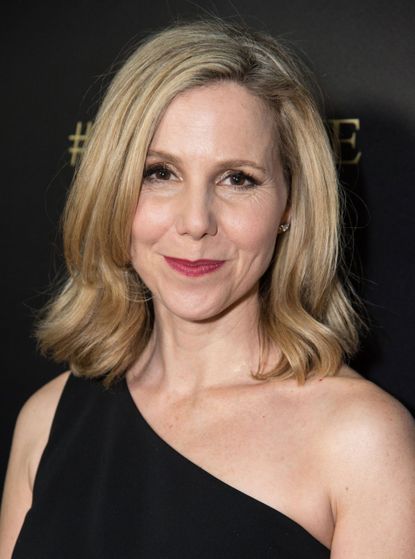 (Image credit: Rex Features (Shutterstock))
It's been 12 years since Bridget Jones: The Edge of Reason - the sequel to 2001's Bridget Jones's Diary - hit cinemas, and as our lives have changed, so have those of the women who have brought the hit films to life. Now, as Bridget Jones' Baby hits cinemas on 12 September, Sally Phillips, who plays comedic favourite Shazza, tells us how her life has changed since the films first exploded onto our screens...
Sally Phillips, 46, lives with her husband, Andrew Bermejo, and their three sons, Oliver, 11, Luke, eight, and Tom, four, in London. She has played Bridget's straighttalking best friend, "Shazza" in all three of the Bridget Jones films.
I used to go round saying, "Will everyone stop behaving like I'm Shazza because I'm really different." If I'm honest with myself now, that wasn't - and isn't - strictly true! I'm not as outspoken as her but like Shazza in the first two films, I spent most of my twenties and early thirties single. All my friends were getting married and having kids and I struggled a lot with self-pity. I found the idea of not being "chosen" by someone difficult. Naively, I had this idea that I was going to end up with someone arty, so I dated guitarists and painters - needless to say, those relationships never worked out!
Fortunately, things changed in my thirties when I began to think, "This is ridiculous, I'm going to have to change strategy here." So when Andrew, who works in shipping sales, asked me out, I decided to give it a shot. And I'm glad I did because we were married a year later! It's funny to think I spent all those years desperately looking for love - but actually in the end, it found me.
I've spent a lot of time over the past 12 years imagining what might have happened to Shaz - would she have found a lovely man by now too? So I breathed a sigh of relief when I read the script for Bridget Jones's Baby. When we meet her again, she's in a long-term relationship with a folk singer and has two children, similar ages to my own. Her partner is unsuccessful and they don't have much cash, but they love each other so much and she's reached this stage where she's just trying to be a good mum. It was impossible not to see the parallels between her life and my own... yet again!
Shazza is still the real cheerleader in Bridget's life - we all need those, don't we? When I was at university, there was a group of us who called ourselves "the family" because we were such great friends - they're still my best friends now. Like Bridget and her friends, we've been through so many ups and downs together, from my friend Jess telling us she was gay, to me telling her years later that I'd become a Christian. Now we know each other so well that we can have a whole conversation without any words at all.
When my son Olly was born with Down's syndrome, I admit I thought it was a huge tragedy. That's the line that was fed to me by the midwives and doctors anyway. I'm not going to pretend it's been easy, but there's an awful lot of joy that has come from it, which isn't in the story you're often told. Olly loves to study and read now and he's about to start at a mainstream secondary school. No, my life isn't what I once imagined it would be, but I'm much prouder than I ever dreamt I could be.
One of the best things about filming Bridget Jones's Baby was realising Renée [Zellweger] and I have a genuine friendship. We got on so well during those first two films but in my head I kept thinking, she's a movie star over in the States and I'm now a special needs mum. It felt as though our lives had gone in such different directions. Then when we met again, we instantly fell back into these deep conversations and I thought, "Oh wow, that was actually real" - and I know that friendship is forever now, which feels wonderful.
Andrew and I have been married for 15 years now and every day there are highs and lows - isn't every relationship like that? Much like Bridget Jones, who finds herself toying between two men, Mark Darcy [Colin Firth] and Jack Qwant [Patrick Dempsey] in thenew film, I always used to think you could get everything you want from one person, but I've realised that you can't - and there's nothing wrong with that. We're still learning what makes each other happy every day.
If I could describe my life now in one word? Chaotic! There's actually one scene in the new film where I haven't slept because Andrew was working away and the kids kept me up all night. I had to get into a car and say all these lines at just the right time while putting my seatbelt across me without knocking the flower off the coat I was wearing. I kept getting tongue-tied and Sharon [Maguire, the director] kept saying, "The seatbelt's on the flower, you have to go again!" I kept saying to her, "I'm rubbish, I'm so bad" - but she was incredibly supportive. I'm a bit nervous to see how it actually turned out!
One of my favourite scenes is the christening for Jude's [another of Bridget's best friends played by Shirley Henderson] first baby. All these actors and actresses who had played the "background" friends and family in the last two films all went off and got mighty famous and won BAFTA s, but they came back and we had Jessica Hynes, Dolly Wells, Julian Ryan Turner and Darren Boyd just being extras improvising their socks off in this wonderful scene - it's going to be hilarious to watch. We spent three days filming it at this gorgeous stately home and when we weren't needed, we'd all lie on the beds upstairs helping each other write comedy sketches, telling stories and playing mindless games. It was brilliant.
The funniest moment on the set was when Colin [Firth] had a tantrum over pizza. He's one of the most polite and composed men I know, but we were doing a night shoot and about three hours after we ordered some takeaway pizza, they arrived hard and cold. Colin just kept saying, "It's not on, it's just not on!" - he was as angry as he gets, but it was hilarious. Actually, he's not going to thank me for telling you that!
What happened to the women behind the film?
Author Helen Fielding...
Was... A columnist on The Independent where Bridget Jones's Diary began as an anonymous column in 1995.
Next... She moved to the US with Kevin Curran, an executive producer - they had two children but split up in 2009.
Now... Helen, 58, divides her time between London and LA and is single.
Director Sharon Maguire...
Was... A friend of Helen's with a background in documentary film and commercials. Helen petitioned for Sharon to direct Bridget Jones's Diary.
Next... She had two sons with her partner, film director Anand Tucker.
Now... Sharon, 55, and Arnand have launched their own TV drama company.
In need of a laugh? Then make this utterly brilliant film a must see. Twelve years on Bridget is single again after breaking up with Mark Darcy (Colin Firth) and about to focus on her career until she meets charmer Jack (Patrick Dempsey) and unexpectedly finds herself pregnant. But who is the father? Out 16th September
Jane Kemp is the Features Director for Woman & Home, Woman's Weekly, Woman and Woman's Own. She's worked in journalism for many years, mostly in Women's consumer magazines, and enjoyed a long stint at Practical Parenting while her own four children were little. These days, her interests are more focussed on gardens and books, and she has taken great pleasure in seeing the expansion of books coverage in all the titles, as well as big-name authors writing exclusive fiction for Woman & Home and Woman's Weekly.