Why every bookshop fan should check out this online festival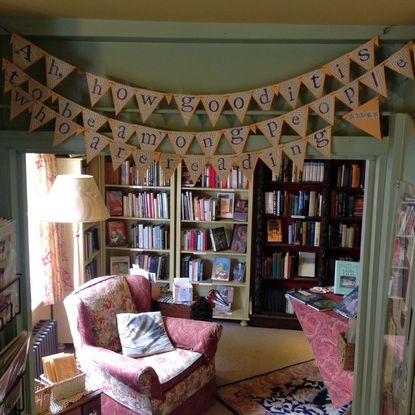 Love books? Then don't miss Independent Bookshop Week's amazing line-up of events from June 20-27.
An independent bookshop often plays a vital role in the community. No wonder they're known as 'the beating heart of publishing'. If you're looking for your next great readyou'll be delighted to know that bookshops are officially OPEN again from June 15.
It's not quite business as usual. For example, some offer click and collect services only. Like other stores, indie bookshops are observing careful social distancing.
But you can still enjoy many exciting bookshop events.Independent Bookshop Week from 20-27 June, organised by the Booksellers Association, has moved online. It's packed with dates to mark on your calendar.
Sophie Anderson, author ofThe Girl Who Speaks Bear (opens in new tab), is shortlisted for the Indie Book Awards. She explains why these bookshops matter so much.
'Independent bookshops are havens of uniqueness and celebrations of individuality. They are places to seek knowledge, magic and adventures, under the guidance of kind, wise, and learned booksellers. Shelves are often bursting with books that reflect global and national interests, along with books that showcase and provide wonderful insights into local landscapes and communities', she said.
We couldn't agree more...
Independent Bookshop Week events to look out for
To celebrate National Reading Group Day on June 20, The Reading Agency (opens in new tab) is encouraging us to read The Beekeeper of Aleppo by Christy Lefteri (opens in new tab). In this extraordinary story, a Syrian couple are driven from their homeland by war. There's also a discussion with the author on Facebook on Saturday June 20.
Meg Rosoff, bestselling author of How I Live Now, joins events live on the 'At Home with 4 Indies' Facebook page. It's been createdby booksellers fromBook-ish (Crickhowell),Linghams(Wirral),Forum Books(Corbridge) andBooka Bookshop(Shropshire). It's live on the At Home with 4 IndiesonTuesday 23rd June at 8pm.
Meg also joins her local indie bookshopThe Aldeburgh Bookshop(Suffolk) and Arts Editor of ITV NewsNina Nannar, to about her latest bookThe Great Godden (opens in new tab). The event will be streamed on theAldeburgh Jubilee Hall (opens in new tab) websiteon Thursday 25thJune at 7pm.
Maggie O'Farrell, bestselling author of the Women's Prize for Fiction-nominated novel Hamnet, follows on June 26 at 8pm.
Cressida Cowell, Waterstones Children's Laureate, is holding a virtual bookshop tour on her social channels. She'll include Mainstreet Trading (Melrose), Little Ripon (North Yorkshire), and Mr B's Emporium (Bath).
Join author, feminist and political activist Esuantsiwa Jane Goldsmith, author of the memoir The Space Between Black and White (opens in new tab). Her event is via Zoom with October Books (Southampton) on Thursday June 25 at 7pm.
The Romantic Novelists' Association is partnering with Independent Bookshop Week to host a virtual bookshop crawl! You can watch bookseller interviews and book recommendations all week.
Music is part of the week too, with a special live set from The Bookshop Band on Friday 26th June at 8.30pm.
Plus musician and author, Tim Burgess, together with writer and DJ Dave Haslam, are releasing an exclusive playlist on Spotify at 2pm on June 21.
Damian Barr's Literary Salonwill be hosting a virtual Bookshop Tour. Every day at 4pm Damian will go live on Instagram with a different independent bookshop, getting a glance at their bookshelves, discussing their ethos, how they've coped with lockdown, their favourite books, and more literary loveliness. Follow @damianbarrliterarysalon (opens in new tab) to join in!
Books event for children
Getting children interested in books and stories from a young age is vital for their confidence. Reading brings so much sheer enjoyment and interest too. Here are just some of the events especially for young readers:
• Storyteller John Kirk's Zoom reading of Roald Dahls' The Twits (opens in new tab) is hosted by Chicken and Frog bookshop (Essex) on June 26 at 11am.
• Onjali Q. Rauf is the bestselling children's author of The Star Outside my Window (opens in new tab), and takes part in an event with The Book Nook (Hove) on June 23 at 11am.
• Watch a virtual story time with actor Ben Bailey Smith, to celebratethe 40th anniversary of David McKee's timeless story, Not Now Bernard (opens in new tab).
Exclusives for Independent Bookshop Week
Thank You, Heroes is a new picture book celebrating key workers by Patricia Hegarty and Michael Emmerson. It's released exclusively in indies from 20th June. Little Tiger will donate all publisher profits on UK sales to NHS Charities.
Bloomsbury is planning special discounts for indie bookstores on several of its titles, including the Sunday Times bestseller Humankind by Rutger Bregman.
For updates and to join the conversation on social media, follow @booksaremybag (opens in new tab) and #IndieBookshopWeek.
Jane Kemp is the Features Director for Woman & Home, Woman's Weekly, Woman and Woman's Own. She's worked in journalism for many years, mostly in Women's consumer magazines, and enjoyed a long stint at Practical Parenting while her own four children were little. These days, her interests are more focussed on gardens and books, and she has taken great pleasure in seeing the expansion of books coverage in all the titles, as well as big-name authors writing exclusive fiction for Woman & Home and Woman's Weekly.