How to grow your savings the easy way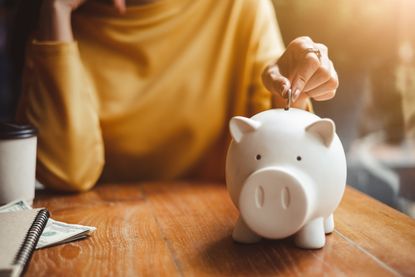 Saving doesn't have to be hard...
Promotional feature with Savings Champion (opens in new tab)
Finding the best savings rates doesn't have to be a challenge but continuing to earn the best rates can be the hard part.
There are currently 151 banks and building societies on the market and with nearly 1,500 savings accounts to choose from, it's little wonder that so many of us are guilty of leaving money languishing in poor-paying accounts and not regularly chasing the best deals.
It can be a minefield to know where to start, let alone making sure you stay in a competitive account for the long term.
The good news is that rates on best buy savings accounts have been increasing month on month for the last few years after hitting a low point at the end of 2016. And although rates are still way off what they were before the financial crisis took hold, they seem to be bouncing back.
Just because rates are low by historical standards, it shouldn't mean you play into your providers' hands and accept a terrible rate for your hard-earned cash. So, here are some top tips to ensure you get a good rate for your savings, both now and in the future.
Ditch the high street
If you are saving money with a high street bank, you'll almost definitely be getting a bad deal and losing money in real terms.
Many leading high street banks pay shocking rates on their so-called savings accounts. For example, HSBC pays a paltry 0.15% on its Flexible Saver account, which offers a preferential rate of just 0.20% if you're a HSBC Advance or Advance Graduate account holder.
When you compare this to the current best easy access account paying 1.50% gross/AER with Marcus by Goldman Sachs or Cynergy Bank, that's the difference of earning £75 or £750 a year on £50,000.
Better still, move that money into a best paying two year fixed term bond at 2.45% gross/AER (with Gatehouse Bank) and you could boost your interest to £1,225 a year or £2,450 over the term, compared to HSBC's derisory offer of £75 a year or just £150 over two years. That's an uplift of over 1,500%!
Explore rates with a Cash Savings Platform (opens in new tab)
If you don't need immediate access, don't choose an easy access account
With over 80% of the savings market sitting in easy access accounts, savers are missing out on millions, if not billions, of extra interest by choosing the wrong account. It's unlikely you'll need immediate access to all of your cash, so why not put at least some money into better-paying accounts which tie your money in for longer.
For example, if you're happy to give notice to access your cash, you could get 1.90% gross/AER from Charter Savings Bank on its 95 day notice account. Alternatively, you could opt for Investec's unusual Notice Plus Account, which offers notice account rates but with easy access to some of your money. Currently you can get up to 1.75% gross/AER on its 95 day notice account with easy access to 20% of your balance every 95 days.
If you're able to tie in for longer, you can opt for fixed term bonds paying up to 2.75% gross/AER for five years (with Gatehouse Bank). However, it's shorter terms that are the most popular currently - BLME is offering the top rate of 2.20% gross/AER fixed for one year.
Try new innovative ways to save
Cash Savings Platforms (opens in new tab) are a new way to save and to hopefully help with beating savers' inertia. This latest innovation allows you to register once with your chosen platform provider, pick and choose which account/s you want to open from the range available and then move money between accounts as and when rates mature or a better rate comes along.
The real benefit is that there is no need to complete an application form each time you open a new account on the platform. With just a few clicks, you can easily manage your cash, to make it work harder for you.
You will be reminded when your product is due to the mature and will be given details of the best rates available on the platform for you to move your money to. Better still, many of the platforms currently offer some very competitive rates, if not market leading, especially if you compare them to what the high street banks offer.
Because it's so easy to deposit money into multiple accounts via these platforms, they can also help you to keep more of your cash protected by the Financial Services Compensation Scheme, which is especially important to those with larger sums, who may be leaving funds under protected.
Find out more about Cash Savings Platforms
To learn more about Cash Savings Platforms, who offers them and what's on offer, as well as which platform might be right for you, download the new free guide to Cash Savings Platforms (opens in new tab) from Savings Champion.
Interest rates correct at time of publication.